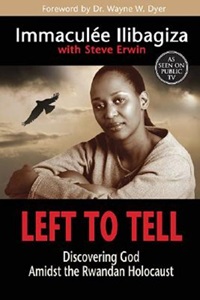 Stephen McEveety, who may be best-known for producing a number of films with Mel Gibson including The Passion of the Christ, is developing a movie about the Rwandan genocide, says the Hollywood Reporter. McEveety's production company, Mpower, has
acquired Immaculee Ilibagiza's religion-inflected autobiography, titled "Left to Tell: Discovering God Amidst the Rwandan Holocaust," that tells of the author's return to spend Easter with her Catholic family in 1994 when the Tutsi massacre took place.The author witnessed a number of her family members killed. She survived by hiding in the bathroom of a Hutu pastor for three months, and attributes her survival during that brutal time to her faith.
The film will join a growing list of movies that have dealt with the Rwandan genocide and its aftermath over the last few years, including Hotel Rwanda, Shooting Dogs (released in the United States as Beyond the Gates), Sometimes in April, A Sunday in Kigali, Shake Hands with the Devil and Munyurangabo – the last of which was produced by a YWAM team and was released this month on DVD to Film Movement subscribers.