Members of Liberty University's Democratic Club met with Chancellor Jerry Falwell Jr. today to develop a proposal that would let the club regain official status while promoting a pro-life agenda, according to the local newspaper.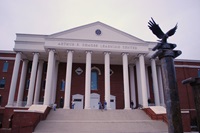 On Monday, Falwell wrote on the university's website that the club can continue to meet on campus but will no longer be officially recognized.
"Liberty University is pro-life and believes that marriage between one man and one woman provides the best environment for children," he said. "Liberty University will not lend its name or
financial support to any student group that advances causes contrary to its mission."
Ray Reed writes that the club is drafting an apology to the school and a retraction of some statements it made to the news media last week that accused university administrator Mark Hine of saying a person could not be both a Democrat and a Christian.