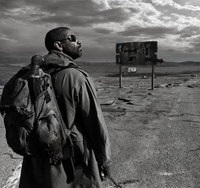 With one post-apocalyptic thriller on the big screen, another is in the works.
The Book of Eli, set in America after the apocalypse, stars Denzel Washington as a man with a mysterious book that might hold the key to man's salvation. USA Today brings us a first look at the film, with five images.
Co-director Allen Hughes told the newspaper, "This is the first time I can remember where it feels like America is, at its core, vulnerable. We're mortal. After 9/11, the reaction showed how thin that line is between order and chaos. It feels like we're at a boiling point. That's why these themes of redemption and salvation are so powerful now."

The description and images remind me of The Road, the film adaptation of the Cormac McCarthy book of the same title which was supposed to release late last year before being shelved indefinitely. USA Today also gave us a first look at that film last summer. IMDb says The Road is now slated for an Oct. 16, 2009 release, but the official website still says "Coming Soon."