Vermont Gov. Jim Douglas said he will veto a state bill to allow same-sex marriage if it makes it to his desk.
The Vermont state Senate overwhelmingly approved a bill earlier this week, and the House is expected to vote next week. Here's more from WCAX: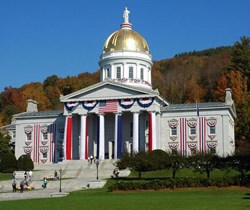 The governor told reporters he doesn't typically announce his intentions like this so far ahead of time, but said he thinks it's the only way to stop speculation about what his move may be, to refocus lawmakers' attention on the state budget.
"I'm announcing I will veto this legislation when it reaches my desk," Douglas said.
Explaining same-sex marriage is a deeply personal issue that crosses political lines, Vermont's Republican governor said he will not sign a bill into law allowing gays and lesbians to marry.
"I believe marriage has always been and ought to remain the union of a man and a woman," Douglas said. "I believe the civil unions law has offered equal rights and benefits under state law to same-sex couples and that should suffice."