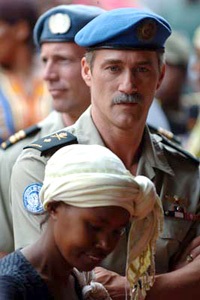 Regent Releasing has acquired the U.S. distribution rights to Shake Hands with the Devil (2007), the Rwandan-genocide movie based on the memoirs of former Canadian general (and UN peacekeeping commander) Roméo Dallaire; they plan to release the film in the summer.
Dallaire, who was appointed to the Canadian Senate in 2005, was the model for the Nick Nolte character in Hotel Rwanda (2004) and has been portrayed by an actor in at least one other Rwanda-themed movie, A Sunday in Kigali (2006). His memoirs were also turned into a documentary, also called Shake Hands with the Devil, in 2004.
Dallaire battled suicidal depression after his stint in Rwanda, but he has said that his experiences there actually convinced him of the existence of God. In the intro to his book, he writes: "After one of my many presentations following my return from Rwanda, a Canadian Forces padre asked me how, after all I had seen and experienced, I could still believe in God. I answered that I know there is a God because in Rwanda I shook hands with the devil. I have seen him, I have smelled him and I have touched him. I know the devil exists, and therefore I know there is a God."
The later, dramatized film was directed by Roger Spottiswoode, whose credits include the James Bond film Tomorrow Never Dies (1997) and the AIDS drama And the Band Played on (1993). I reviewed it during its original Canadian release here.