This Can Happen in America, Part 1
How Germany's post-Christian culture could be America's future.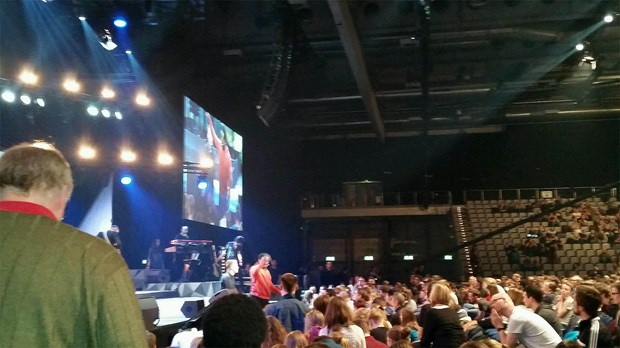 Image: Derwin L. Gray
This past week, I had the honor of partnering with the Willow Creek Association in Erfurt, Germany for a leadership conference. Erfurt is a beautiful city, with rich culture and marvelous food. Erfurt is also where Martin Luther, one of the fathers of the Reformation, attended college. As an evangelical pastor, my heart was moved deeply to know that the seeds of the Protestant Reformation were planted in his heart in the very city where I was walking.
In the city center, near a massive, beautiful medieval church, there is a statue of Martin Luther. Luther preached in this church. Sadly, the church that Luther preached in doesn't really have services anymore. Like the great majority of Germany, it is post-Christian. The former East Germany, where Erfurt is located, is the most atheistic place on earth.
An older German evangelical leader told me, "Germans have forgotten that they have forgotten Jesus." How does Germany, the home of the Protestant Reformation, turn into a place where Jesus has been forgotten?
An older German evangelical leader told me, "Germans have forgotten that they have forgotten Jesus."
Dead, irrelevant religion and atheism
In Germany, 25 million people are members of the state church, and another 25 million are members of the Catholic Church, yet only 2 percent of these people attend church. The rest of the German population mostly identify themselves as atheists or Muslims while only 3 percent say they are evangelical Christians.
Germany is in need of a reformation.
From what I experienced preaching to the young German evangelical students and leaders, I believe another reformation in Germany is possible. I have never met people who were so thankful to hear the gospel preached.
So what happened in Germany?
Based on my conversations with an atheist shuttle driver and many German evangelicals, both young and old, here's what I think happened:
1. A dead gospel in dead churches
The gospel that Martin Luther preached is dead in the state church. A dead gospel produces spiritually dead people, and spiritually dead people do great harm to the cause of Christ. The German people are turned off by dead, irrelevant, powerless religion.
2. Communism has been replaced by capitalism
Specifically, in East Germany, atheistic communism has been replaced with capitalism as the new god of choice. Now that freedom has come to East Germany, millions of people are trying to find their salvation in money, possessions, and careers.
Can this happen in America? Yes! In part 2 of this blog on Thursday, I will share some thoughts on how the church can prevent this from happening in America and how a new reformation can happen in Germany.
The young people at the Willow Creek Leadership Conference gave me great hope for a great evangelical Christian future in Germany. Let's pray for them.
Marinate on that.