Beth Moore
Beth Moore, founder of the Houston-based Living Proof Ministries, and author of numerous bestselling books and study guides, has legions of female fans, who appreciate her homespun style and evangelistic passion. Through some critics have complained that she lacks theological sophistication, evangelical women continue to organize Beth Moore Bible study groups and flock to her Living Proof Live conferences.
Featured Articles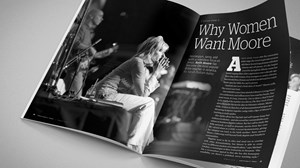 Why Women Want Moore
Homespun, savvy, and with a relentless focus on Jesus, Beth Moore has become the most popular Bible teacher in America.
First Came the Bible
Four themes that characterize Beth Moore's teaching.
Get Thee Behind Me, Insecurity
Beth Moore tackles a menacing issue for many women.
Interview by Sarah Pulliam Bailey
|
Loading More