true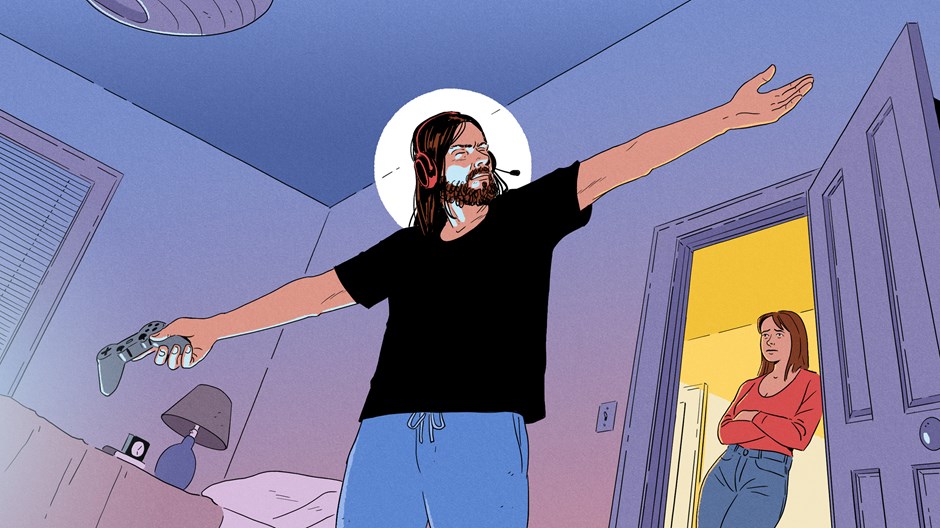 Image: Illustration by Jack Richardson
Joe Morgan approached a man in a market in the video game and asked if he knew John the Baptist.
"Yeah, I punched him in the face last week," the man said. "If I get the chance, I'm probably going to kill him."
Morgan laughed. That wasn't what he was expecting someone to say to Jesus. Playing as the Messiah in the new video game I Am Jesus Christ, which challenges players to walk in Jesus' sandals from just before his baptism all the way to Calvary, the grave, and resurrection, was turning out to be kind of odd.
For example: "After 40 days fasting in the desert, you basically have a magic fireball fight with Satan," Morgan said. "You have to destroy dark crystals and pray before you can perform a miracle. It's very bizarre."
Morgan is a founding member of evangelical pop culture group Geeks Under Grace, which among other things reviews new video games. He isn't opposed to biblical games. But I Am Jesus Christ, a demo version of which came out on the gaming platform Steam in December 2022, didn't seem great.
"I don't want to naysay anyone who's trying to spread the gospel," Morgan said, "but people can tell the difference in quality in a thing that is good and a thing that is bad. And this does not scream quality."
Maksym Vysochanskiy, the Polish game developer behind I Am Jesus Christ, is not surprised by reactions like this. But he's not dissuaded either.
"Many players thought that this was a joke game at the beginning," he said. "That doesn't stop us, and we continue development."
The idea for the game first came, Vysochanskiy said, when he was watching computer-animated movies like Toy Story and Shrek. As a Christian who has read the Bible through multiple times, he started imagining using that technology to tell Jesus' story.
Then as video games advanced, new technology grabbed his imagination. PlayWay, a Polish game developing company, started putting out popular simulation games, including Car Mechanic Simulator, Thief Simulator, Contraband Police, and Farm Manager. He wondered, could the same approach work for a game about Jesus?
Vysochanskiy's company, SimulaM, teamed up with PlayWay to try.
I Am JesusChrist may be the first game that invites people to play as Jesus himself. But it's part of a larger tradition of audacious, inventive, and sometimes deeply strange Christian video games.
Major game corporations have not, historically, had much of an appetite for religious content that might divide their audience or stir unnecessary controversy. But independent developers, inspired by their faith and dreams of what a game could be, have been producing original Christian games since the 1980s.
A game company called BibleBytes put out several products for RadioShack's Tandy Color Computer in 1982. In one, players tried to herd animals into an ark; in another, they collected manna in the desert. The following year, Atari purchased an independently developed game called Red Sea Crossing. But the company was going through a crisis and decided not to mass produce the game, only advertising it in Christianity Today (and only in one issue).
Since then, Christian game developers have pushed, adapted, and experimented—with varying degrees of success. One Christian company retooled the engine of a Nazi-fighting game so that Noah was feeding, or possibly fighting, animals on the ark (mostly goats). They released it, unlicensed, for Nintendo systems.
The Canadian Bible Society bankrolled YaHero, an online multiplayer game where players travel around an island completing quests given to them by a wise turtle, like locating musical instruments to unlock biblical scrolls. A Dutch developer came up with Adam's Venture, a biblical archaeology game available on PC, PlayStation, Xbox, and Nintendo Switch.
I Am JesusChrist didn't seem like a natural next step. To some Christians, it was a step in the wrong direction for Christian games. Johnathan Floyd, president of Geeks Under Grace, said he had some immediate misgivings. Still, he was willing to give it a chance.
"When I think about what it might take to make a good Christian game to really tell the story of the Bible, I often come to the conclusion that something really unique has to be done," he said.
When he started playing I Am Jesus Christ, there was a moment when Jesus was leaving home and stopped to say goodbye to Mary. Oh, wait a minute, he thought, I think they may be on to something here. What would it feel like for Jesus to leave his mom to go start his ministry? What would Jesus' mornings be like when he was fasting in the desert? Was he lonely before the disciples joined him on his journey? After?
"It was just some interesting things to explore," he said.
As he played on, though, Floyd lost interest. Too much of the game, he said, involves keeping your Holy Spirit meter filled and repelling Satan's attacks.
"Maybe the emphasis should be more on the storytelling and less on the gamification," he said.
Matthew Birdzell, a Christian gamer who has written about faith and gaming for Love Thy Nerd, said he might have liked the game better if you played as someone close to Jesus, instead of Jesus.
"We're supposed to be like him, not become him," he said. "I'd take a lesser-known character that's still named and form the gameplay around discovering that character so you can understand the internal and external struggles."
This approach would address a couple of areas of concern. Partly, it's a matter of narrative expectations. In an open world, another character's story could branch out in unexpected directions, and that would be more interesting. It's also partly a matter of theological respect. It's great to take inspiration from the Bible, Birdzell said, but statements about the Incarnation, who God is, and how Jesus behaved on Earth should be made with caution.
"There's probably a good intent behind the game," he added.
Josh Towns, an independent Baptist pastor in North Vancouver, British Columbia, who likes to game, said he was caught off guard by the idea of playing as Jesus. He didn't think it was heretical, but found it kind of off-putting.
Still, the evangelistic opportunities give him pause. He doesn't want to write it off completely.
"There are people that might never go to church or listen to a sermon or broach Christianity at all, but they might download the video game and play it," he said.
Some exposure to Jesus—even a video game Jesus—is probably better than nothing. But Towns worries that the deviation from Scripture, needed to make the game a game, could end up twisting Jesus into something that he wasn't. Towns said he read in a review that in one part, Jesus uses a special power to still the sea. In the Bible, Jesus simply speaks to calm the sea. The difference seems important to Towns.
"I am concerned about the story and how accurate they're going to be," Towns said. "I don't like taking liberties with the story and life of Jesus."
Vysochanskiy, for his part, said accuracy mattered to him. He spent a lot of time researching the world of the Gospels to develop I Am Jesus Christ. A common misconception is that Israel is desert-like, for example, but this game captures the true lushness of the region.
"When we started, I traveled to Israel to visit all those famous places where Jesus Christ walked to be inspired by them," he said.
Also, Vysochanskiy created the game to be fun and engaging. Players aren't going to confuse it for the Bible itself, but it might prompt them to think more about who Jesus is and what he did.
"I will leave that to each player," Vysochanskiy said, "to decide if there is any spiritual value or not."
Adam MacInnis is a reporter in Canada.
Have something to add about this? See something we missed? Share your feedback here.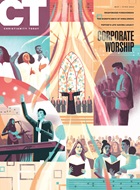 This article is from the May/Jun 2023 issue.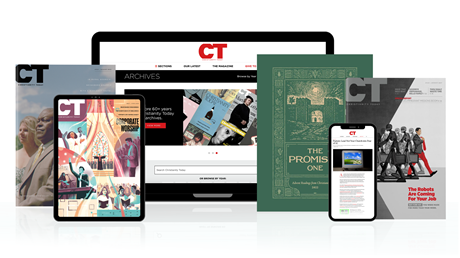 Annual & Monthly subscriptions available.
Print & Digital Issues of CT magazine
Complete access to every article on ChristianityToday.com
Unlimited access to 65+ years of CT's online archives
Member-only special issues
Subscribe
Read These Next
Trending

American Christians Should Stand with Israel under Attack

While we pray for peace, we need moral clarity about this war.

From the Magazine

I Studied Christianity with the Hope of Debunking It

A decade later, I became a Christian.

Editor's Pick

Don't Miss These African Christmas Hits

Jam out this season to highlife, Afrobeats, jazz, a cappella, R & B, rap, dance, and hip-hop artists from Nigeria, South Africa, and more.
'I Am Jesus Christ' Invites Gamers to Play God
'I Am Jesus Christ' Invites Gamers to Play God