A Poet for 'Bruised Evangelicals'
Malcolm Guite has found himself a sort of tribal elder for younger generations of Christians.
Image: Betty Laura Zapata
On a cool, drizzly summer day in Vancouver, a few Regent College students trailed after their visiting lecturer into a standard American-fare restaurant. But their 65-year-old professor's tweed jacket, his shoulder-length white hair and full beard, the tap of his black cane, and the sweet, lingering scent of his pipe tobacco seemed to transport them to a smoky British pub where they were slowly imbibing Guinness and dialoguing about theology and literature.
Malcolm Guite tends to create such worlds. Much like the sonnets he writes, he lives wholly in this world yet transports those around him to an ethereal one.
"The teacher in me, the poet in me, the priest in me who's administering the liturgy, the pastoral counselor in me, it all turns around words," Guite told me. His calling, he feels, is "to kindle my own and other people's imagination for Christ."
Guite is an anomaly that somehow makes sense: He's an Anglican priest, poet, academic, and singer-songwriter. He enjoys smoking a pipe and rides his Royal Enfield café racer through the English countryside. He meanders on lengthy daily prayer walks and sings and plays guitar in a blues band called Mystery Train.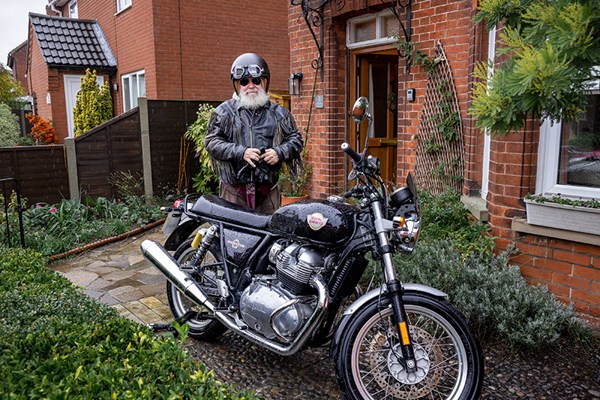 Image: Betty Laura Zapata
His sonnets and theological writings seem to have a particular appeal to evangelicals. Guite headlined Keith and Kristyn Getty's Christmas tour at Carnegie Hall in December. He also presented at the Gettys' global Sing! conference in Nashville last fall and has been promoted by Andrew Peterson's Rabbit Room collective since 2013. He's currently collaborating on an album with CCM artist Phil Keaggy.
Guite has written seven collections of poetry, many of which accompany the church calendar, such as Waiting on the Word: A Poem a Day for Advent, Christmas and Epiphany, and Sounding the Seasons: Seventy Sonnets for the Christian Year. He has also written several books on theology, including Lifting the Veil: Imagination and the Kingdom of God. In conversation, he overflows with Scripture and stanzas and prose that he has memorized, the result of a naturally retentive mind and a lifetime of soaking in the written word.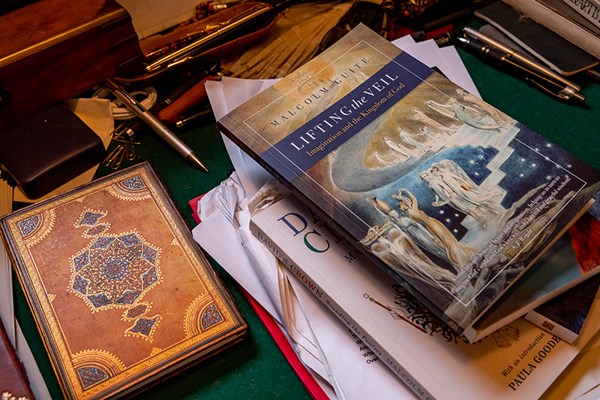 Image: Betty Laura Zapata
His friends and readers have described him as "that rare poet who writes intensely while living joyfully," or as "a living example of what members of the Inklings were during their time." His bandmates call him "the Rockin' Rev." Other friends fondly refer to him as a hobbit. (Though he hated The Hobbit films. "You spend your whole life trying to be Gandalf, and you end up as Hagrid," he told me with a chuckle.)
One of his Sonnet and Song tour promotions went so far as to describe him this way: "if John Donne or George Herbert journeyed to Middle Earth by way of San Francisco, took musical cues from Jerry Garcia and fashion tips from Bilbo Baggins, and rode back on a Harley."
"This is a person, as I say, I was relieved to find existed," wrote one blogger. "The relief, it seems, lies in seeing how content, self-possessed, and comfortable Malcolm Guite is, both as artist and as guide to greater art."
Image: Betty Laura Zapata
Both God and poetry chased Guite from an early age. Ayodeji Malcolm Guite was born in Nigeria, where his English father was a Methodist preacher and evangelist and his Scottish mother passed along her love of literature. His first name means "second joy," Guite has been told—a traditional Yoruba name suggested by the Nigerian nurse who likely saved his life during his precarious birth.
Though Guite remembers his Nigerian childhood fondly, it was overshadowed by his grim adolescent years at a boarding school in England, where his parents sent him after they moved to Canada. There, he explored atheism, believing in scientism rather than the God of his childhood. "I was an existentialist," he said. "I was reading Sartre on the bedclothes."
But discovering John Keats toward the end of his boarding school years was a turning point for him. He awoke to his passion for poetry and realized that the feeling he experienced while listening to poetry didn't align with his materialistic beliefs about the universe. During his undergraduate years at Pembroke College, he moved to agnosticism, writing that he had "begun to be sceptical of my scepticism."
One night at Cambridge in 1979, Guite was reading Psalm 145—"The Lord is nigh unto all them that call upon him"—and he suddenly became aware of a spiritual presence in his room. "I was not alone. I was invoking him—comfortable in the assumption he wouldn't come—but he did!" Guite said.
He believed and was baptized six months later, after listening to a Franciscan friar speak at Cambridge. "Somehow as he was speaking, a complete transformation happened," Guite told Lancia Smith in an interview. "It's not that I ceased to be aware of God in transcendent glory, it's just that I suddenly also felt and knew Him as human and personal too."
After receiving his master's in literature, he taught in a high school setting and pursued a PhD at Durham University on how the sermons of John Donne and Lancelot Andrewes influenced poet T. S. Eliot. This led him to pursue the priesthood. He subsequently completed a divinity degree and was ordained as a priest in the Church of England at the age of 33. His wife, Maggie, is also a priest, and they have two children.
Although he loved reading and writing poetry, Guite's primary calling for many years was serving his parish rather than publishing his writing. "He's an extraordinary pastor," said Jeremy Begbie, a theologian at Duke Divinity School who studies the intersection of theology and the arts and who taught at the seminary where Guite was a student. "He knows how to read people deeply, and I think that helps the poetry. He understands people's temptations and desires and all the things that make us a mess."
After two decades as a chaplain at Girton College, Guite recently retired to the countryside of Norfolk, England, to write, lecture, and serve local churches. During the pandemic, he took daily walks to meditate on the Psalms, and during the lockdowns, he wrote a poem for each of the 150 psalms, which he published together as David's Crown (a play on the root meaning of corona).
"The core of my prayer life really happens when I go out for walks," he said, adding that he typically takes three walks a day. "I take my two or three verses out for a walk. And I say them out loud while I'm walking."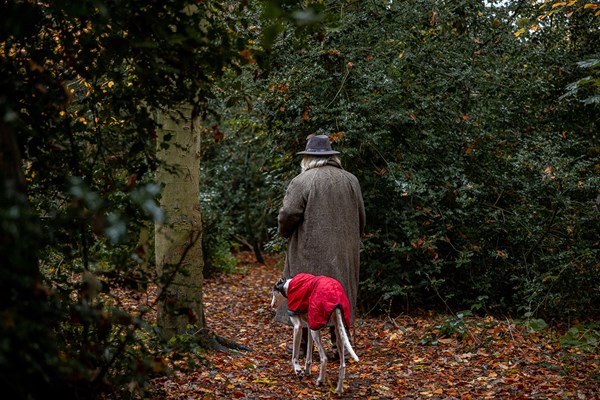 Image: Betty Laura Zapata
The state of Christian poetry in the United States—that which is written by Christians or is overtly biblical—is complicated. Christian colleges, literary magazines like Image Journal and Plough, or publishing houses like Paraclete Press all platform and support Christian poets. But few professional poets choose to write on explicitly biblical or faith-oriented topics.
And even fewer readers in the US, including evangelicals, consume it. Evangelicals tend to prefer literal language rather than metaphorical, Begbie said. There's an assumption that to understand something, you must use certain language to communicate. "The gospel is to be proclaimed, and so you want to proclaim it in a simple and lucid way. … Why waste time with metaphorical language? Why not just tell it straight?"
Yet the readership for Christian poetry seems to be growing. Since the '70s and '80s, when poets began to write more technically for each other, poetry became less accessible to the general public. But that's changing. Micah Mattix, professor of English at Regent University, is optimistic about the future of poets who write through the lens of redemption.
"What has been unexpected is that so many gifted poets should write openly religious work that would be published in major trade and university presses—and that one of those volumes, Franz Wright's Walking to Martha's Vineyard, which begins with an apology for the existence of God, should win the Pulitzer Prize in 2004," Mattix writes in his anthology Christian Poetry in America Since 1940.
Though Guite writes primarily in a formal sonnet structure, experts say that the familiarity of rhyme and his subject matter make his poems easier for readers to grasp than more opaque free verse. "He makes people uncomfortable in a comfortable way," said Mattix. "It's not a limiting factor to write in biblical language per se, but it is to do so in an original and surprising way. Because you're writing in common language, the element of surprise is somewhat diminished. Part of that is the poet's understanding of his or her purpose."
A lot of people see poetry as a difficult thing to understand, Begbie said. "Malcolm's work has an instant clarity and lucidity about it. And yet it has a profundity at the same time … without feeling manipulated."
Guite's readers find his poems accessible and easy to read aloud, "like a heartbeat" with its iambic meter, said Luci Shaw, a contemporary poet in Bellingham, Washington. She met Guite "as a young kid" when he was the poet in residence at a C. S. Lewis conference.
"I know how difficult it is for evangelicals—particularly those without a lot of education in literature—to understand Why poetry? What's the point of it? Someone like Malcolm is aware of that and speaks to issues that are likable for evangelicals, and he's bridged that gap in a profoundly effective way," Shaw said.
She compared her writing (which is also full of faith themes and discussion of the natural world) and Guite's as means through which readers could access literary poetry. Though Shaw works in free verse and Guite in sonnet, they both drop gospel crumbs throughout their poems, encouraging their readers to experience Christ.
"It's like a doorway," she said of Guite. "And he's a wonderful door."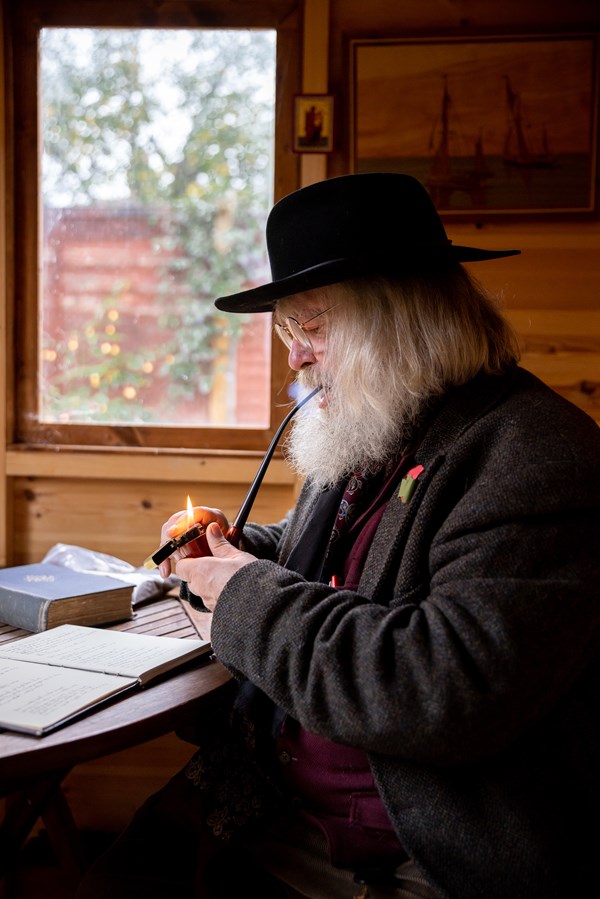 Image: Betty Laura Zapata
Guite's doorway—his poetry—brings Scripture to life, struggles with doubt, and reveres Christ through a "baptized imagination," a phrase Guite borrows from Lewis, one of his role models. Evangelicals love Guite because he is "so obviously orthodox," Begbie argues. "He's obviously a believer, but he brings that world alive, so you rediscover its freshness."
Because of the trust he's built with readers, Guite has helped evangelicals who may rarely read poetry to rediscover the world of rhythm and rhyme. Christian poetry helps readers apprehend the gospel rather than just comprehend it, he says, paraphrasing Shakespeare.
"He loves poetry, and he wants you to love it too," said singer-songwriter Andrew Peterson. "More than that, though, he loves Jesus and wants you to love him too."
Guite's audience also includes those who are disenchanted with the church. Begbie observed that while some evangelicals are suspicious of the arts, other "bruised evangelicals" might have the opposite tendency: to use the arts to escape from orthodox faith. "But it's a false binary. People like Malcolm show that," Begbie said.
Guite writes for Christians of all denominations and backgrounds. He views himself as a storyteller of the global church. But he agrees that many of his readers are young Christians who were disenchanted with the church of their parents yet are still seeking Jesus. They are a lost tribe. And Malcolm has been surprised to find himself as one of their "tribal elders," or even a sort of bard.
"I can write grungy, dark, shoegazing, bear-with-me-in-my-agony [poetry] as well as the next man, you know?" he said. "But I do belong to a tribe. I belong to this tribe of story keepers and believers who have this gospel—[who are] in the teeth of the resistance of a secular society that thinks they're done. So I wrote these sonnets not to be self-expressive but to give beautiful, memorable voice to the story of my tribe."
In one interview, he described his work as a "full-time poet at the service of the church, trying to sing the Christian song into the world and make it attractive to the world, and draw people in."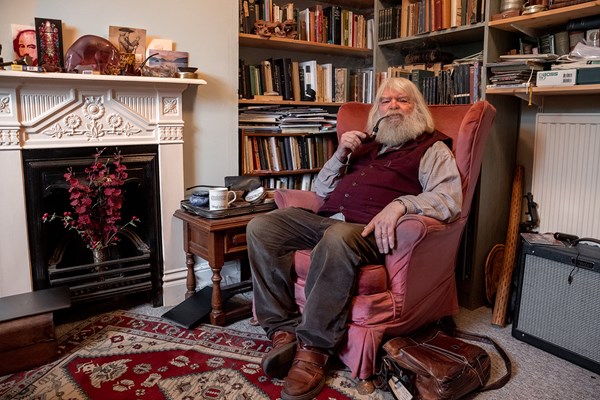 Image: Betty Laura Zapata
Guite also draws people in through social media. Begbie suspects that one reason Guite has risen to such popularity in the past decade is because of his skill in cultivating an online readership, posting sonnets daily to his nearly 12,000 followers on Twitter and on his blog. He knows how to harness the medium, Begbie noted. But Guite also knows social media's limits.
"My publisher was very reluctant to take on my book, because 'Nobody's writing sonnets now, and young people won't like that,' " Guite told me at a sandwich shop in Vancouver. "But actually, it turns out that's exactly what they like, because it's precisely not a tweet."
Toward the end of our second interview, a Zoom call from Chicago to his home in Norfolk, I looked at the stacks of books lining the walls of his office and asked if he had an especially beloved volume. He pulled a brown hardbound title out of a collection of Alfred, Lord Tennyson's poems that he had purchased with his 21st birthday money. He flipped to In Memoriam to read the prelude.
"It's really the story of how he went through doubt and achieved faith again, which is very much part of my own story," Guite told me.
Strong Son of God, immortal Love,
Whom we, that have not seen thy face,
By faith, and faith alone, embrace,
Believing where we cannot prove.
He skipped a few lines and continued:
Our little systems have their day;
They have their day and cease to be:
They are but broken lights of thee,
And thou, O Lord, art more than they.
"Whereas the Romantic poets that I loved—the Keatses and Shelleys and Byrons—all wrote intensely as young men and then died in a blaze of glory and never had to contend with middle age or growing old, Tennyson lived on and wrote some of his best poetry in his mature years," Guite told me. "That seems very important to me to have that as a model—that creativity can come to you as much in your 60s as it can when you're 16."
It made me wonder if, in his decades of crafting poems, Guite was somehow also writing to his younger self: communicating the mystery of the gospel through the beauty of poetry for those who desperately want to find it.
Kara Bettis is associate features editor at Christianity Today.
Have something to add about this? See something we missed? Share your feedback here.
More From:
Kara Bettis
@karabettis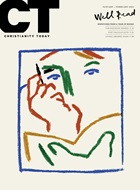 This article is from the Jan/Feb 2023 issue.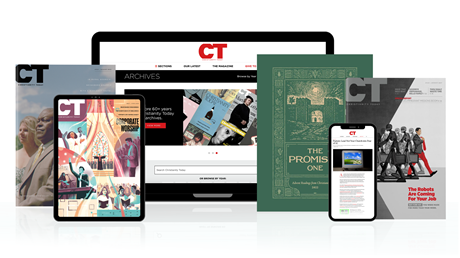 Annual & Monthly subscriptions available.
Print & Digital Issues of CT magazine
Complete access to every article on ChristianityToday.com
Unlimited access to 65+ years of CT's online archives
Member-only special issues
Subscribe
A Poet for 'Bruised Evangelicals'
A Poet for 'Bruised Evangelicals'