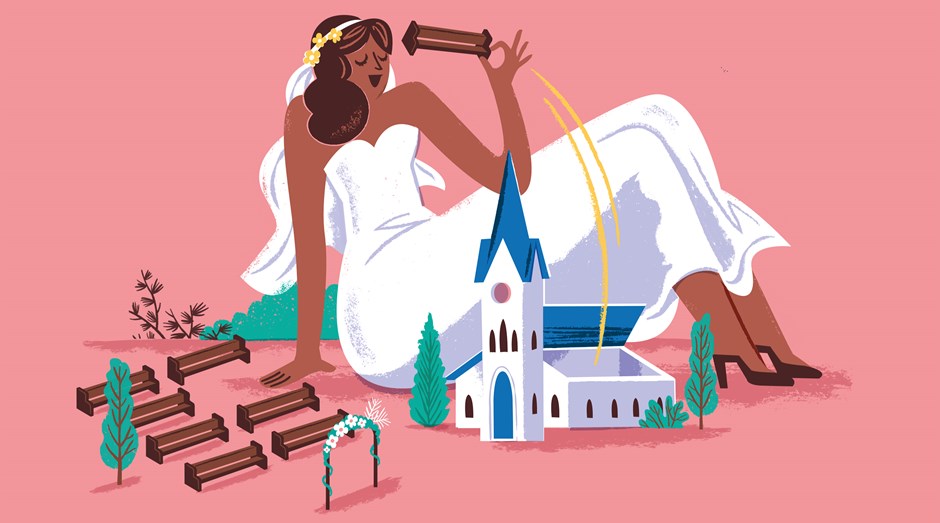 Image: Illustration by Iker Ayestaran
The bride wanted a rustic aesthetic.
The mother of the bride wanted the wedding in a church.
Sean Strelec, who runs VIP Weddings and Events with his wife, Sanya, realized he had the answer. It came to him—like some answers to prayer do—on the internet. There was a Craigslist ad from a Northern California church that was moving. The congregation had to get rid of its 125-year-old pews.
"I ended up buying the entire lot," Strelec said. "Loaded them up and brought them down to Orange County."
Strelec moved the pews to an outdoor venue and arranged them in rows for the ceremony, giving the wedding a vintage feel with just a touch of religiousness. Both the bride and her mother were pleased. And Strelec discovered a new service he could offer as part of his wedding venue business.
Today, he and his wife rent pews to seat up to 180 wedding guests.
"For the Avant-garde couple with the family that revels in tradition," the company website says, "there is no better option for ceremony seating than vintage church pews."
From California to Colorado, New York to North Carolina, and many points in between, wedding vendors are offering pews for rent.
"Having our authentic church pews creates an elegant foundation that sets the scene for the whole day," one company promises. "The guests will be pleasantly surprised by the beauty and thoughtfulness that our pews bring to the ceremony."
Nearly 2.5 million weddings will take place in America in 2022, according to industry estimates. Most will not be held in churches. As recently as 2009, more than 40 percent of weddings were held in churches, but today houses of worship don't even rank in the top three preferred wedding venues—which are, in order, banquet halls, barns, and the grounds of historic homes.
Almost 7 out of 10 weddings take place outdoors. During the two peaks of wedding season, October and May, the percentage is even higher.
But some of those outdoor ceremonies will have a hint of old-time religion in the seating arrangements. Wedding planners will invoke a sense of solemnity through rented pews.
Although pews evoke a sense of tradition today, the history of pews in churches is rather haphazard. According to Katherine French, a medieval historian at the University of Michigan and author of People of the Parish, pews came into common use in the 1400s.
"We think they came out of a growing importance of sermons and the recognition that people just aren't going to hang around for a long sermon if they can't sit down," she said. "Before the advent of pews, there were benches built into the masonry that would be built around columns and along the walls."
Right about the same time that pews became common, medieval churches developed another innovation: pew rentals. In market towns and urban centers, people started paying to reserve their seats. Prices in England ranged from fourpence to 80 pence—the cost of about 30 ears of corn up to the cost of a cow.
"Families want status, visibility, and security, and they want to know that they're going to have their seat in the church," French said. "Parishes need money."
By the 17th century, many churches put boxes around special pews, separating the seating space from the rest of the church. A family box could be passed down from generation to generation.
When the practice of pew rentals made its way to America, it became a main source of church funds. Records from one Baptist church show annual rents came out to $407 a few years before the Civil War. In the 1870s, a Baptist church in Westchester County, New York, rented a pew for $5 every quarter, while the German Evangelical Lutheran Church in Charleston, South Carolina, rented pews for $4.
Despite the financial security brought by the practice, some Christians started to critique it. Revivalists and evangelism-minded churches started arguing it prevented people from hearing the gospel.
According to historian Jeanne Halgren Kilde, an emphasis on equality before God and in worship swept through evangelical churches in the 19th century. They embraced what they called "free worship," allowing white people to sit wherever they liked, regardless of social status. The well-off had to find their seats with everyone else.
Some churches, such as the Free Methodists, put "free" in their names to signal that seating wouldn't cost anything.
Catholics and Protestants who put more emphasis on respectability continued to practice pew rentals into the 1940s. Pew rentals largely vanished in evangelical churches by the end of the 1800s.
Evangelicals still mostly had pews, though, until the 20th century, when a new emphasis on being "seeker sensitive" led many churches to opt for more comfortable seating. Pews—even ones where anyone was free to sit—came to signify tradition and formality, which made them bad for churches attempting to appeal to baby boomers in the 1980s and '90s.
But the same connotations work perfectly for millennial and Gen Z weddings in the 2020s.
Monique Gonzalez Koyias wanted pews for her outdoor wedding in Colorado in 2021. When she couldn't find a vendor to provide pews for her marriage ceremony, she bought some from a church closing in Bennett, Colorado. Today, as owner of Now and Forever Vintage Furniture & Church Pew Rentals, she provides pews for ceremonies and events across the state.
"I feel it's an honor and privilege to provide our church pews for rent," she said. "It's keeping a part of history and tradition alive that otherwise would be lost."
Photos of rustic wedding decor on Pinterest and other social media platforms fuel the demand for pews. The website WeddingWire urges brides to "look for repurposed church pews from vintage event rental companies if you want an eclectic, shabby chic aesthetic."
As the popularity of outdoor weddings increased because of COVID-19, the demand for church pews went up too. The average cost for a venue in 2022 is about $10,000, so couples planning their weddings are encouraged to evaluate every aspect of the space, including the seating. Pews rent from anywhere between $100 and $300 each, not including delivery and setup fees.
Pews seem to be especially popular in the South. Stephen and Joanne Kramer, who run I Do Pew Rentals in North Georgia, have posted hundreds of photos of their pews at weddings in the South. The pews appear at waterfalls, wineries, mountain overlooks, and historic plantations. Sometimes the seats are in the background, behind kissing couples and celebrating wedding parties, and sometimes the camera focuses directly on the pews.
"They're the original pews out of an old Kentucky church built in 1890," one photo caption says. "Imagine the celebrations, events, and stories."
Back in California, Strelec says that people who rent out pews have to think about their history for more practical reasons, too. They weren't built to be transportable, and they have to be handled with care.
"The more you move the pews, the more likely they are to be damaged," he said. "Being that they are historical, we do our best to take care of them."
He doesn't mind being a caretaker, though. He thinks of all the weddings he's made a little better with his pews. The brides and families who were happy. And what would have happened to the church seating if he hadn't answered that internet ad.
"These little pews that were destined for the landfill have traveled around the world," he said, "and have been involved in a lot of different things."
Susan Fletcher is director of history and archives for The Navigators.
Have something to add about this? See something we missed? Share your feedback here.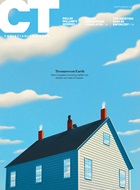 This article is from the September 2022 issue.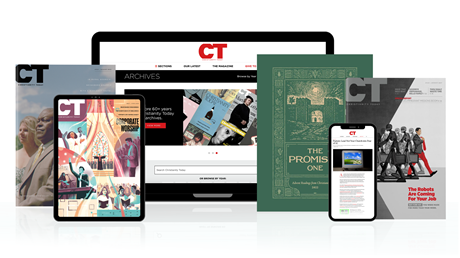 Annual & Monthly subscriptions available.
Print & Digital Issues of CT magazine
Complete access to every article on ChristianityToday.com
Unlimited access to 65+ years of CT's online archives
Member-only special issues
Subscribe
Something Old, Something New. Something Borrowed, Something Pew.
Something Old, Something New. Something Borrowed, Something Pew.