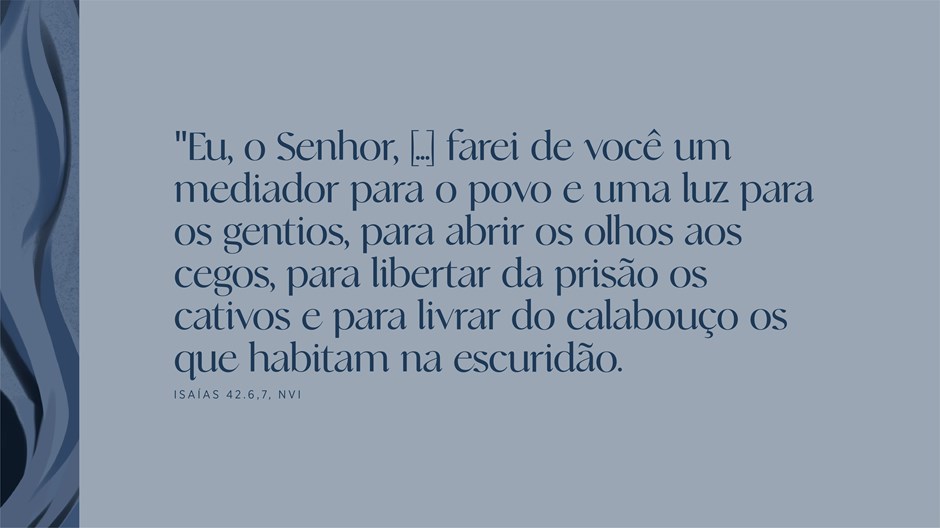 Clique Aqui e faça o download do nosso devocional diário "O Evangelho do Advento".
Leia Isaías 42.1-7
Às vezes esquecemos que somos criadores de ídolos. Nós nos apegamos a ídolos ligados a questões como poder, riqueza, orgulho, outras pessoas, instituições, desinformação, tradição. Às vezes também nos esquecemos de que Deus não se cala diante da idolatria e do mal. Ele expõe suas promessas vazias e revela Cristo como o remédio para nossa tendência de criar ídolos.
Em Isaías 42, diante da idolatria vazia, bem como dos falsos deuses sem sentido de que tratou no capítulo anterior, Deus reage anunciando a vinda de seu servo, aquele em quem ele se deleita, a quem escolheu, e em quem seu Espírito habita. Enquanto os ídolos são fracos e impotentes, o servo fiel e prometido por Deus trará justiça para o mundo inteiro. Ele não pisará nos vulneráveis nem se vangloriará com arrogância. Em vez disso, mostrará sua terna compaixão para com aqueles que estão fracos, sofrendo ou cuja fé esteja vacilando.
Nos dias de hoje — quando a atração por ídolos ilude até mesmo os mais fiéis entre nós, quando a injustiça envolve nosso mundo como uma nuvem negra, e quando os fracos mal conseguem respirar porque seu clamor por alívio os deixou exauridos —, está acontecendo muita coisa em nosso mundo que pode nos fazer questionar onde está Deus em tudo isso. Essa passagem nos lembra que o servo prometido um dia pegará tudo o que há de errado no mundo e consertará. Ele é o escolhido por Deus para trazer justiça em humildade e amor. Ele é chamado por Deus para ser um mediador para seu povo, para ser o agente sem culpa que veio para cumprir a palavra e a vontade de Deus.
Em Mateus 12.15-21, depois que Jesus curou muitos dos que integravam uma grande multidão que o seguia, a Palavra nos diz que "Isso aconteceu para se cumprir o que fora dito pelo do profeta Isaías" (Mt 12.17), em Isaías 42.1-4. Todas as promessas de Deus residem em Jesus e têm nele seu cumprimento (Mt 5.17; 2Co 1.20). Jesus é a encarnação da verdade, da justiça, da retidão, da fidelidade, da humildade, da mansidão e de todos os frutos do Espírito. E todos nós que o chamamos "Senhor", por meio de nossa união com ele, devemos refletir o mesmo em nossa vida — ainda que de maneira imperfeita. Pois somente Jesus tem o poder de tirar as nações das trevas e colocá-las em sua luz maravilhosa. Somente Jesus pode libertar os que estão aprisionados no pecado e nas trevas.
Neste período do Advento, ao refletirmos sobre a fidelidade de Deus em nos enviar seu servo, que possamos nos lembrar de que, embora a justiça tenha sido feita, em última análise, na cruz, ela também é uma realidade futura, pela qual ansiamos enquanto aguardamos a segunda vinda de Jesus.
Kristie Anyabwile é editora da obra His Testimonies, My Heritage e autora de Literarily: How Understanding Bible Genres Transforms Bible Study (março de 2022).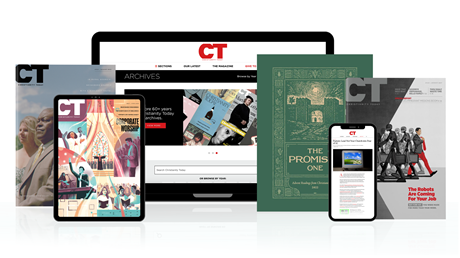 Subscribe to Christianity Today and get access to this article plus 65+ years of archives.
Home delivery of CT magazine
Complete access to articles on ChristianityToday.com
Over 120 years of magazine archives plus full access to all of CT's online archives
Subscribe Now
Esperança verdadeira
Esperança verdadeira