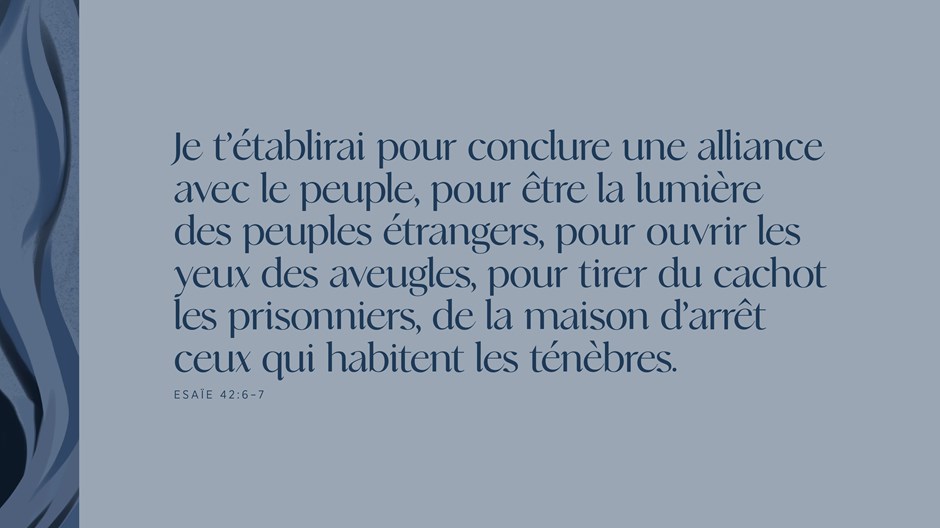 Lecture dans Ésaïe 42.1-7
Nous oublions parfois que nous nous nous fabriquons sans cesse des idoles. Nous nous attachons aux idoles du pouvoir, de la richesse, de l'honneur, des autres, des institutions, de la désinformation, de la tradition. Et parfois nous oublions aussi que Dieu ne se tait pas face à l'idolâtrie et au mal. Il dévoile la vanité de leurs promesses et révèle Christ comme le remède à nos tendances à nous construire des idoles.
Dans Ésaïe 42, en réponse à l'idolâtrie sans substance et aux faux dieux dénués de sens, auxquels il s'est adressé dans le chapitre précédent, Dieu annonce la venue de son serviteur en qui il se plaît, qu'il a choisi, et en qui son Esprit habitera. Alors que les idoles sont faibles et impuissantes, le serviteur fidèle promis par Dieu apportera la justice au monde entier. Il ne piétinera pas ceux qui sont vulnérables et ne s'enflera pas d'orgueil. Au lieu de cela, sa tendre compassion se manifestera envers ceux qui sont faibles, blessés ou dont la foi vacille.
Tant de choses dans notre monde aujourd'hui peuvent nous amener à nous demander où est Dieu : lorsque l'attrait des idoles trompe même les plus fidèles d'entre nous, lorsque l'injustice enveloppe notre monde comme un nuage noir, et lorsque les faibles peuvent à peine respirer parce que leurs supplications les ont épuisés. Ce passage nous rappelle que le serviteur promis prendra un jour tout ce qui ne va pas dans le monde et le réparera. Il est choisi par Dieu pour apporter la justice dans l'humilité et l'amour. Il est appelé par Dieu à offrir une alliance à son peuple, à être l'agent irréprochable qui accomplira sa parole et sa volonté.
Dans Matthieu 12.15-21, après que Jésus ait guéri de nombreuses personnes dans une grande foule qui le suivait, la Parole nous dit qu'ainsi « devait s'accomplir cette parole du prophète Esaïe », faisant justement référence à Ésaïe 42.1-4. Toutes les promesses de Dieu résident en Jésus et ont leur accomplissement en lui (Matthieu 5.17 ; 2 Corinthiens 1.20). Jésus incarne la vérité, la justice, la droiture, la fidélité, l'humilité, la douceur et tous les fruits de l'Esprit. Et pour tous ceux qui l'appellent « Seigneur », à travers notre union avec lui, nos vies doivent refléter la même chose, bien qu'imparfaitement. Car seul Jésus a le pouvoir de faire sortir les nations des ténèbres pour connaître sa merveilleuse lumière. Seul Jésus peut libérer les prisonniers du péché et de l'obscurité.
Alors que nous réfléchissons en ce temps de l'Avent à la fidélité de Dieu qui a envoyé son serviteur, souvenons-nous que si la justice a ultimement été rendue à la Croix, c'est aussi une réalité future à laquelle nous aspirons en attendant sa seconde venue.
KRISTIE ANYABWILE a dirigé la rédaction de His Testimonies, My Heritage et est l'autrice de Literarily: How Understanding Bible Genres Transforms Bible Study (mars 2022).
Traduit par Teodora Haiducu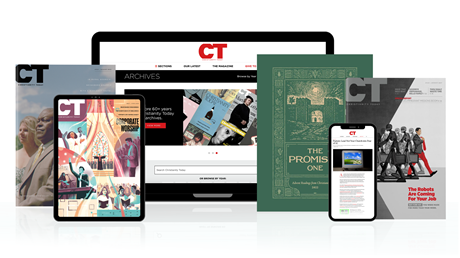 Subscribe to Christianity Today and get access to this article plus 65+ years of archives.
Home delivery of CT magazine
Complete access to articles on ChristianityToday.com
Over 120 years of magazine archives plus full access to all of CT's online archives
Subscribe Now
Espoir véritable
Espoir véritable