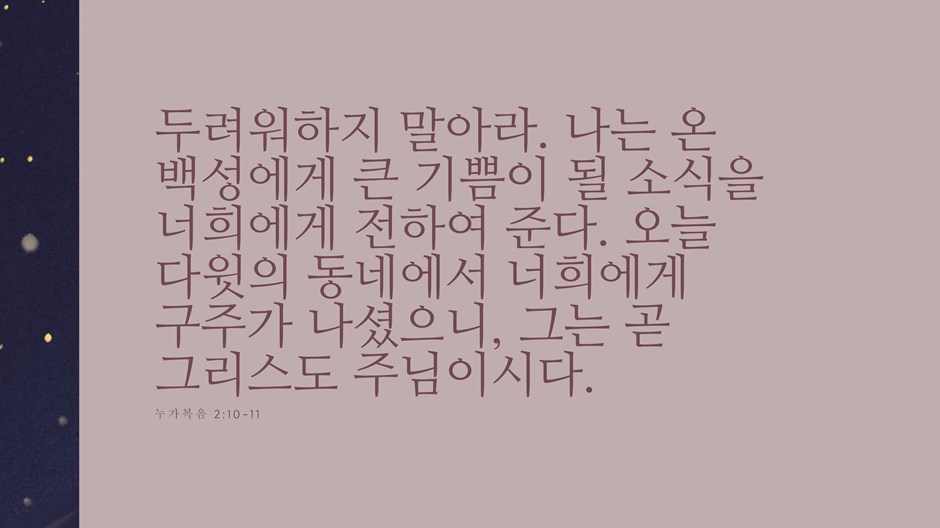 여기를 클릭해서 '성탄절에 전하는 복음' 묵상 본문을 다운 받으세요.
오늘의 말씀 : 누가복음 2장 8~20절
이 구절에서 압도적인 기쁨의 감정이 느껴집니다. 하나님께서 그의 아들을 이 땅으로 보내셨고, 하늘의 축하와 찬양과 놀라운 영광이 세상에 쏟아졌습니다. 이 기쁜 소식은 누구에게 전해졌습니까? 뛰어난 사람이 아니라, 가장 평범한 보통 사람들에게, 심지어 가장 낮은 곳에 있는 사람들에게 먼저 전해진 소식입니다. 목자들이 지키는 양들과 아기 예수를 눕힌 말 밥통에는 동물 냄새가 진동합니다. 이는 성탄의 복음을 묘사하는 놀라운 그림입니다. 하나님께서 자신의 창조물을 버리신 것이 아니라 그들을 구원하기 위해 큰 희생을 치르며 어려운 길을 가셨다는 내용을 담고 있기 때문입니다.
누가는 하나님의 선포에 대한 다양한 반응을 기록하고 있습니다. 먼저 목자들이 느끼고 있는 감정은 두려움입니다. 자신들과는 다른 피조물들을 접했기 때문입니다. 그러나 그들의 두려움은 곧 열정으로 대체되었습니다. 그리스도의 재림은 모든 것을 심판하는 자리가 되겠지만, 이 첫 번째 오심은 모든 사람들에게 기쁨을 주었고, 복음에 응답한 사람들에게 참된 평화를 주셨습니다(10,14절).
천사들이 말했던 대로 하나님이 보여 주신 지표를 열심히 따라갔던 목자들은 예수님의 가족을 찾았습니다. 그리고 목자들은 아기 예수님을 찾았다는 소식을 열정적으로 부지런히 전했습니다. 우리 자신이 먼저 하나님의 복음을 듣고, 하나님의 말씀을 경험하고, 그리고 구원의 복된 소식을 다른 이들과 나누는 것이 복음 선포의 핵심입니다.
목자들의 증언을 들은 이들은 놀라움을 감추지 못했습니다(18절). 천사들이 목자들에게, 구원자이시며, 메시아시며 모든 것의 주인이신 아기 예수님에 대해 말한 것을 목자들이 완전히 이해했다는 뜻은 아닙니다. 아마도 천사가 아닌 다른 평범한 목자로부터 소식을 전해 들었다면 평범한 아기 예수님의 탄생이 영광스러운 소식으로 이해되기 어려웠을 것입니다. 그러나 하나님은 우리가 눈에 보는 것이 아니라, 보이지 않는 그를 향한 믿음으로 살도록 우리를 부르십니다.
마리아는 마음속의 모든 염려를 던져버리고, 온 마음을 다해 하나님이 행하시는 모든 것을 받아들였습니다. 그리고 목자들은 하나님을 찬양하고 하나님을 영화롭게 함으로 그들의 믿음의 여정을 마무리했습니다. 우리의 구원자인 주 그리스도께서는, 우리를 위해 인간의 본성을 입으시고, 평화를 주시기 위해 오셨습니다. 목자들처럼 오늘 우리도 기쁨과 찬양, 그리고 하나님께 영광을 돌리는 모습을 가질 수 있기 바랍니다.
레이첼 길손(RACHEL GILSON) 신학 개발과 문화를 위한 Cru의 리더십 팀에서 일하고 있으며, Born Again This Way: Coming Out, Coming to Faith, and What Comes Next 의 저자입니다.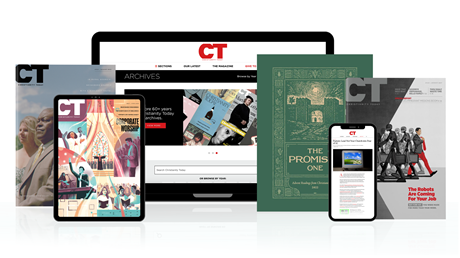 Subscribe to Christianity Today and get access to this article plus 65+ years of archives.
Home delivery of CT magazine
Complete access to articles on ChristianityToday.com
Over 120 years of magazine archives plus full access to all of CT's online archives
Subscribe Now
모든 사람들에게 큰 기쁨
모든 사람들에게 큰 기쁨