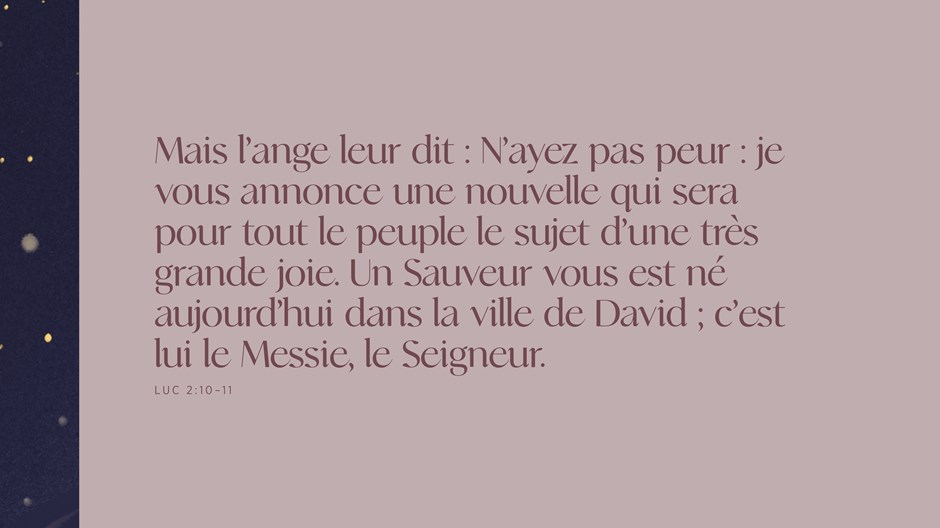 Lecture dans Luc 2.8–20
La joie domine ce passage. Dieu a envoyé son Fils sur terre, et la célébration céleste déborde sur le monde dans une louange et une gloire éclatante. Et à qui s'adresse cette joyeuse annonce ? Pas à l'humanité la plus glorieuse, mais à la plus normale, la plus banale, voire la plus poussiéreuse. Des moutons sur lesquels veillent les bergers à la mangeoire qui accueille Jésus, le texte respire des odeurs animales. Noël est une image saisissante de l'Évangile : Dieu n'a pas abandonné sa création, mais a parcouru un long chemin, à grands frais, pour la racheter personnellement.
Luc rapporte une certaine variété de réactions à cette annonce. Il est compréhensible que le premier sentiment des bergers ait été la peur : ils étaient confrontés à des créatures très différentes d'eux-mêmes. Mais leur crainte est vite remplacée par l'impatience. Après tout, cette première venue n'était pas comme sera la seconde. Alors que la seconde venue du Christ entraînera le jugement de tous, cette première venue est une offre de joie pour tous les hommes, qui se traduit par une paix véritable et durable pour ceux qui y répondent (v. 10, 14).
La diligence des bergers à rechercher le signe annoncé est récompensée par la découverte de la famille de Jésus, comme l'avaient dit les anges. Mais les bergers ne gardent pas la nouvelle pour eux. Ils se montrent tout aussi diligents à rapporter ce qui leur a été dit qu'à rechercher l'enfant. C'est là le cœur de l'annonce de l'Évangile : l'entendre pour nous-mêmes, faire l'expérience que Dieu a tenu sa parole et partager avec d'autres la très bonne nouvelle d'un salut assuré.
Ceux qui ont entendu le témoignage des bergers étaient stupéfaits (v. 18). Cela ne signifie pas nécessairement qu'ils comprenaient toute la portée de ce que les anges avaient dit aux bergers au sujet de l'enfant : Sauveur, Messie, Seigneur. Peut-être que, n'entendant que de banals bergers (et non une armée angélique) et ne voyant qu'un nouveau-né comme un autre, la gloire était trop voilée pour certains. Mais Dieu nous appelle à vivre par la foi en lui, non par la vue.
Marie, pour sa part, a pris tout cela à cœur, le méditant dans sa tête. Et les bergers ont terminé leur voyage missionnaire spontané en louant et en glorifiant Dieu. Le Christ Seigneur, notre Sauveur, a pris pour nous la nature humaine et est venu pour être notre paix. Que notre réponse aujourd'hui, comme celle des bergers, résonne de joie, de louange et de gloire !
RACHEL GILSON fait partie de l'équipe de direction de Cru pour le développement théologique et la culture. Elle est l'autrice de Born Again This Way : Coming Out, Coming to Faith, and What Comes Next.
Traduit par Léo Lehmann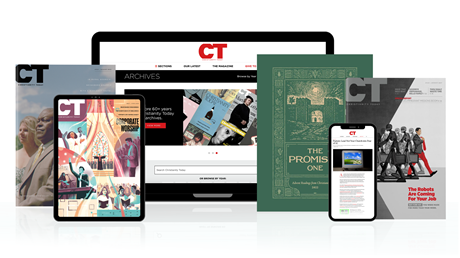 Subscribe to Christianity Today and get access to this article plus 65+ years of archives.
Home delivery of CT magazine
Complete access to articles on ChristianityToday.com
Over 120 years of magazine archives plus full access to all of CT's online archives
Subscribe Now
Une grande joie pour tout le peuple
Une grande joie pour tout le peuple