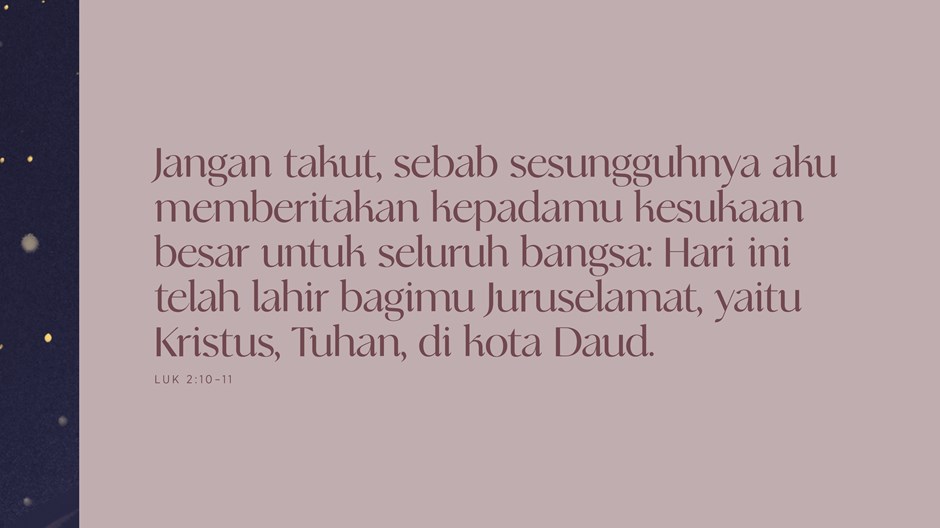 Untuk mengunduh kumpulan renungan "Berita Injil di Masa Adven," klik di sini.
Hari Natal
Baca Lukas 2:8–20
Suasana melimpah dari bagian ini adalah sukacita. Tuhan mengutus Anak-Nya ke bumi, dan perayaan surgawi meluap ke dunia dengan pujian dan kemuliaan yang menakjubkan.
Dan ditujukan kepada siapakah kabar menggembirakan itu? Bukan kepada manusia yang paling mulia, melainkan kepada yang normal, biasa, dan bahkan sangat sederhana. Teks ini seakan berbau hewan, dari domba-domba para gembala hingga palungan, tempat bayi Yesus diletakkan. Namun Natal adalah gambaran yang menakjubkan dari Injil: Tuhan tidak meninggalkan ciptaan-Nya, melainkan pergi menempuh jarak yang jauh, membayar harga yang sangat besar, demi menebus ciptaan-Nya secara pribadi.
Lukas mencatat berbagai respons terhadap proklamasi kelahiran Yesus ini. Dapat dipahami, yang dirasakan para gembala adalah ketakutan, karena mereka diperhadapkan pada makhluk yang sangat berbeda dengan mereka. Tetapi ketakutan mereka segera digantikan dengan hasrat yang besar. Bagaimanapun, kedatangan Yesus yang pertama ini tidak seperti yang kedua. Kedatangan Kristus yang kedua akan membawa penghakiman bagi semua orang, sedangkan kedatangan-Nya yang pertama ini menawarkan sukacita bagi seluruh bangsa, dan menghasilkan damai sejati dan abadi bagi mereka yang meresponinya (ay. 10, 14).
Ketekunan para gembala untuk mencari tanda itu pun terbayarkan ketika mereka menemukan keluarga Yesus, seperti yang dikatakan malaikat. Tetapi para gembala tidak menyimpan berita itu untuk diri sendiri. Dengan bersemangat mereka melaporkan apa yang dikatakan malaikat itu kepada mereka. Inilah inti proklamasi Injil: mendengarnya sendiri, mengalami bahwa Allah menepati firman-Nya, dan membagikan kabar baik jaminan keselamatan itu kepada orang lain.
Mereka yang mendengar kesaksian para gembala itu pun tercengang (ay. 18). Ini tidak berarti mereka paham sepenuhnya apa yang dikatakan malaikat kepada para gembala tentang bayi itu: Juru Selamat, Mesias, Tuhan. Mungkin bagi sebagian orang, kemuliaan itu terlalu samar karena mereka hanya mendengarnya dari gembala sederhana (dan bukan sejumlah besar malaikat) dan hanya melihat bayi biasa yang baru lahir. Namun Tuhan memanggil kita untuk hidup dengan iman di dalam Dia, bukan dengan melihat.
Tetapi Maria, meresponinya dengan menyimpan semua itu di hatinya, dan merenungkan di pikirannya. Lalu para gembala pun menyudahi perjalanan misi spontan mereka dengan memuji dan memuliakan Tuhan. Kristus Tuhan, Juru Selamat kita, menjadi manusia demi kita dan datang untuk memberi damai bagi kita. Kiranya respons kita hari ini—seperti para gembala—bergema dalam sukacita, pujian, dan kemuliaan!
Rachel Gilson melayani dalam tim kepemimpinan Cru untuk pengembangan teologi dan budaya. Ia adalah penulis buku Born Again This Way: Coming Out, Coming to Faith, and What Comes Next.
Diterjemahkan oleh: Maria Fennita S.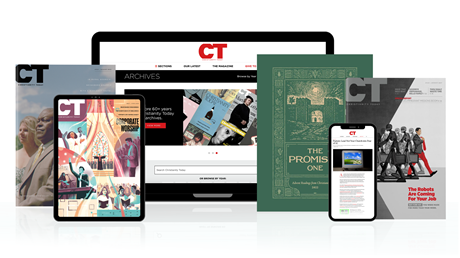 Subscribe to Christianity Today and get access to this article plus 65+ years of archives.
Home delivery of CT magazine
Complete access to articles on ChristianityToday.com
Over 120 years of magazine archives plus full access to all of CT's online archives
Subscribe Now
Kesukaan Besar untuk Segala Bangsa
Kesukaan Besar untuk Segala Bangsa