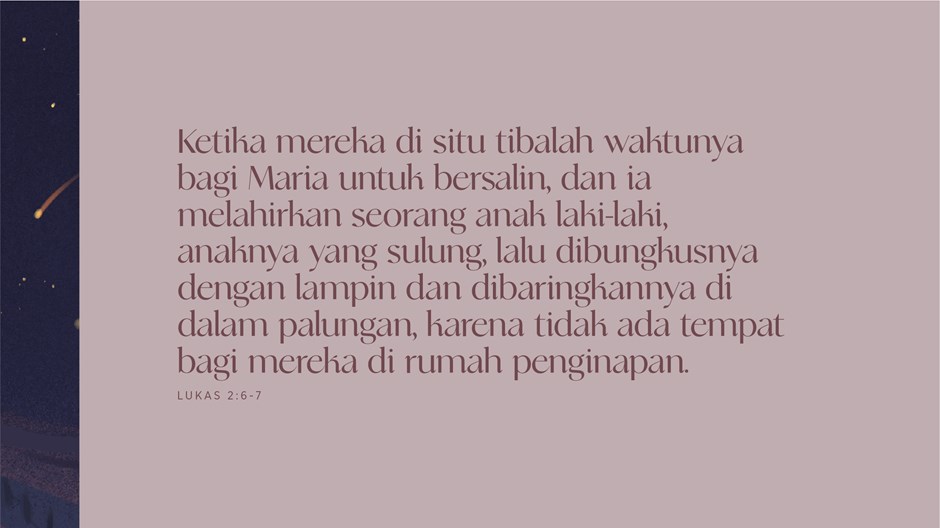 Untuk mengunduh kumpulan renungan "Berita Injil di Masa Adven," klik di sini.
Malam Natal
Baca Lukas 2:1–7.
Kaisar Agustus mengeluarkan perintah agar semua orang di dunia Romawi terdaftar dalam sensus. Banyak dari kita akrab dengan detail kisah kelahiran Yesus ini karena itulah yang membawa Maria dan Yusuf ke Betlehem—dalam penggenapan nubuat di Mikha 5:1–4a.
Tetapi sensus ini juga penting sebab menunjukkan kekuatan besar Agustus sebagai kaisar.
Ia mengeluarkan perintah, dan semua harus memperhatikan. Tidak ada pilihan untuk mengabaikannya.
Tidak seperti sang kaisar, Yesus mudah terlewatkan. Kelahiran-Nya, yang telah dinubuatkan dan lama dinantikan, sangat kontras dengan kekuasaan Agustus. Yesus lahir dalam keadaan sederhana dan tersembunyi, mudah untuk diabaikan. Ketika narasi Injil dimulai, ada orang-orang yang mampu mengenali Yesus sebagai Tuhan, tetapi mereka hanya segelintir orang terpilih. Ternyata, Inkarnasi adalah sesuatu yang mudah diabaikan—dan banyak orang melakukannya tanpa disadari.
Jika kita ingin menjadi orang yang mengenali kehadiran Tuhan yang berinkarnasi dalam hidup dan dunia kita, apa yang harus kita lakukan? Saya ingat saat kehilangan lensa kontak di lobi hotel yang besar. Saya mengedipkan mata, menyadari ada yang aneh di mata saya, dan sebelum saya menyadarinya, lensa kontak saya mendarat di suatu tempat di atas karpet bermotif cerah.
Saya terhenyak, mencari-cari, dan mencoba mencegah orang lain agar tidak menginjaknya.
Beberapa staf hotel mengasihani saya dan membantu. Saya lega, akhirnya kami menemukannya tersembunyi di bawah kursi. Pengalaman itu mengajarkan saya bahwa saat Anda coba memperhatikan sesuatu yang mudah terlewat, ada baiknya untuk berhenti, melihat lebih dekat, dan mengajak orang lain membantu Anda.
Bagaimana jika kita, umat Tuhan, berhenti sejenak untuk melihat lebih dekat dan menikmati keindahan Inkarnasi? Firman yang menjadi manusia dan masuk ke dunia kita sebagai bayi, dan tinggal "di antara kita," itu adalah kabar gembira bagi dunia yang lelah (Yoh. 1:14)!
Tetapi jika kita tidak memilih untuk berhenti dan melihat dengan seksama, kita mungkin akan melewatkan Yesus juga, yang diam-diam tersembunyi namun hadir setiap saat dalam hidup kita—agak mirip seperti lensa kontak yang tidak diperhatikan di tengah kesibukan orang-orang yang sedang mengerjakan hal lain.
Bagaimana jika kita memilih untuk menumbuhkan kesadaran akan kehadiran Tuhan yang berinkarnasi? Dan bagaimana jika kita saling membantu sebagai komunitas? Kiranya kita merindukan kehidupan yang seperti itu, yang memungkinkan kita untuk menyadari kehadiran Tuhan yang berinkarnasi itu, untuk berhenti dan melihat kehidupan serta harapan baru, bahkan ketika Inkarnasi hadir di sebuah palungan.
Tracey Gee adalah seorang pelatih dan konsultan pengembangan kepemimpinan. Ia merupakan penulis buku Mark (Alabaster Guided Meditations) dan penulis pendamping dari buku More Than Serving Tea.
Diterjemahkan oleh: Fanni Leets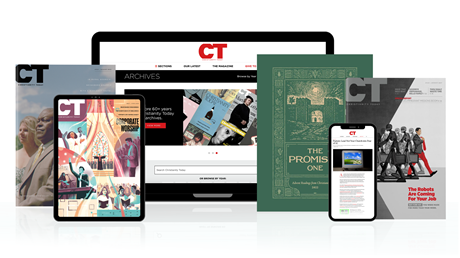 Subscribe to Christianity Today and get access to this article plus 65+ years of archives.
Home delivery of CT magazine
Complete access to articles on ChristianityToday.com
Over 120 years of magazine archives plus full access to all of CT's online archives
Subscribe Now
Diam-diam Tersembunyi
Diam-diam Tersembunyi