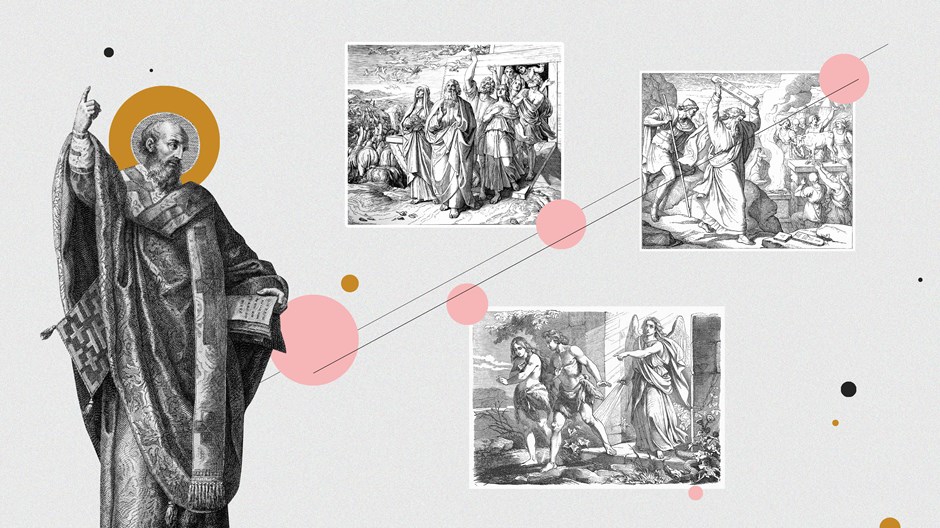 Image: Illustration by Mallory Rentsch / Source Images: Hodie Mecum Eris In Paradiso / Wikimedia Commons / Grafissimo / gldburger / ZU_09 / Getty Images
If you wanted to invite someone to repent, to count on the mercy and grace of God to blot out their darkest sins, where would you take them in the Bible? Most of us would start flipping to the New Testament. Maybe we would lead them to Jesus' words in the Gospels, or to the epistles of Paul or John.
But Cyril of Jerusalem was not like us. Charged with preparing candidates for baptism during the season of Lent, the fourth-century bishop delivered a series of catechetical lectures designed to walk folks through the essentials of the faith. His second lecture, "On Repentance, the Remission of Sin, and the Adversary," is largely devoted to calling listeners to repentance by assuring them "the sum of our sins does not surpass the magnitude of God's mercies."
All he does for about 10 pages is hit his hearers with a battery of Old Testament stories of God's persistent determination to forgive the worst of our sins.
Kicking things off, he asks, "Would you see the loving-kindness of God and the extent of His forbearance?" He proceeds to recount Adam's grievous fall into sin and God's gracious restoration. In Cyril's telling, even the punishment of exile from the Garden of Eden was a mercy designed to lead Adam to repentance. The bishop also mentions God's mercy on Cain—the world's first murderer!—whom he marked out to be spared for his crimes (Gen. 4:12). Even in the Flood account, Cyril spots God's kindness, arguing that in delaying the deluge, God granted "a reprieve for repentance," even though no one took advantage of it.
Concerned that any women in the crowd borne down with shame and possibly coming from a background of prostitution or adultery might not know that "repentance is open to men and women alike," Cyril reminds them of Rahab and exclaims, "O the great loving-kindness of God, which is mindful even of the harlots in Scripture."
But Cyril doesn't stop there. He recounts the stories of kings of Israel like David; of notorious idolaters like Ahab, Jeroboam, and Manasseh; of violent pagans like Nebuchadnezzar. All were forgiven when they repented. And, the bishop declares, it's not just individuals whom God forgives, for "[e]ven a whole people's sin does not defeat the mercy of God." Think about what happened with the golden calf (Ex. 32–34). God had saved his people, they had agreed to the covenant, and a half second later they all cheated on him with idols. Even Aaron, their high priest, was complicit in this grotesque act. But Moses pleaded with the Lord, and the Lord forgave them.
At this point Cyril lands the coup de grâce: "Now, if Moses, making supplication in behalf of the high priest who sinned, prevailed on the Lord by his importunity, will Jesus, His Only-begotten Son, imploring God on our behalf, not prevail?"
I hope this encourages you, but I also hope you didn't miss a few big points.
First, consider this an invitation to read the church fathers. Cyril gives pastors a master class on how to preach the gospel of Christ from the Old Testament with boldness while still handling the particularities of the text with care. He captures the continuity of both the Old Testament and the New Testament, as well as the "how much more" of the gospel of Jesus. And he does it in a way that is suited to new believers.
Second, we need a proper view of God, and for that we need the Old Testament. Cyril helps us repent from our practical Marcionism—the heretical view that the God of the Old Testament and the God of the New Testament are different beings. If you're not convinced, as Cyril was, that the God who forgave Israel's sins in the desert is the same God who forgives ours in Jesus Christ, you simply won't be able to declare the mysteries of God from the whole counsel of God as the apostles did (Acts 20:27). They saw no difficulty in preaching Christ from the Old Testament (Acts 2:14–41), which is unsurprising given that is exactly how Jesus taught them to read it (Luke 24:27).
Finally, I simply hope you see the unchanging mercy of God and trust him. Jesus Christ is the same, Old Testament and New, "yesterday and today and forever" (Heb. 13:8).
Derek Rishmawy is the Reformed University Fellowship campus minister at UC-Irvine and a doctoral candidate at Trinity Evangelical Divinity School.
Have something to add about this? See something we missed? Share your feedback here.
Confessing God
Confessing God attempts to understand who we are and how the world should be by looking at what the Bible says who God is.
Derek Rishmawy is a doctoral student in systematic theology at Trinity Evangelical Divinity School. He also writes at
derekzrishmawy.com
Previous Confessing God Columns: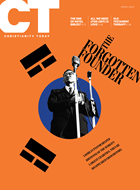 This article is from the April 2020 issue.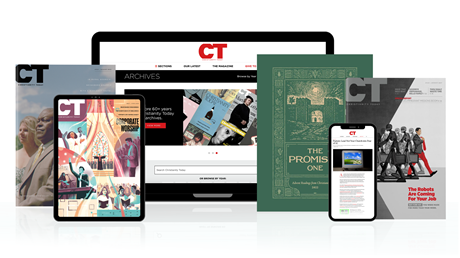 Annual & Monthly subscriptions available.
Print & Digital Issues of CT magazine
Complete access to every article on ChristianityToday.com
Unlimited access to 65+ years of CT's online archives
Member-only special issues
Subscribe
God's Mercies Aren't So New
God's Mercies Aren't So New