"A Carol for the Despairing" is a brilliant and succinct gem of an essay that I will treasure. I suppose there may be informed critics who will wish to poke holes in it because of their particular historical views, but that may be to their loss as readers. The author thoughtfully engages one's literary impulses to intersect our historical, theological, and even musical frames of reference—all to present a message of great hope grounded in Scripture. My only regret is that the article's title expresses an emphasis a bit "off" from the result of reading the essay. I actually bypassed it in my first review of the magazine because I wasn't interested in reading yet another article about despair during the Christmas holiday season.
Ralph Stone
Houston, TX
Excellent article. I pursue Advent more fervently every year. I need it to be a lifelong pursuit!
Annette Wilson Austin
The list of "Our Favorite Heresies" contains 12 items, only 2 of which (those excluded by ecumenical councils) deserve to be called heresies. Most of the other statements are confusing and certainly do not follow from the NAE definition of evangelicals included in the footnote. To give just one example, why can't an evangelical believe that the Bible contains helpful accounts of ancient myths (it does) and that the Bible is not literally true (it can't be if it contains ancient myths)? Such an unfounded list of "heresies" risks making evangelicals look foolish and making weak-minded evangelicals more dogmatic than they need to be
Kent Dunnington
Biola University,
La Mirada, CA
The people who defended segregation were often cartoonish and vulgar, but the people who defended the people defending segregation were church-goers and respectable community leaders and editors of newspapers and magazines who deliberately closed their eyes and ears to the brutality against our black brothers and sisters in order to urge caution and delay and patience.

Yes, CT was wrong but not just because it didn't say words that took account of what was going on. The staff and editors and publisher knew this was wrong, and no amount of hand-wringing and denial and changes of subject, then or today, could really make right what was wrong. Our brothers and sisters in Christ, right now, need to hear us and see us repent, not just of our racist past and our racist actions but of our false claims of ignorance and denial of responsibility. Our actions were deliberate choices, covered up with theology and praxis and the many words of white moderates. This article is a good start to that repentance. Now let's continue.
Stephen Matlock
Seattle, WA
Thank you for the essay by Mark Galli. I am an 83-year-old farm boy who spent almost 30 years in Africa as a Bible translator and have subscribed to CT for almost 60 years. As I look back on my evangelical Christian life, I am ashamed that I did not support the civil rights movement and am so glad to see CT speak up and explain how it happened.
Dick Bergman
Duncanville, TX
Singing has been important to me since I was a young child. Until a bit more than five years ago, I sang whenever I could. Five years ago this past Labor Day weekend, I lost most of my hearing. My hearing disability is now such that, without my hearing aids, I cannot participate in everyday activities. My ability to vocally find the right notes is severely impaired. I believe Sandra McCracken is absolutely right to write, "Singing is part of what it means to be human." I identify closely with what Harry Chapin wrote and sang in an old song ("Mr. Tanner"): "He did not know how well he sang. It just made him whole." I may not sing as often or as loudly today, and I certainly do not sing as accurately as I used to, but it still makes me human, and it still makes me whole.
Steve Kopischke
Riverview, FL
This was an excellent interview. I'm a big fan of Eugene Peterson and found his answers here interesting and thought-provoking. Didn't realize some of his The Message grew out of a men's Bible study. I hope young pastors will read and study Peterson and learn from him. He was a wise, compassionate, and humble leader.
Jack Wyman
Dallas, TX
Over the last several months I have been constantly reminded of how revolutionary a testimony can be in the kingdom of God. I am brought back to Revelation 12:11: "And they overcame him by the blood of the Lamb, and by the word of their testimony; and they loved not their lives unto the death" (KJV). Michael's testimony is a demonstration of the two powerful aspects of a personal testimony. Michael died to his former self and now his rebirth in Christ is demonstrative of God's ability to bring to all the hope of a new, different life that contains purpose and meaning.
Dale C. Besaw
Adams Center, NY
Have something to add about this? See something we missed? Share your feedback here.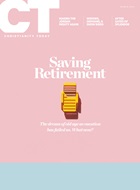 This article is from the March 2019 issue.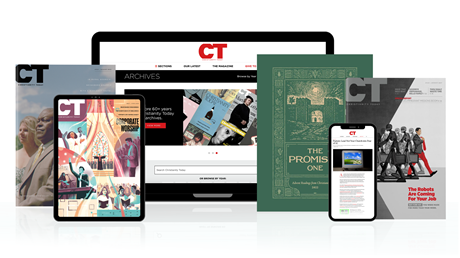 Annual & Monthly subscriptions available.
Print & Digital Issues of CT magazine
Complete access to every article on ChristianityToday.com
Unlimited access to 65+ years of CT's online archives
Member-only special issues
Subscribe
Reply All
Reply All