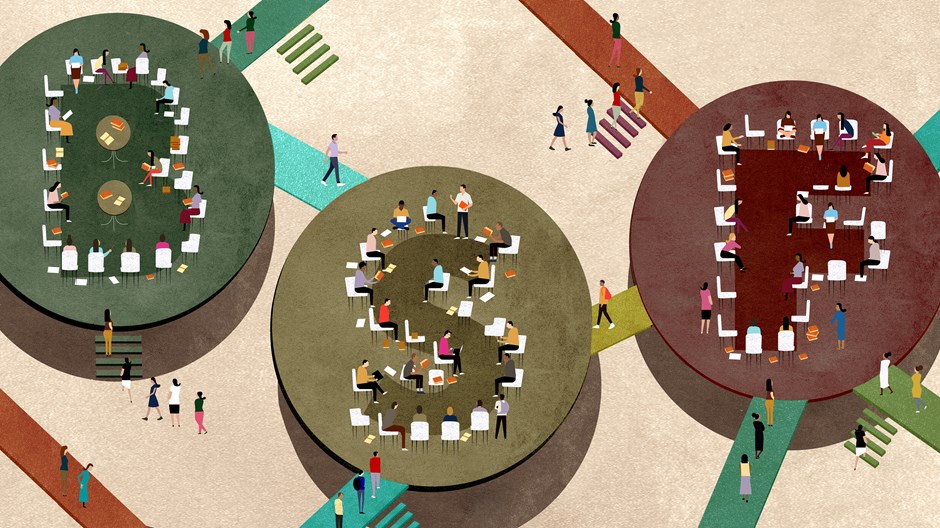 Image: Adam Simpson
Most Monday evenings for the past two years, Naomi Ruth Jackson has ridden her 22-speed bike uphill or caught a bus after work to Westover Hills Church of Christ in Austin, Texas. She meets there with around 450 women for a Bible Study Fellowship class. The 30-year-old is not the lay-focused ministry's typical participant, having majored in Bible and theology in college. Her own church offers only unstructured Bible study, and her job as a medical records clerk grants her few occasions to re-engage her skills in scriptural interpretation.
The class lasts two hours. It starts with a time of worship at 6:40 p.m., rolls into discussion and fellowship in small breakout groups, and ends with a 40-minute lecture. But rather than deterrents, the breadth and commitment to the 30-week program are draws for Jackson.
"I think about Scripture a lot, but there isn't always an opportunity to have an audience or be around people who want to discuss that," she said. "So for me, personally, it meets that need."
After singing some hymns at a class on the Gospel of John earlier this year, Jackson and about 10 other women filtered into the church's "cry room" and formed a cozy circle on rocking chairs and a stray pew. A group leader, in her mid-40s, encouraged everyone to share a few words based on questions relating to each chapter of the book.
Jackson had a lot on her mind. She was worried about her younger sister, who had been in a car accident.
"I was frustrated and angry and praying for her," she said. "I thought to myself, I need to be an advocate for my sister," as the group studied John 14 about the Holy Spirit's role as advocate. "And just as that phrase came out, the Holy Spirit said to me, 'No, Naomi, that's my job.' " One thing about the Bible, she said, is that "it can be extremely relevant no matter what is going on in your life."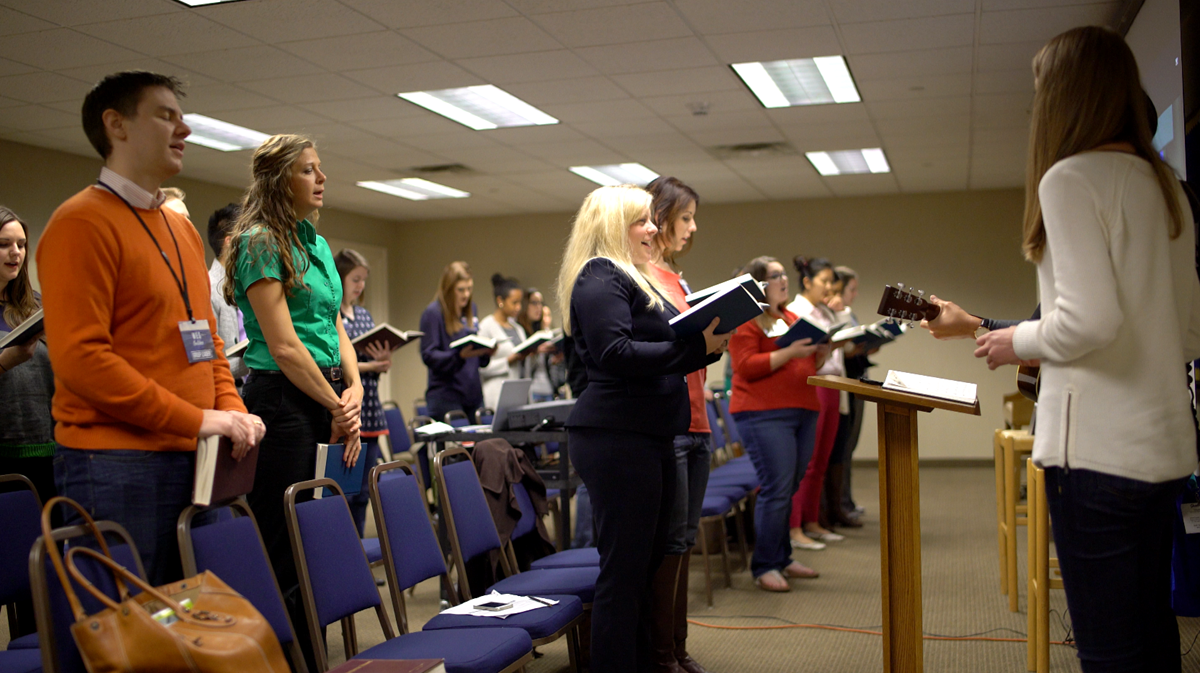 Image: Photo Courtesy of BSF
Jackson is one of more than 400,000 women, men, girls, and boys participating in Bible Study Fellowship (BSF), which comprises 1,200 free classes hosted in church facilities across 40 countries. Attendees come from many denominations and a handful profess no faith at all. All classes follow a 10-year curriculum cycle that aims to cover the entire meta-narrative of the 66 books of the Bible.
Incorporated in 1959, BSF is nearing its 60th anniversary, and its board, staff, and volunteers are mobilizing to tackle a long-standing dilemma: passing on its in-depth Bible study approach to the next generation. Jackson's under-40s demographic is the main target of BSF's recent BRIDGE initiative, a five-year campaign focused on drawing in Bible-friendly millennials but also unengaged ones through social media, new class models, and more studies. While the organization has always wanted to draw from all age groups, it has recently pivoted harder to reach more young adults, a generation BSF leadership feels is growing detached from religion, is less exposed to church, and is increasingly antagonistic toward Christianity and the Bible.
"We're in the same quandary as the evangelical church," said Walter Kaiser Jr., a BSF board member, an Old Testament scholar, and former president of Gordon Conwell Theological Seminary. "The majority of evangelical churches have a great gap, and that gap is right in that age group."
Some millennials have walked away from the church because they have a different set of concerns than the older generation, according to Darrell L. Bock, a professor and executive director of cultural engagement at Dallas Theological Seminary. He believes churches and Christian organizations are often not sensitive to the global nature of the world and the complexities that millennials perceive. As such, millennials desire scriptural study that is engaged with the larger world and that prepares them to face life's challenges.
"For boomers, it's getting the content of your faith right; for millennials, getting the ethics of your faith right is more important," Bock said. "Ministries that are going to address both the content level and the ethical outreach level in a relevant way are going to be powerful ministries."
Globally, women in BSF classes tend to be in their late 40s and early 50s. The average age for men is 57. Of the organization's 1,205 teaching leaders—a lay person who lectures at each large gathering—only 55 are under 40 (30 is the minimum age to teach). BSF currently has 72,000 members under 40 years old, or 18 percent of class membership, but it would like to double those numbers in the next five years.
While BSF has historically focused more on discipleship than evangelism, its leaders feel the stakes are high: Skepticism of Christianity and hostility toward the message of salvation through Christ alone are threatening BSF's mandate to pass the gospel to the next generation. Staff agree that classes are not intended to be an end in themselves, but to equip class members to take the gospel into their communities. "It's time for us to be a little more deliberate in making sure our study of the Bible isn't purely for enjoyment [or merely] intellectual," said Debbie Young, chief class officer, "but to truly mobilize us to what God intends us to be in the world."
A New Vision
In a hilly developed neighborhood on the outskirts of San Antonio, a long paved drive leads to BSF's headquarters, a complex of 19 buildings. In an office near the main reception area sits Susie Rowan, 65, the organization's fourth female executive director. Her desk is undergirded with a large Persian rug, an early donation to the ministry. She exudes warmth but relays determination and precision in explaining her goals for BSF.
When she came on board in 2009, Rowan immediately recognized the need for change in the organization's priorities. She has pushed BSF to embody a passion for Christ and people over procedures and programs. "When this organization was founded, we were just coming out of World War II and everyone liked rules," Rowan said. "We are in a world now that's all about individual freedoms. Words like 'rigidity' were used to describe us, and that had to change. I think that was part of my calling to bring that change."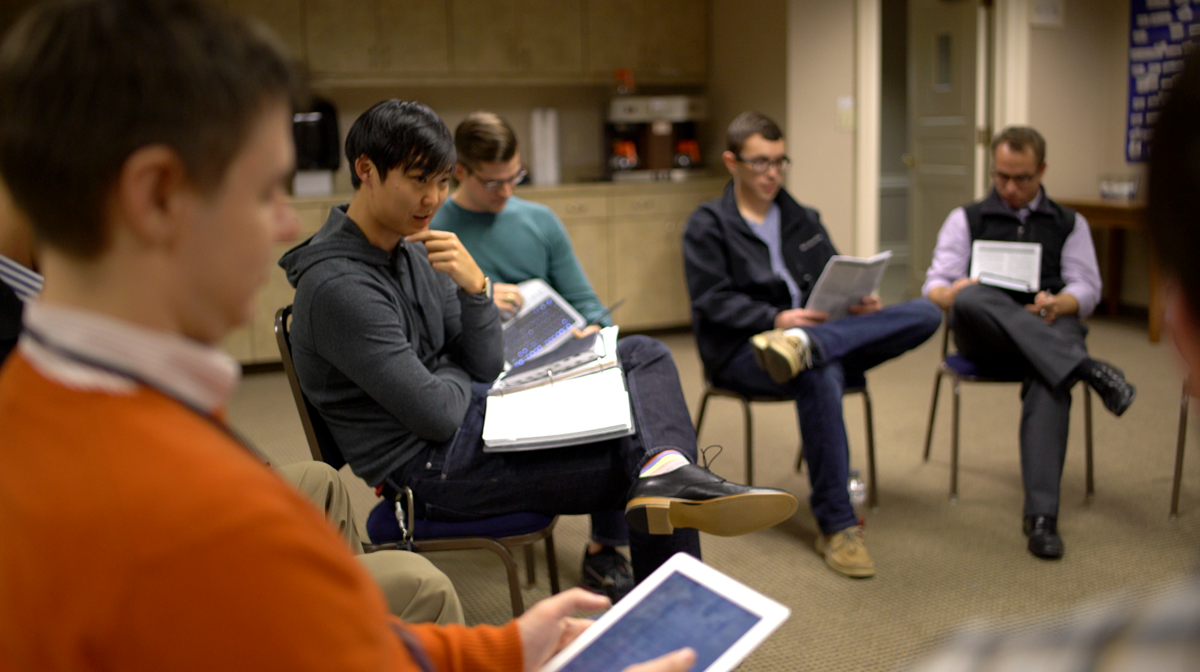 Image: Photo Courtesy of BSF
In 2008, just prior to being hired, Rowan was living in Visakhapatnam, India, where she heard stories from Christians fleeing violent persecution in the neighboring state of Orissa (now Odisha). When she returned to the United States, she was flummoxed by BSF's support for what she perceived as superficial rules in light of the dire situation of Christians abroad.
"I was coming out of a culture where Christians were actually being massacred for their faith," Rowan said, "and we're arguing about dress code over here?"
The board of directors has eagerly backed changes to BSF's culture that would balance structure with flexibility and compassion. For instance, Rowan has allowed class leaders—once required to wear skirts or jackets and ties—to wear jeans, a change that was already brewing as leaders had gradually been shifting to khakis and dress pants. Other changes have related to time and attendance. Class members are no longer chastised for absence or tardiness, particularly relevant to young mothers.
Originally from Missouri, Rowan joined BSF classes as a new Christian and as a mother in her 30s. She progressed to group leader and ten years later moved with her family to teach BSF classes overseas in Brazil and India. In the 1970s, Rowan worked as a lawyer for a corporate tax and litigation firm, experience she said prepared her to lead BSF.
"God knew what he had planned for me," Rowan said. "He knew I needed the corporate experience for leading Bible Study Fellowship. I also needed to learn how to be strong, smile, and survive in a male-dominated profession. That has served me well as a woman leading a Christian ministry." After returning from abroad, she worked with her husband in real estate and briefly led a corporate foundation before leaving the legal profession for ministry.
BSF is often perceived as a women's organization: Female participants outnumber men four to one, and it has been led by a woman since Audrey Wetherell Johnson, a former British missionary to China, launched it in the 1950s in San Bernardino, California. BSF took off early after it assisted with follow-up to a Billy Graham crusade, and it continued burgeoning throughout the 1960s and 1970s, eventually outgrowing its headquarters in Oakland, California.
BSF relocated to San Antonio in the late 1970s after an anonymous donor offered 95 acres of land. Its headquarters, abutting an Army training camp, has expanded to 279 acres but only actively uses 100 acres for its cluster of buildings housing 78 employees. BSF's current operating budget runs just under $30 million, brought in largely through class donations and individual gifts.
From the outset, BSF has experienced surges in attendance. Although class membership dropped to 200,000 during the 2008 recession, it spiked back up during the 2015–16 Revelation study when BSF saw 50 percent growth. Partly to accommodate the large influx of people, BSF created satellite discussion groups, where attendees listen to recorded teachings at churches and some non-traditional locations like college campuses and prison. There are now 2,700 satellite groups around the world, more than twice the number of BSF classes.
The organization's changes are rippling through all BSF classes, which exist for adults (segregated by gender), young adults, and kids, including almost 70,000 preschool through high-school students. Among BSF's 42 young adult classes, it is piloting new models in Dallas, San Antonio, Miami, Minneapolis, and Austin. These classes will still hold to BSF's four-fold study approach—individual study of the passage, sharing with the group, listening to the teaching, and reviewing with notes—but will take certain liberties. The classes will offer more freedom for discussion and fellowship, a shorter lecture time, and options to eliminate opening announcements and music. Some of these new ideas could become optional for adult classes.
Rowan is also looking for ways to improve class members' relationships with one another. In 2013, BSF surveyed members about how welcome they felt in class and received a 90 percent positive response. But when asked about their feelings of connectivity to their group, only 55 percent responded favorably. As a result, BSF developed training modules for teaching leaders to encourage new methods of discussion, such as sharing in pairs.
"God meant for us to be in community with one another studying God's Word," said Emily Cox, BSF research analyst and lead in new class models for young adults.
In Austin, Naomi Ruth Jackson saw her discussion group as more than just classmates. They began meeting for meals outside of class. They inadvertently challenged her to confront her mischaracterization of other Christians who might attend BSF. "We can't just categorize ourselves so easily," Jackson said about labeling those at BSF with terms such as "conservative" or "liberal." "And that's been transformational for me—having
some of those barriers come down." BSF's theology tends toward the conservative and holds a pre-millennial view without being dispensationalist, but its studies and teaching leaders present an array of scriptural opinions on topics such as eschatology.
BSF's young adult classes are geared to attract those in their 20s and 30s. The younger, mixed-gender classes have added to the curriculum—without removing any of the biblical content—a few separate "life sessions" that deal with issues such as dating, marriage, and working in a secular setting. They also place a strong emphasis on fellowship.
"Young adults appreciate authentic and transparent relationships where they feel free to express themselves," said Marci Barton, who has led the San Diego young adult class with her husband, Jim, for the past five years.
Reaching the next generation requires a new purposeful emphasis in BSF's studies. BSF's founder wrote the five original studies, but scholars such as Walter Kaiser Jr. and the late James Montgomery Boice have contributed to an additional five studies, including Isaiah, the People of the Promised Land I and II, Romans, and the Acts of the Apostles. Staff at headquarters edit and format the studies with more accessible language, simpler sentences, and boldface type for key concepts. Study questions, for example, have been refashioned to guide class members toward spiritual growth and interconnectivity through Scripture, said Todd Wethall, chief media and materials officer.
"We're trying to figure out ways to bring [younger people] in without overwhelming them," Young said. "We have to find ways to help them acclimate and cooperate with the Holy Spirit to create a spiritual hunger that only he can create."
A Growing Presence
From the main building of the San Antonio headquarters, narrow walkways link to two disparate complexes—one that houses printing presses and the other that encompasses an auditorium, a professional kitchen, and a dining room. More paths wind to a variety of brown cottages bearing names like Obadiah, Colossians, Romans, and Minor Prophets, which serve as guest housing for volunteers and scholars.
Eating her lunch near the pressroom, Kathy Cargo, 53, a dental hygienist from Kalamazoo, Michigan, spoke to staff and volunteers around a table about her visit to headquarters. After 20 years with BSF as a class member, assistant children's supervisor, group leader, and substitute teaching leader, she flew with 16 women to volunteer for the first time during the weeklong teaching leaders institute—a mandatory training in which teaching leaders alternate attending every three years.
Cargo loves "the opportunity to pray over and be a part of shipping class materials and lessons all over the world," she said. "It is such a blessing to be part of advancing the kingdom of God throughout the world in this way."
Nearly 49,000 volunteer regional directors, area teams, and teaching and group leaders contribute to BSF's operations. Last fiscal year, an additional 1,300 people from around the globe volunteered at headquarters, staying on campus for up to three months to work with printing presses and cook and serve meals. Each day in the 30,000-square-foot press area alone, as many as 35 volunteers collate, weigh, and band study materials that are shipped around the world, said Jennifer Gonzales, supervisor of press operations. Last fiscal year, the presses pumped out 56 million sheets of paper, and staff and volunteers shipped 90,000 cartons of forms and class lessons in English, Simplified and Traditional Chinese, and Spanish.
BSF is turning to technology to ease the printing burden and to grow its presence. It has revamped its website and set up social media accounts—significant for an organization that has traditionally eschewed publicity. It has digitized home discussion pages for families and non-members. And for the first time, this year BSF will provide members with online access to its biggest piece of intellectual property: its weekly study notes, a sort of high-level Bible commentary.
"This time in our history has required us to be a changing ministry," Rowan said. "The ministry as we knew and loved it in the past was not going to be effective in the culture of the digital world."
BSF has always been a word-of-mouth ministry, but it recognizes its need to increase awareness in order to build that intergenerational community it desires. A 2015 Barna study found that more than 50 percent of adult Christians familiar with BSF rate it very positively. Yet BSF was also one of the least-familiar organizations among church leaders, who recognize The Navigators, Cru, and FCA as leaders at enabling discipleship.
Bock, of Dallas Theological Seminary, believes serious Bible study has a future if it serves the church well and helps equip people for life. "I think that there is always a need for the church to show the relevance of theology," he said, "and the relevance of theology grows out of careful Bible study, which is what BSF tries to promote."
While its passion for Bible study is clear, some observers suggest BSF still has more room to make connections and promote itself.
"I tend to think in many circles and for lots of churches, [BSF] is well known and well respected," said Chapman Clark, professor of youth, family, and culture at Fuller Theological Seminary. "But I also think that the ways they have grown and spread have been more stealth than strategic." Clark recommends that BSF reach out to institutions like Fuller about its work, strategy, theological convictions, and future plans to help spread its new brand to emerging generations.
The organization has not intended to be mysterious, according to Rowan, but the culture of BSF since Johnson's days has been to promote God rather than self. This resulted in no advertising, interviews, or attribution to the names behind the studies. "Now that's still very much a part of our DNA," Rowan said, "but we also know we're not a word-of-mouth culture anymore."
Rowan has no present plans to retire and aims to continue working to build a community with a diversity of age groups. She reflected that message in a recent talk she gave to 120 teaching leaders—8 of whom were in their 30s—who attended one of three weeklong summer institutes in the auditorium at headquarters.
"Paul's calling was to the Gentiles," Rowan said. "Our calling as leaders of BSF is to challenge and lead our entire organization to face forward and reach the rising generations with the gospel of Jesus Christ, and to face outward to impact our culture in a transformative way."
Deborah Pardo-Kaplan is a freelance journalist living in Austin, Texas. She has attended BSF classes and is currently working on a memoir about her life as a Messianic Jew.
Have something to say about this topic? Let us know here.
Have something to add about this? See something we missed? Share your feedback here.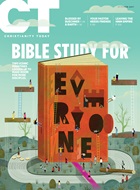 This article is from the October 2017 issue.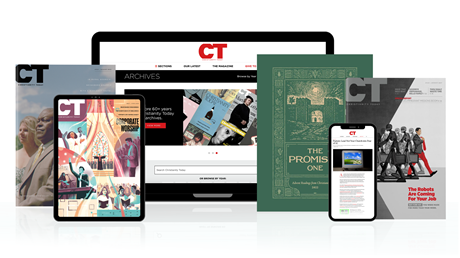 Annual & Monthly subscriptions available.
Print & Digital Issues of CT magazine
Complete access to every article on ChristianityToday.com
Unlimited access to 65+ years of CT's online archives
Member-only special issues
Subscribe
Bible Study Fellowship Rewrites the Rulebook
Bible Study Fellowship Rewrites the Rulebook