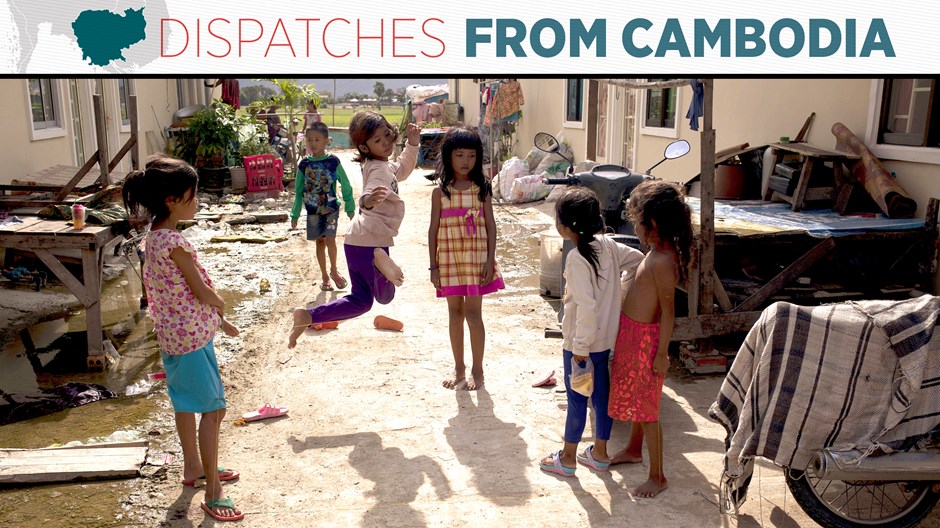 Image: Claire Eggers
At a shelter in Cambodia, 16-year-old girl points to the scar where she tried to slit her wrist with a broken plate.
Two years before, she left her province when offered a job as a cleaning lady in South Korea. Instead, she was sold into marriage in Beijing, where her new husband kept her locked up and demanded she give him a child.
"It was like hell," she tells CT through a translator. "I just wanted to die."
When she got pregnant soon after, the teen bride escaped at her first doctor's appointment and contacted her friends 2,000 miles away, who called a hotline to arrange her rescue and repatriation. She and her 11-month-old daughter live in a home operated by Agape International Missions (AIM), among dorm-style bunk beds with about 50 other girls.
In 2015, consulate officials brought 85 trafficked brides back from China, as cross-border labor trafficking of all kinds surged throughout the region. Recent economic partnerships have opened up connections between Cambodia and its neighbors—Thailand, Vietnam, Laos, and Myanmar—making it the easiest time in decades to get in and out. "There were new opportunities," said Helen Sworn, founder of the anti-trafficking coalition Chab Dai, "but new risks for exploitation."
Child brides, domestic servitude, and other employment scams fall into the broad category of labor trafficking. It happens on a massive scale around Cambodia; some recent studies estimate a quarter million Cambodians are victims of modern-day slavery.
Yet, "it's one of the quieter human trafficking problems," said Barry Jessen, manager for Samaritan's Purse's safe migration program in Cambodia. "Sex trafficking is much easier to market."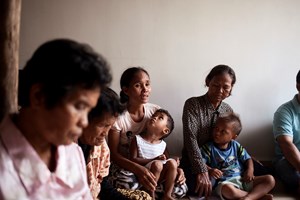 Image: Claire Eggers
Labor trafficking takes place when recruiters deceive workers into taking jobs they know will not pay or treat them fairly. The majority of victims are not teen girls with heart-wrenching stories like the ones at the shelter. They are working-age men who go after higher-paying fishing, construction, or manufacturing jobs in Thailand, only to end up working in illegal conditions and sometimes for no pay.
These men often don't know that they've been exploited—only that they want to get out of the ordeal. Their frustration and financial desperation often outweighs their personal sense of trauma.
All instances of exploitation, Christian activists like Sworn say, are results of the sinful inclination to dehumanize others and use them for personal gain, and they should concern those who believe people are made in the image of God.
Last year, 54 Cambodian men spent four months stuck aboard Thai fishing ships until their vessels were caught poaching in Indonesian waters. International Justice Mission (IJM) worked with the International Organization for Migration and anti-trafficking police to return the men to Cambodia, set them up with aftercare, and document their experience for IJM's first case in a new labor trafficking project supported by the US Agency for International Development (USAID) and implemented by the international development group Winrock International.
"We hope to run as many cases through the system as we can to diagnose gaps" and develop training to help improve the process, said Peter Williams, IJM Cambodia's field office director. In other words, mirroring the steps in IJM's successful sex trafficking project, which has gone on to show similar promise in the Philippines.
Though Cambodia became known for sex trafficking, numerically, labor trafficking is the major issue in the country. Widespread but complex, there's no single narrative to capture the issue. "With sex trafficking, we can be more proactive because the crime happens in a specific place," said Sin Sidan, a social worker with IJM. "But for labor trafficking, the crime happens everywhere."
Besides the promise of work in nearby Thailand, other trafficking schemes include domestic servitude in Malaysia, debt bondage in brick factories, child labor in farming, and international organ sales.
"The scope of labor trafficking is so huge that it's hard to take a corner and say we made a dent," said Jessen, who runs grassroots awareness campaigns in Poipet and other areas along the Thai border. "It's not as dramatic."
In 2015, 15 percent fewer Cambodians were deported from Thailand than two years before, despite a surge in migration due to drought. Jessen interprets the numbers as evidence that more workers migrated safely and legally. To get out of Cambodia by the book can be impossible for the poor in rural areas; passports cost $130 and require an all-day trip to the capital to obtain.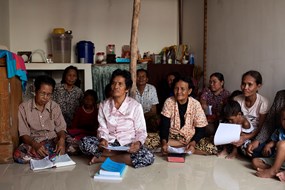 Image: Claire Eggers
At a weekly Bible study in a tidy kitchen in newly constructed government housing, Christian women living in Andong Village bring worksheets on "safe" and "unsafe" migration. Pang Siphon clasps her burgundy Cambodian passport as she shares with her neighbors how she took a job in Malaysia as a domestic worker, only to get held up by authorities accusing her of being there illegally when she tried to return through Thailand.
"I thank God for my safety," the 41-year-old says, shaking and crying, with her toddler on her lap. "I wanted to come home. I wanted to come back home and see my children."
About 500 World Relief volunteers lead sessions on trafficking and other community topics at local churches like Pang's, combining the lessons with testimonies, Bible study, and prayer. Another prevention strategy is to train households to save money so they have a buffer period to look for a safe, legal job, rather than being forced to make a dangerous choice out of desperation, explains Jessen. Savings groups can loan money to community members who face emergency expenses or who want to expand their businesses.
In a farming village outside Siam Reap, $50 loans stock roadside grocery stands, hire workers to prune cassava plants, and cover the cost of school fees. Group leader Rathatt Roeurn, a smiley woman with a colorful skirt wrapped over her pregnant belly, boasts that at least 80 percent of families in the village have stopped sending their children to work. Nationwide, more than 400,000 Cambodians between 5 and 17 years old are involved in child labor.
Fifteen-year-old Khun Chend used to bike 30 minutes away to work at a cassava farm instead of going to school. For others, it was lemongrass, sugar cane, or rice. In the "floating villages" along Tonle Sap Lake, young boys skip school to trap fish.
World Vision has found that child labor isolates kids like Khun and makes them slower learners. Khun returned to class this year when the organization provided her with chickens to raise at home for income, which allows her to still go to school full-time. She remains a few years behind her classmates.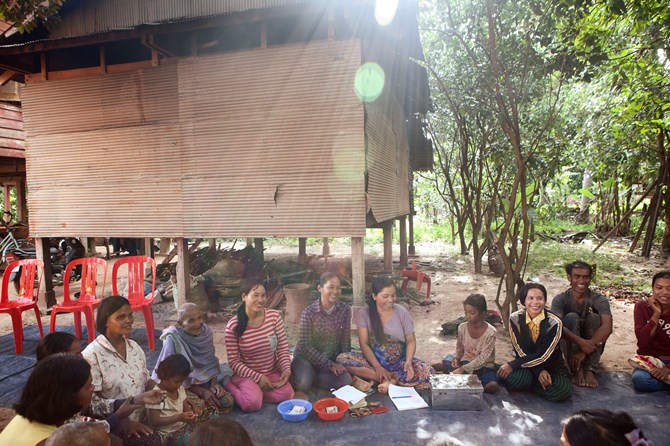 Image: Claire Eggers
Support structures like savings groups, community programs, and churches themselves do life-changing work in the background. Instead of rescuing people from exploitation, they use education and economic opportunities to keep them from getting tricked into being trafficked into risky work in the first place. This approach, Jessen said, is cheaper and more effective.
"We've been 'ending trafficking' for how many years now?" he asked. "I want people to be not be intrigued by the sexy end of trafficking. I want them to be intrigued by the functional end."
The scope of the problem makes it harder to see progress worth celebrating, especially when trafficking extends across borders and gets intertwined with other issues.
"The trafficking of persons in Cambodia will not be tolerated. The government is doing everything possible to stop it," said General Sok Reaksmey, who oversees international collaboration for the National Committee for Counter-Trafficking. "We have been fulfilling our task with the hope of successfully eliminating the trafficking of persons, but we need the help of the international community because it's happening internationally too."
For a Bible study based on this article, visit our sister brand ChristianBibleStudies.com.
Was this article helpful? Did we miss something? Let us know here.
Have something to add about this? See something we missed? Share your feedback here.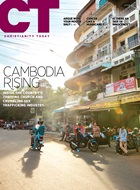 This article is from the June 2017 issue.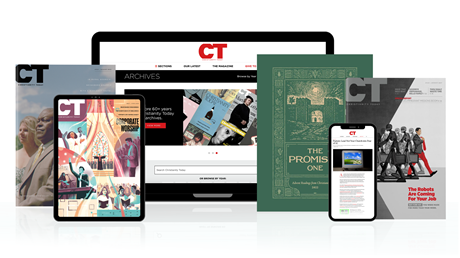 Annual & Monthly subscriptions available.
Print & Digital Issues of CT magazine
Complete access to every article on ChristianityToday.com
Unlimited access to 65+ years of CT's online archives
Member-only special issues
Subscribe
The World's Biggest Trafficking Problem Remains in the Background
The World's Biggest Trafficking Problem Remains in the Background