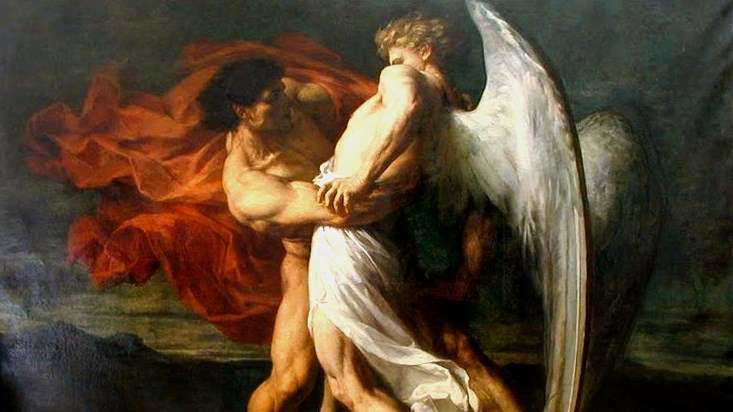 Image: Alexander Louis Leloir / Wikimedia Commons
I'm not sure how to tell my children that God is dangerous. No doubt, I want them to nestle up to Aslan's furry mane, safe and warm. But with enough life lived, disappointment felt, and loss endured, they will soon find out that he has teeth—big, sharp ones. He is good, but he is not safe, as C. S. Lewis said. And sometimes snuggling turns into a brawl.
My understanding of the Christian life has been rewired since the spirituality of my youth, which promised that every day with Jesus would grow sweeter than the day before. Yesterday's sweetness has become today's bitterness. A dear friend of mine is battling pancreatic cancer in its final stages. He understands that life with God is not always easy, that sometimes we wrestle with him.
The force of these thoughts hit me while reading Marilynne Robinson's new novel. Lila narrates a heroine who has no misgivings about life's sweetness. Lila is angular and awkward. She's new to the faith. Her life was hard and will remain hard because she cannot forget her past. And she's pursuing something.
Or maybe Lila is becoming aware that she is the one being pursued. Her stolen Bible (yes, stolen) maps her pursuit with unconventional texts like Ezekiel 16—which describes Jerusalem as an adulterous wife—lighting her path. Lila likes to camp in the hard corners of Scripture, which make one thing clear: The Bible knows nothing of saccharine piety. Like my friend, Lila knows that God can be dangerous. That at times we come to blows with him.
A Strange World
Karl Barth delivered a 1917 lecture titled "The Strange New World within the Bible." The Swiss theologian actually used only the words new world, but the modifier, strange, in the English translation clarifies his thought.
Indeed, the Bible can be strange. When one enters its vast sweep, from story and poetry to proverb and discourse, the reader is disoriented. The terrain is unfamiliar. For Barth, the Bible doesn't reflect ourselves back to us. Rather, the Bible rewires—in an unsettling way—our basic instincts about the world and the God who made it. The Bible presents a universe in which God not only transcends and fills, but also is the center, with everything flowing to and from him. To enter the new world of the Bible is to enter the world as it really is—strange though it is.
Few biblical passages are as strange as Genesis 32. I imagine Lila would like this story, because it is honest about what it's like to encounter God. What do we find in Genesis 32? When the dust clears, we see Jacob and God entangled, arms and limbs clamoring for the upper hand. God is wrestling Jacob.
Don't let anyone tell you that the Trinity really doesn't show up until the New Testament. Jacob is wrestling with a man; Jacob is wrestling with God. The Bible leaves it at that.
Irony invades this story at almost every turn. The Jacob narratives are moving toward a climactic moment. Jacob and Esau have unfinished business. All of Jacob's energies focus on this singular encounter. The last time Jacob saw Esau, the parting wasn't so happy. Jacob has no reason to believe Esau's anger toward him is gone. The birthright is still Jacob's. Esau is still mistreated. So Jacob figures his doomed fate is near.
And so Jacob schemes. His name means "heel-grabber," and once again, he lives up to it. He uses manipulative tactics to thwart Esau's rage. Jacob sends money, livestock, and gifts ahead of his retinue. Perhaps Esau can be bought. It worked before.
Jacob sent his family to the other side of the Jabbok River. He was "left alone," in the haunting words of verse 24. Readers cannot be sure why Jacob remains behind all alone. Martin Luther believed that Jacob stayed behind in order to pray. And the prayers he needs to make are the arduous kind, the kind you don't want overheard. That's certainly possible, but the text doesn't say. Whatever the mitigating circumstances, Jacob is alone.
At this point, the story turns spooky. Out of nowhere, the narrative describes a man wrestling with Jacob until the break of day. The Bible is often frustrating in this way. It sometimes shows no interest in providing the kind of details we need to string together a coherent historical account. For instance, in 2 Kings 23, Josiah is killed by Pharaoh Necho II at Megiddo. Why? The text doesn't say. All we know is that Josiah is gone. All we know here is that Jacob wrestles with a man until dawn.
While the sudden transition gives us literary whiplash, we eventually gain a perspective that the characters in the story don't have. Jacob understands that he is wrestling with a man. But we find out that his competitor is both a man and much more.
The prophet Hosea tells us that Jacob wrestled with the angel of the Lord, and in the next breath with Yahweh himself (Hos. 12:4–5). Don't let anyone tell you that the Trinity really doesn't show up until the New Testament. Jacob is wrestling with a man; Jacob is wrestling with God. The Bible leaves it at that.
An Unlikely Conqueror
As the episode moves on, we are in for a shock: God is losing. The man in effect says to Jacob, "The sun is coming up, so you need to let me go now." Why would God—the one who, at the beginning of Genesis, spoke the world into existence—ask Jacob to lay off? Because the man "could not overpower him" (Gen. 32:25). God could not break free from Jacob's full nelson.
One stream of Jewish interpretation resists this reading. Indeed, it's a lot to swallow. For Rashi, a medieval interpreter, the figure wrestling Jacob must be a demon or the protective angel of Esau. Suggesting this is Yahweh runs the risk of theological offense. Mortals may gain the upper hand over deities in Greek epics, but not in Israel's Scriptures. However, the text leaves little doubt who the man really is. Hosea is more forthright. There is no getting around it: The man is God, and Jacob is winning.
The narrative does suggest, however, that the match is rigged. When the horizon begins to glow and the man cannot prevail, he touches Jacob's hip and throws it out of socket. That's not ordinary for a mere human. And Jacob seems to understand, because he's back to scheming: "I will not let you go unless you bless me" (v. 26).
The narrative builds like a tsunami to this moment. Jacob has no clue what kind of blessing he needs. But the man does.
God could not break free from Jacob's full nelson.
The whole story centers on and plays with Jacob's name. Ya'akov (Jacob) ye'avek (wrestles) by the river Yabbok (Jabbok). The place and the primary plot sound like Jacob's name. His name is the focus, and God requires Jacob to identify himself before any blessing.
"Who are you?"
"I'm Jacob, the heel-grabber, the manipulator. I'm wily."
"Indeed you are, Jacob. But now your name is Israel."
The name Israel—which probably means "he struggles with God"—bears the weight of the story. "You have struggled with God and with humans and have overcome" (v. 28).
At this point, we have only scratched the surface. The force of the story grips me in ways it seems to have gripped Hosea and Christian readers like Luther, John Calvin, and German Lutheran Gerhard von Rad. All of them—who cover a large expanse of time—believed this story symbolizes the life of faith. Hosea calls on the people of God to repent with tears like Jacob did at the Jabbok River (Hos. 12:4–6). As Israel's namesake, Jacob marks the life of faith as a life of repentance.
Luther and Calvin believed Jacob's wrestling with God symbolizes our struggle to hold fast to God's promises despite the torturous circumstances of life. In pursuing us and wrestling with us, God tests our faith. And von Rad believed that Jacob depicts what will soon become the nation of Israel in the larger narrative of Scripture, desperately seeking to cling to the saving promises of Yahweh.
Refusing to Let Go
When you look closely at the characters in the story, Jacob and God enmeshed in hand-to-hand combat, Jacob looks uncannily like us. He was doing physically what we all do spiritually. We wrestle with God, not only to understand who he is, but also to be blessed by him.
My friend may be battling pancreatic cancer, but he's also wrestling with God. Just this summer, we sat on the beach under the shade of a canopy with our feet nestled in the Gulf Coast sand. As my kids and his grandkids played together, we talked about death.
"Mr. Hawkins, how can I help your family when . . . ?"
"I want them to know we have a future," he said.
Those words came out with no hesitation, but quickly and boldly. Mr. Hawkins taught me Sunday school when I was in junior high. I have spent many summers on the beach with him. I saw him marry off his daughters. I even trekked across Europe with him. But now I am seeing him by the Jabbok River, wrestling with God and refusing to let go of his promises.
Our wrestling with God makes sense only in the larger context of another wrestling match: when Jesus came to blows with God and the many difficulties of life.
Mr. Hawkins's situation reminded me that faith necessarily entails moments by the Jabbok River, some of which are dangerous. Our wrestling with God makes sense only in the larger context of another wrestling match: when Jesus Christ came to blows with God and the many difficulties of life. Jesus refused to relent, and he persevered in his suffering. He endured because of the blessing set before him: the salvation of the world. His refusal to let go provides us our only hope when we do our own wrangling with God. He fought on our behalf.
Yes, faith is a dangerous business. We face trials and temptations of all sorts, and God uses them to test our faith. No one knew this to be true more than Jesus. And no one invites us into the joyous dangers of faith more graciously than him, either. We don't wrestle alone. He is with us, and countless faithful believers have gone before us. The psalmist wrestled to understand why the wicked often prosper (Ps. 73). Even John the Baptist wrestled to understand who Jesus really was, asking on the eve of his execution, "Are you the one who is to come, or should we expect someone else?" (Matt. 11:3).
The life of faith is one of continual wrestling, where our faith butts up against the troubles of our experience and the sovereign God who controls all things. But the work of Christ, True Israel, assures us that we never wrestle alone or in vain. We may get injured in the ring, but our wounds—like Jacob's thrown hip—will never become fatal to faith's final security. God won't allow it.
I'm still not sure how to tell my children about God's dangerous side. He allows certain circumstances to happen for reasons only he knows. We don't always accept the blessing he has promised immediately. Nevertheless, we can trust the character of God—the one who loves us so much that he came and wrestled on our behalf—and be confident that his judgments are always right, his nature always good, and his saving promises always sure.
Mark S. Gignilliat is associate professor of Old Testament at Beeson Divinity School and canon theologian at the Cathedral Church of the Advent in Birmingham, Alabama.
Have something to add about this? See something we missed? Share your feedback here.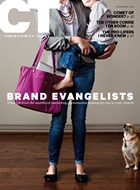 This article is from the December 2015 issue.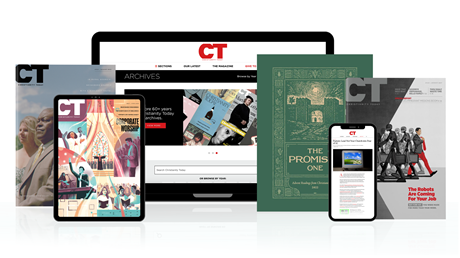 Annual & Monthly subscriptions available.
Print & Digital Issues of CT magazine
Complete access to every article on ChristianityToday.com
Unlimited access to 65+ years of CT's online archives
Member-only special issues
Subscribe
When God Hits Below the Belt
When God Hits Below the Belt