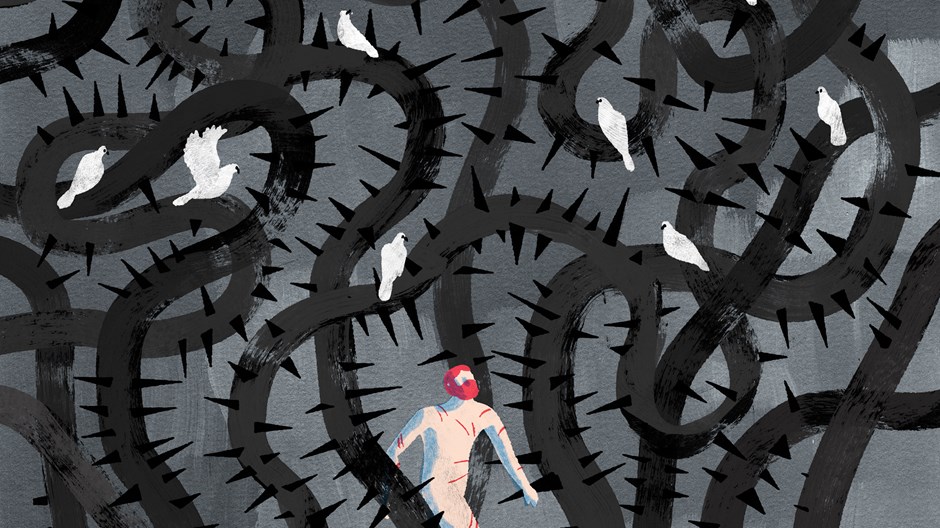 Image: Illustration by Keith Negley
Suffering can make even secure and mature Christians wonder: How can I believe that God is good, that he is with me and for me? It is by no means certain that suffering people will find comfort in Christianity. Some Christians even choose to reject their faith after they have suffered. Having experienced severe losses myself and written about them at length, I was curious to learn how Timothy Keller's latest book would handle this difficult subject.
As it turns out, Walking with God through Pain and Suffering (Dutton) adopts a surprisingly broad perspective. The book is at turns apologetic, theological, and pastoral. As an apologist, Keller, founding pastor of Redeemer Presbyterian Church in New York City, explains how other religions and philosophies address and answer the problem of evil and suffering. After exploring these options (Stoicism, Buddhism, and several others), he demonstrates convincingly that the Christian answer is both more intellectually satisfying and personally helpful. But, he adds, it must be the genuine Christian answer rather than some insipid and superficial expression of Christianity.
It is only in the past 200 years, Keller argues, that Westerners have used evil and suffering as an argument against the existence (or goodness) of God. He is especially critical of the modern and secular view of suffering, which places all confidence in human reason and assumes that God, if he exists at all, exists solely to make us happy. This view helps explain why so many people avoid suffering at all costs, do their best to manage and minimize it once it interrupts their lives, and often yield to utter hopelessness when it persists. In the end, a secular view leaves us empty and alone, stripped of answers, devoid of all comfort and confidence.
The Christian answer to suffering, on the other hand, is more consistent, complete, and humane than any of the alternatives. It is attentive to human emotions. It views God as both sovereign and suffering. It alone satisfies the human longing for meaning and significance. And it is by far the most hopeful. Keller sums up the Christian perspective with the metaphor of a furnace. The flames of suffering consume our sinful inclinations, and yes, this is painful. But this purification process makes us holy, provided we turn to the God who reveals himself as both transcendent and present, Victor and Victim, Lord and Servant.
Pathway through the Valley
At certain points, Keller appears to move from the lectern to the pulpit. As a theologian and preacher, he provides a thorough, balanced, and nuanced view of suffering from a biblical perspective. On some occasions, suffering manifests God's judgment on all sin (our expulsion from the Garden) or punishment for individual sin (David's adultery). On other occasions, its causes appear random and unfair (the anguish of Job).
Keller is cautious about sweeping statements that imply a single answer for every circumstance. Drawing from Scripture, he shows that there are varieties of suffering: some our own fault, some the result of betrayal and loss, and some utterly mysterious. And he asserts that no two people respond to suffering the same way. Some grow angry; others fall into depression.
Nevertheless, we can know this with certainty: All people suffer, but God has provided a pathway through it in Jesus Christ. On the cross, Jesus' suffering defeats suffering and turns evil back on itself, precipitating its destruction. He opens the way for us to regain fellowship with God and share in his glory.
Keller offers sage counsel to lead us through the valley of the shadow of death. Here, the preacher leaves the pulpit and joins us in the living room. He sets a realistic and practical course of action. "We are to meet and move through suffering without shock and surprise, without denial of our sorrow and weakness, without resentment or paralyzing fear, yet also without acquiescence or capitulation, without surrender or despair."
Thus we can and must walk through suffering, even when the pathway is shrouded in darkness. We can weep, too, for the Bible itself provides a rich language of lament (the Psalms, for instance), thus affirming the legitimacy of human emotion. Jesus himself died with a psalm of lament on his lips, crying, "My God, my God, why have you forsaken me?" (Ps. 22:1; Matt. 27:46).
We can trust God, because the biblical story will help us endure when our own little stories seem confusing and we feel forsaken. And we can pray, as Job did. Though filled with anguish and despair, Job continued to wrestle with God—unlike his friends, who talked about God but never really knew him. In that story, so important to Keller, God reveals himself to be almighty and approachable, transcendent and personal, and the ultimate answer to Job's suffering.
We can also think, thank, and love, which will enable us to endure and mature. Thinking requires us to focus our minds on the eternal truths revealed in the biblical story. Though we will never be able to think our way out of suffering, it is possible—and helpful—to think about the biblical truths that make our suffering comprehensible. Thanking, in turn, forces us to reorder our loves and relocate our glory, turning our attention to the One who bends suffering to his glory and our benefit. Loving means pursuing the virtue that reflects God's nature most perfectly. God chose the way of love in the Cross; we can, too, in our suffering.
Finally, we can place our hope in God's sovereign control over the future. At the right time Jesus will return to establish his kingdom on earth, renewing all things and wiping away every tear. The end result will be so wonderful that even the worst suffering we've endured will seem beautiful and holy in light of God's final act of redemption.
The Human Element
Keller has become a kind of modern church father. The talents that have enabled him to excel as a pastor, church planter, and best-selling author are all on magnificent display in his latest book. He has read widely, he demonstrates an impressive command of the Bible and Christian theology, and he dares to engage secular culture without being defensive or obsequious.
Keller is especially impressive in the way he identifies the apparent tensions of the Bible before going on to resolve them, time and again, in Jesus Christ. Yet he is equally pastoral. He includes personal stories at the end of most chapters, written by people who have suffered, which add a human element to the book's apologetic and theological substance.
I'm left with only one question: Who will read this book? Obviously, many will, simply because Tim Keller wrote it. It will surely help readers to think critically and rightly about suffering, and to reflect on it from a Christian perspective.
But is it for someone coping with the early stages of some acute loss? I am not so sure. Sometimes, before people are ready to read a book about suffering—especially one so substantive—they need friends simply to be with them in their suffering. (That Keller's book is more strictly theological than narrative or poetic only reinforces this sentiment.) If you know someone in this condition, you might think about waiting a year before recommending the book.
In the meantime, go ahead and read it for yourself. I can't think of a better resource for understanding suffering, enduring it with hope, and helping others whose suffering runs too deep for any word except the Word—the One who is truly with us and for us.
Gerald L. Sittser is professor of theology at Whitworth University and author of A Grace Disguised: How the Soul Grows through Loss and A Grace Revealed: How God Redeems the Story of Your Life (Zondervan).
Have something to add about this? See something we missed? Share your feedback here.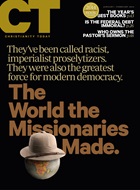 This article is from the Jan/Feb 2014 issue.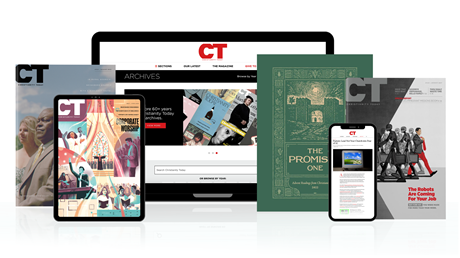 Annual & Monthly subscriptions available.
Print & Digital Issues of CT magazine
Complete access to every article on ChristianityToday.com
Unlimited access to 65+ years of CT's online archives
Member-only special issues
Subscribe
Tim Keller on Enduring Suffering Without Losing Hope
Tim Keller on Enduring Suffering Without Losing Hope