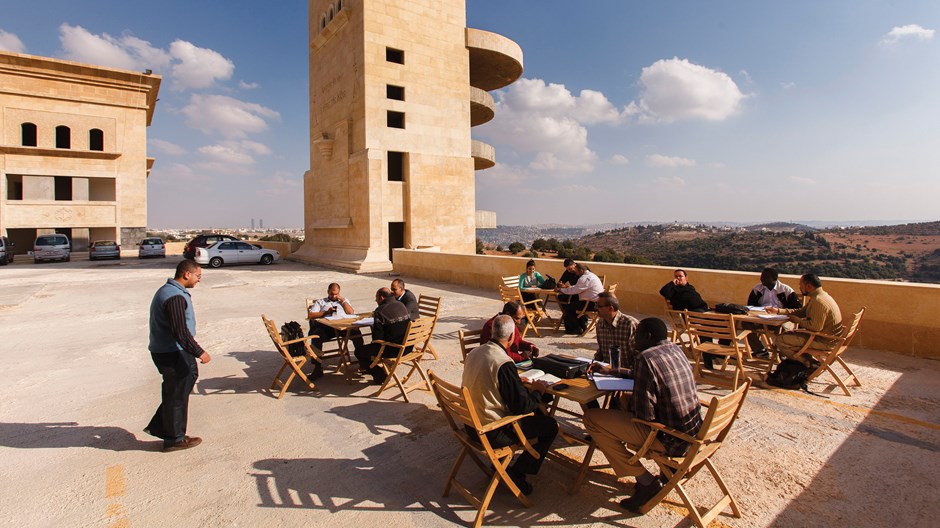 Image: Warrick Page / Getty
It is 8:30 on a Tuesday morning, and crises are blaring from the television in the student lounge of Jordan Evangelical Theological Seminary (JETS), based in Amman. Only a few students—mostly Egyptian, Sudanese, Syrian, and Jordanian men—are watching. Everyone else is crowded around the coffee and tea, swirling sugar into paper cups as they review Greek vocabulary and Trinitarian theology.
A US-led coalition has just launched airstrikes on regions in Syria controlled by Islamic extremists, a reporter announces. The Islamic State (ISIS) is fighting Syrian President Assad's regime, Kurdish militaries, the Iraqi army, and rebel forces in Syria. ISIS has beheaded journalists and is holding other people hostage. Jordan participated in the airstrikes and is tightening its borders, cracking down on Islamists, and arresting terror suspects across the Hashemite kingdom.
A refugee pastor who fled Syria two years ago switches the TV off.
"Yallah shbab [Come on guys] chapel!"
Upstairs a student named Mounis is leading staff and other students in worship. "Astatih kullu shayin fil masih kuwati [I can do all things through Christ who strengthens me]," sings an Egyptian keyboardist, eyes closed, brows furrowed.
"Ilahi yourid an ahya fi najahi [My God wants me to live in victory]. Wa yuqimuni ila murtafaati [And he enables me to walk to my high places]."
After worship, Bryson Arthur, a Scottish systematic theologian at JETS, approaches the podium to read from Matthew 8.
"God is asleep in the disciples' boat. The creator of the universe is asleep in the boat!" Arthur says. "'Ye of little faith,' the Messiah says. 'Why are you so afraid?'"
Believers can choose between two kinds of fear, Arthur continues: fear of the world or fear of the Lord. "One leaves you clutching, desperate and terrified; the other brings you peace. One seeks control; the other surrenders.
"Let us choose the latter," Arthur says. "Let us not be afraid."
Chapel is over. Outside the seminary, political and military storms swirl, giving the JETS community plenty to fear. But after class and on Sundays, seminarians and professors fan out across Amman, ministering through the city's churches, shelters, and private homes to care for the country's growing refugee population.
"The church is in pain because of what's happening in Syria and Iraq," said Yousef Hashweh, pastor of the Jordanian Alliance Church. "We need our sister churches in the West to stand with us."
Compassionate Care
In 2010, Hanna Massad, assistant professor of theology at JETS, launched a new fellowship in Amman for refugee Iraqi Christians.
Until the protracted Syrian crisis, the fellowship mostly tended to the physical and spiritual needs of Iraqis. But no longer. Supplementing churches' relief efforts, these Iraqi Christians have begun ministering to Syrians.
More than half such refugees are women and young children. Massad's congregation regularly hosts an open house for Syrian children to play. "We also visit Syrians in their homes in Jordan. We listen, drink tea, pray, and at times provide food," Massad, a former pastor of Gaza Baptist Church, told CT.
More than 619,000 officially registered Syrian refugees—along with 2 million Palestinians and thousands more from Iraq, Sudan, Somalia, and other countries—have flooded into Jordan. Four years into the Syrian conflict, Jordan's refugee emergency has turned into a national crisis, taxing the country's ability to sustain the masses who aren't leaving anytime soon. (Today, there are 3.2 million Syrian refugees in the region.)
As the number of refugees grows, so has the number of overseas Christian mission volunteers arriving from Europe, the Americas, South Korea, Japan, and China. By the end of 2014, more than 50 faith-based, governmental, and secular agencies will have spent more than $850 million caring for Syrian refugees in Jordan. In October, the US-based Cradle of Christianity Fund pledged to raise $25 million to shelter displaced Iraqi and Syrian Christians during the coming winter. The immediate need for food, shelter, education, and medical care is overwhelming. On average, a UN hotline in Amman receives 2,500 calls for help each day.
Some Christians coming from overseas are eager to evangelize as soon as they arrive. But Jordanian church leaders caution against proselytizing. Article 150 of Jordan's penal code forbids any action that may lead to "sectarian strife," a vague term that includes proselytizing. Most of Jordan's traditional churches do not actively proselytize. Jordan, like other Mideast nations, has a large intelligence service that monitors religious activity.
Jordanian police have taken into custody and deported individual American, Korean, and other overseas Christians who allegedly shared the gospel with Muslims. In one instance, police forced a pastor to leave Jordan since he was attracting too many people to his fellowship. Even performing worship music publicly can trigger an official inquiry.
Imad Shehadeh, president of JETS, said evangelism is often better left to individual Jordanians, given current security and cultural complexities. "It makes a lot more sense to invest in Arabs. They are just as smart as Westerners and just as godly."
"Reducing the unprecedented rate of migration of Christians from the Middle East is strategically helped through theological education taking place within the Middle East. When Arab Christians are trained effectively, they develop a deep conviction and a lasting vision to reach their countries for Christ, they are armed with tools they never had before, they cannot sit still without ministry, and they know that they can make a difference by bringing back the hope of the Gospel to multitudes.
"These are godly and intelligent men and women that do not need to learn a new language or a new culture."
One convert, Ahmed, said that in sharing the gospel with Muslims, it is important to help individuals count the cost.
"What if the people you're helping then go to jail? That decision changes your entire life," he said. He said Christians should resist any pressure from the outside to show progress in terms of numbers. "Connect with people heart-to-heart, not project-to-heart," said Ahmed.
Massad said the key to caring for refugees is compassion. Many refugee families arrive in Amman after exhausting all other options. When churches take them in, trust is established."You need wisdom from above about when to talk, how to deliver a loving message to others," said Massad.
One family arrived at his church after ISIS kidnapped the father. The mother and two children still don't know if he is alive. "They have started to experience God working in their life," said Massad. "We pray together. We laugh and cry. I could write a book about each family and what they went through."
The ongoing conflict means refugees are arriving from Syria and Iraq every week. "These days we see history being written," Massad said. "We should be proud we belong to the body of Christ. We can learn from each other. The needs are unlimited."
Long-Term Commitments
Despite urgent relief needs, some of Jordan's most effective Christian leaders balance emergency relief with long-range development projects, such as discipleship training, health clinics, and economic growth.
Hyung Nam Chung is among those who believe this approach is well suited to the culture. Chung, a Korean pastor who has worked in Jordan for 20 years, said it has taken three generations for Koreans to establish roots in the Middle East.
When he first arrived in Bahrain in 1989, for example, the Korean Christians there didn't speak Arabic. They were mostly young, single men working day jobs and meeting in the evenings to pray. It was tempting to judge their success by counting the region's "fruit" or lack thereof.
"But God doesn't look at it with that perspective," Chung said. "He's not in a rush. He looks at the big picture.
"Jesus' followers are blessed as they bless others. While you wait for resettlement or a visa or peace so you can return, you are a source of blessing," he said. The poor and marginalized—Egyptians, displaced Iraqis, Filipino maids, and now Syrian refugees—understand this. "The most powerful missionaries in the Gulf are Filipino workers. Who else can enter Saudi Arabian homes and speak to women in their living rooms?"
Chung and other church leaders focus on resettlement. In many cases, refugees cannot safely return to their homes and are granted permanent residence. For example, the United States has resettled 85,000 Iraqis but only 90 Syrians so far. Next year it could accept up to 2,000 Syrians.
In another Amman neighborhood, several Chinese Christians (who asked for pseudonyms) have settled in for the long run. They are studying Arabic at an Islamic college that attracts religious foreigners, including Chinese students from a Muslim Hui or Uyghur minority background. Li and his wife, Jiayi, have been in Jordan for two years. They come from a large Chinese house church that sends workers to places where Asian believers are often better received than Western ones.
The largest group of development agencies in the country comes from North and South America. Canada and the United States alone have more than 20 groups in Jordan, and many of them focus on training leaders and supporting new churches.
Some South American Christians are also serving through education and microenterprise. Maria and Juliana, two single Brazilian women in their early 30s, moved to Amman two years ago without knowing English or Arabic. After picking up both languages, they now regularly visit Syrian refugees, teaching women aerobics and how to sell handicrafts, and hosting youth camps. Despite the language barrier, Maria said, she slips easily into Arab culture, especially among other women.
Outreach Is Risky
For the most part, Orthodox, Catholic, and Protestant leaders in Jordan have kept to themselves for years. But some pastors hope the refugee crisis will forge a new sense of unity. "We have to act as one group—one body of Christ," said Noor Sahawneh, pastor of the National Christian and Missionary Alliance Church of Mafraq.
Open to all, Mother of Mercy in Zarqa, a Catholic medical clinic recently profiled by One magazine (published by the Catholic Near East Welfare Association), is an example of Christian unity in action. The small, church-based center typically treats more than 100 patients daily, many of them expectant mothers referred from the northern cities of Mafraq, Jerash, and Irbid for prenatal care.
"We cannot talk about spirituality in our work," Sister Najma told One. "What we do and how we do it shows our spirituality. We've devoted our whole lives to helping people. This is our message."
Fifty-six percent of Jordan's population is 24 or younger, and young Jordanian, Palestinian, Iraqi, and Syrian families scramble to find low-cost health care. That's where Mother of Mercy's staff can play a role, attracting mostly non-Catholics as patients.
Another area of focus is interfaith ministry, an extremely sensitive area among church leaders. Changing one's religion is illegal, dangerous, and sometimes deadly.
Persecution ministry Open Doors reports religious freedom in Jordan has declined in the past 18 months. Regional crises have heightened conservatism, making many Jordanians resistant to interfaith interaction. At the same time, the pain of terrorism has opened up many individuals to new questions about their own religion.
If believers can strengthen their unity at this time, said Jordan's leaders, the gospel will blaze stronger in the Middle East than ever before. "There is no Eastern, Western, Jew, or Greek in Christ," Jordanian Alliance pastor Hashweh said. "If one member aches, the whole body is in pain."
Alice Su is a journalist currently reporting from Jordan and Iraq. She has written for The Atlantic, Wired, and Columbia Journalism Review.
Have something to add about this? See something we missed? Share your feedback here.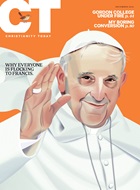 This article is from the December 2014 issue.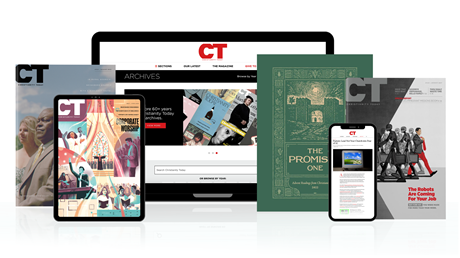 Annual & Monthly subscriptions available.
Print & Digital Issues of CT magazine
Complete access to every article on ChristianityToday.com
Unlimited access to 65+ years of CT's online archives
Member-only special issues
Subscribe
Relief in Wartime Chaos
Relief in Wartime Chaos