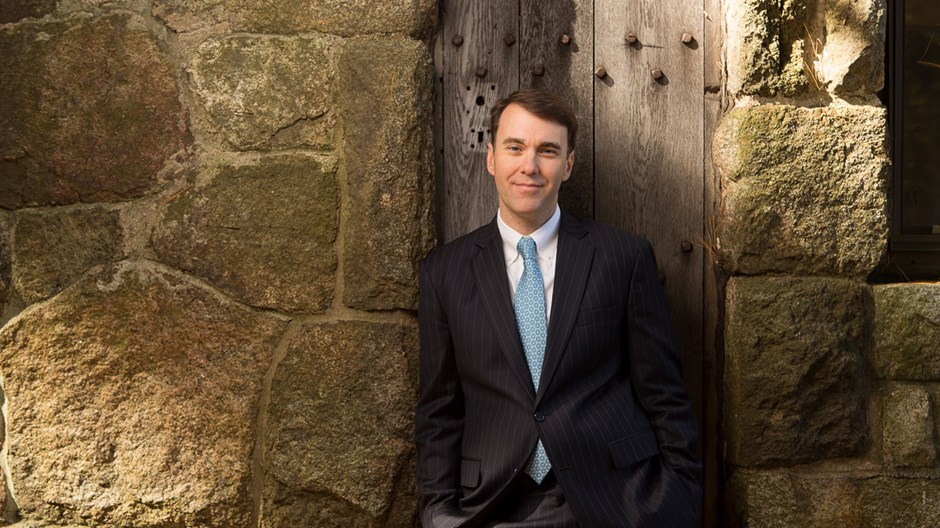 Image: Courtesy Gordon College
Since July, Michael Lindsay, the 42-year-old president of Gordon College near Boston, has faced the firing line. Due to public allegations that his college supports discrimination against LGBT students and faculty, Lindsay spent much of the past five months defending Gordon's long-standing policy calling students and faculty to refrain from sex outside Christian marriage.
Earlier in 2014, Lindsay and other Christian leaders signed a letter supporting a religious exemption from the presidential executive order prohibiting employment discrimination for sexual orientation and gender identity in the federal government and for federal contractors. The executive order closely mirrors the Employment Non-Discrimination Act (ENDA), a bill that has been hung up in Congress since Senate approval in November 2013. ENDA includes a broad exemption for religious organizations. President Obama's executive order, signed in July, does not.
After the letter to Obama became public, the Massachusetts cities of Salem and Lynn severed ties with Gordon. Lindsay was subject to extensive criticism, including from Gordon alumni. The college's accrediting association began asking questions about its ban just as Gordon launched a new campus-based working group to hold dialogue on its policy. Lindsay spoke recently with Timothy C. Morgan, CT senior editor of global journalism (and a Gordon alumnus), about the working group, how Gordon responds to LGBT students, and leading in the crux of crisis. (Lindsay sits on Christianity Today's board of directors.)
What's motivating this new working group about your policy on homosexual behavior?
We need a way in which we as a community can talk about this issue and how Gordon ought to respond. The working group is not being asked to produce recommendations or reports. The group will enable us to [answer]: Are there changes to the practices and protocols of the college that would allow us to affirm our evangelical identity and be as pastorally sensitive as possible?
Why did you sign the letter asking for a religious exemption to a federal ban on workplace discrimination?
For a long time, Gordon has supported the right of faith-based organizations to set the conditions of employment at their institutions. Gordon is not a federal contractor. I signed in support of faith-based organizations that are federal contractors. I'm gratified that President Obama maintained the 2002 executive order, which allows faith groups with federal contracts to use religious belief in hiring. It was put in place by President Bush and basically gave the right to faith-based organizations to "hire for mission."
The Gordon statement in question uses the term "homosexual practice." Does that cover everything, including handholding by same-sex couples?
Gordon has never been a place that has a master list of dos and don'ts. The wider question being asked is, Does Gordon theologically treat same-sex sexual union as sin? The answer is yes. We don't see a place in the Bible where God appears to bless same-sex sexual union. The language of homosexual practice is really speaking to the arc of a relationship that leads up to sexual consummation.
We take seriously the challenges of our brothers and sisters who have same-sex attraction. We uphold the idea that same-sex attraction is not to be acted upon in the life of the Christ follower. Some within American evangelicalism and even within the Gordon community don't share that conviction. But that is the theological position of the institution.
OneGordon, a group that supports LGBT persons connected to Gordon, has a public campaign to drop "homosexual practice" from Gordon's life and conduct statement. Is there anything the college and OneGordon agree on?
It's my hope that we can learn from each other. The theological positions of a Christian college are not determined by popular vote or advocacy. I appreciate the heartfelt concerns and desires expressed by members of the Gordon family in the OneGordon group who really want the college to change its position. [But] if a change were to occur, it [wouldn't be] because there were so many signatures on a petition.
What's far more likely is a deliberate, thoughtful process of theological reflection and ethical consideration undertaken by the board. The issues Gordon is facing are issues that every Christian college is grappling with or will grapple with. Part of it concerns the authority of Scripture and the desire for evangelicalism to be known for what it's for, not what it's against.
We're trying to model how we can demonstrate grace and truth even across differences of opinion. Gordon cares deeply about bearing authentic witness to our faith. That requires the posture of Anselm: faith seeking understanding. We start with core convictions, but we're genuinely trying to learn from folks who vehemently disagree with them. Why? I think it will help us to be truer to whom Christ has called us to be.
It will also help us to offer a more compelling, credible witness. I'm not a fan of the idea that pluralism will diminish our core distinctives. Christian colleges could very well set the example for our culture around the issues of principled pluralism. This might be the way we are able to bear witness to our faith in a very divided society.
Some say that Christian colleges are only now waking up to LGBT issues, due to suicides, attempted suicides, or chronic depression among students. Do you agree?
Christian colleges have engaged this issue for a far longer time and with a more sustained degree of thoughtfulness than virtually any other segment of Christendom. The reason Christian colleges are now at the front and center of the issue is because the wider culture has changed in a short time.
Christian colleges are better equipped to . . . pay attention to the challenge of being both open and faithful. That's what we have to do as a Christian community. We demonstrate love and hospitality; at the same time, we do not abandon our core convictions.
Critics of Christian higher education say these schools have become tolerant of homophobia because the behavioral covenants that students and faculty sign generate fear and self-censorship.
I vehemently disagree with that assessment. The brilliance of American civil society, as Alexis de Tocqueville noted 200 years ago, was the emergence of these voluntary, moral communities that sustain civil society in ways unthinkable in his homeland, France.
Voluntary, moral communities by definition require boundaries. Folks say, "I willingly place myself under the authority of this community if I'm going to be part of it." I made that decision when I came to Gordon. I'm willing to relinquish my individual rights out of a shared commitment to what's good for the community.
Gordon's covenantal documents have been in place for 50 years. We're no different than we were for the past five decades on this issue. The wider culture has changed, and some within our community would want us to abandon those core convictions, but this is not about Gordon becoming a different kind of place. These covenantal documents have always been the foundation of our institution. They are what legally distinguish us as a Christian institution, because we are not church-sponsored. But they have never been the front door of the institution. Over the summer, this matter was presented as our front door. But that's not who we are. Gordon is a place of grace and truth.
How is homophobia handled on campus? There's suspicion that students with same-sex attractions endure hostility, stigmatizing, or shaming.
We have a zero-tolerance policy around bullying on all issues. You would be hard-pressed to find a Christian institution that has more intentionally sought to take stock of how they care for gay students and has taken proactive steps to minister to them. I put Gordon's track record up against that of any other institution in the country.
We work hard to recruit students. We spend money and time and energy getting them here, and we admit them because we think they'll be great members of our community. Once students are here, we want to care for them, to help and encourage them. That's the reason I get up in the morning. I love our students.
I've probably met with two dozen gay alumni of Gordon who shared their stories. Part of that willingness to hear directly from them is to help us think: Are there ways Gordon needs to change its posture or its protocol even while it upholds its orthodox position on this issue? That's a way God could actually redeem this.
Are covenanted, church-blessed LGBT relationships essentially the equivalent of the same-sex erotic behavior that's condemned in the Bible?
I have never been a proof-texting kind of Christian. Gordon has never had that posture either. We reach our theological convictions from looking at the whole of Scripture, not necessarily one verse pulled out separately from other passages. If you look at the whole narrative of Scripture, you just can't find theological justification. It requires extraordinary exegetical acrobatics to get to a place where you can somehow conclude that God would bless same-sex unions.
A more likely approach is that some folks will reach their theological conviction based on experience and what they have come to see God doing in the midst of their community and their relationships.
How does Gordon respond to a student who identifies as LGBT or is uncertain of his or her sexual orientation?
With late adolescence and early adulthood, we have always seen a season—that virtually all of us go through—of self-exploration and identity formation. Part of that involves our sexuality.
Today is different from previous generations. Today young people ask, "Am I gay?" We have students who come to us every year who are in various stages of figuring out their sexual identity. We have gay students who are "out." What we ask of them is what we would ask of our gay employees—that they be celibate. We hold a theologically rich, nuanced understanding that says Scripture doesn't actually speak on the issue of sexual orientation; it speaks on the issues of sexual behaviors and practice.
We believe celibacy is the right approach for students who identify as gay. We try to help students struggling with same-sex attraction in one way or another. We have a confidential support group in our counseling center where students can, with support and encouragement from a trained psychologist, think about what this means for their life.
A number of our gay students would prefer not to have that orientation; they've told me that this was not what they wanted. It was not their choice. It was not something they walked into. But in their words, "It is who I am." They are processing that. But sexual identity is not the sum total of our identity. That's an important message for young people.
As students work out their sexual identity, there is vacillation that occurs: a student who identifies as gay might not in another year. What we're trying to do is provide biblically informed support and pastoral encouragement.
What about therapy that offers change in orientation?
Our counseling center seeks to be pastorally sensitive to the students. To the best of my knowledge, we are not actively involved in encouraging orientation change. The kind of counseling and support we provide for students is short-term—a maximum of eight sessions. If students have additional needs, we refer them to Christian counselors. In some ways we're first responders to help students get to a place of healing. The major issue we deal with is student anxiety.
You're an evangelical expert on leadership based on your books. What are you learning?
I've learned (and it's something that I found in my research) that the crucible of crisis doesn't develop your leadership; it just reveals it. This has been a season where it's been important for me to be present in the life of our community. People need to see me. They need to be able to have conversations. I need to be accessible. The best gift a leader can give to his or her community is to show up. I have become the public face of Gordon College's position. That position has been maligned. I wouldn't be truthful if I didn't say those critiques and criticisms hurt at times.
Do you harbor doubts about Gordon's long-term survival?
Gordon is not just going to survive. It's going to thrive as a result of this season. There are seasons of pruning and challenge that prepare you for seasons of greater fruitfulness. I have to believe that's what the Lord is doing.
Have something to add about this? See something we missed? Share your feedback here.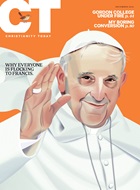 This article is from the December 2014 issue.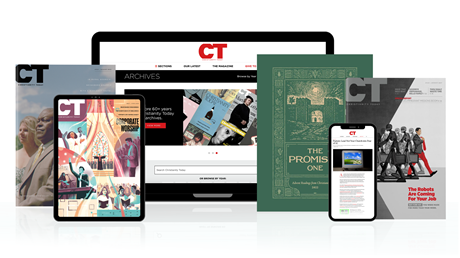 Annual & Monthly subscriptions available.
Print & Digital Issues of CT magazine
Complete access to every article on ChristianityToday.com
Unlimited access to 65+ years of CT's online archives
Member-only special issues
Subscribe
Michael Lindsay on Covenant and Conflict at Gordon College
Michael Lindsay on Covenant and Conflict at Gordon College