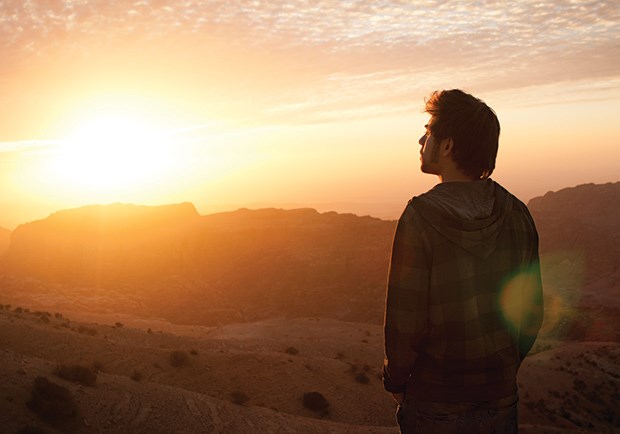 Image: Cavan Images / The Image Bank / Getty
I was 8 years old when the turmoil that fueled the Iranian Revolution of 1979 first started. From that time until I was 16, the government killed eight of my brothers and sisters. I witnessed this. Even my sister-in-law, who was two months pregnant, was murdered, even though Islamic law expressly forbids killing a pregnant woman. My mother and another sister were imprisoned. From age 16 to 19, I was left as the sole caregiver to my father, who was suffering from Alzheimer's disease. During this time Iran and Iraq were at war (1980-1988), and I lost many friends as well.
Everyone I loved—every person I cared about—died or was killed or taken to prison. I could not understand this. And I became very angry. Forgiveness seemed out of the question.
I was born in Tehran, Iran, in the late 1960s, the youngest member of a large and well-known Muslim family. My father was a respected teacher and senior official in the government, serving in the Iranian senate under the shah and then as a leader in both houses of parliament for the transition government after the revolution.
Vision in the Valley
After the revolution ended in December 1979, I was invited to participate in many political activities because of my family name. But I didn't join them. Instead, I argued with all of them in my mind—the government, other people, my own cousins. I was too young to make sense of things, and I hated all of them. I hated without knowing. I was not aware of how much I hated; it was just the way I was. There were so many questions I could not answer.
I was filled with rage because I saw everyone as responsible for my family's death—the shah, the new leader Ayatollah Ruhollah Khomeini, the revolutionaries, those resisting revolution. It seemed everyone had hate in their hearts, that there was no one with clean hands. I wanted to take revenge upon so many people—especially the cousins and close friends who had turned on our family and aided in their deaths and imprisonment.
When I was 19, my father became increasingly ill, and I was less able to care for him, myself becoming ill when I needed to wash him. Now, even my father was going to die while I watched.
One day I took a car and went driving—very fast—in a remote, dangerous area in the hills outside Tehran. I was hoping to die. I ran into a wall that kept people from going into the valley below.
When I got out, unscathed, I went to the edge of the hill and saw a big valley. A valley full of people, a whole city. I pleaded out loud: Why did you take everything from me? I love my sister and she is killed. So I say to another friend, "You are like a sister to me," and she disappears. If I love someone, they disappear, and now my father, my teacher. Why? Why? Why?
As I looked down at the valley, a vision came over me. I saw thousands of people praying for their enemies instead of fighting. From that moment, the hate inside me began to weaken. The forgiveness started to heal me. From that moment, Somebody took me and helped me, though I was still very confused. I still had many questions, but for some reason, I was able to look at people and say, "I will forgive you."
I went on to find much success. I got married when I was 20 and started my business in finance and investments the same year. Since my business was popular, I bought cars and land and swimming pools, and eventually owned 13 companies. I was practicing Islam, but I still had many questions. And I had no peace.
The Scent of God
At age 32, I journeyed to India to see if Buddhism might help. On a trip to Calcutta, I asked a fellow bus passenger if he knew of any good places to sightsee. He told me about Mother Teresa's ministry.
I got to the church very early, and a leader took us to a large shelter where there were many poor people who were very sick and in very bad condition. The leader pointed me to one man and said, "Take care of him." I couldn't believe it. He was just like my father. He bit my fingers when I tried to feed him. He had terrible accidents that I had to clean. He had Alzheimer's. Here I was, a businessman, helping someone for nothing.
Later, one of the leaders invited me to a baptism ceremony. It was all candles, many candles, and singing and clapping. I could see it was something about washing the head but I could not understand. I wondered, Why are they so happy? I couldn't understand this place, but I loved being there. For many years it lingered with me.
When I returned to Iran, I took more spiritual classes and decided to take a journey every year to try and get answers to my questions. In 2008, I took the hajj, the traditional Islamic pilgrimage to Mecca, and that was a time of insight and forgiveness, even though there was still much I did not know. I could even forgive my uncle, who executed one of my brothers when he was in prison.
After the hajj, I decided I would do anything to find peace. I sold all of my businesses and gave all of the money and assets to my wife and family members. I decided I would follow any sign God gave me.
In 2009, a friend invited me to Sweden. While I was there, my one surviving sister called. After her torture and imprisonment, she had gone to the United States, and she now asked if I would come to visit her. But I had no money and needed to return home, and relations between Iran and the United States seemed to preclude a visit. But through a miracle, my friend helped me to get a visitor visa for six months, and my niece got me a plane ticket. I arrived in Washington, D.C., in February 2010, intending to stay for two weeks.
During that time, my mother was also in town to visit my sister as she did every three years. She took me to an English class at a local church, because she knows I like to learn. I went with her and thought, This smells of God. I smell the smell of Calcutta. I kept going to the class.
Then one Sunday I went to the church service at 11 a.m. I could not find my teacher from the class, so I stood in the back. I did not understand very much of the service, but I saw many people singing songs, joyfully. Then the pastor knelt in front and began to pray. I recognized one word: Iran. I realized that the 1,000 people gathered there with their heads bowed, on their knees—they were praying for Iran.
This is the Iran that teaches "death to America," the Iran that wants to kill your citizens and neighbors with weapons. And you pray for them? Is this heaven? Are these angels? Thousands of people praying for their enemies, showing love instead of hate. Since I was a young man, this had been my vision.
Standing in the back of that church, immediately I started crying, laughing, and dancing. I didn't care if someone I knew saw me. I was so happy. This was peace. This was heaven. I finally understood this was a place where I could know God, where I could know peace.
On May 9, 2010, at that church, I was baptized. I wanted to understand the Bible, and many people told me to start with the Book of John. I would read verses and think, Yes, all of this happened to me. This is not just writing, this is not just reading—this is my life on the page. This is true. I am the one lost sheep whom he went out to find.
When I see how good God is, how powerful and close is his Son Jesus Christ who died for me, how this made sense of all my pain and my hate and helped me understand how to forgive myself and others once and for all—often my Bible is wet from my tears. In Jesus I could understand all blame, and all forgiveness. "I saved you," Jesus said. Now, I understand.
Majid John (not his full name) lives with his family in Virginia. In 2011 he received a permanent visa to stay in the United States. Kate Harris is executive director of the Washington Institute.
Have something to add about this? See something we missed? Share your feedback here.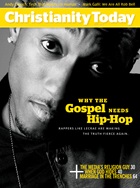 This article is from the May 2013 issue.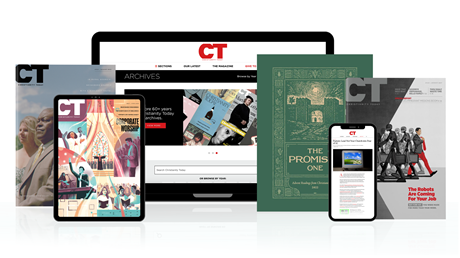 Annual & Monthly subscriptions available.
Print & Digital Issues of CT magazine
Complete access to every article on ChristianityToday.com
Unlimited access to 65+ years of CT's online archives
Member-only special issues
Subscribe
Forgiving Iran
Forgiving Iran