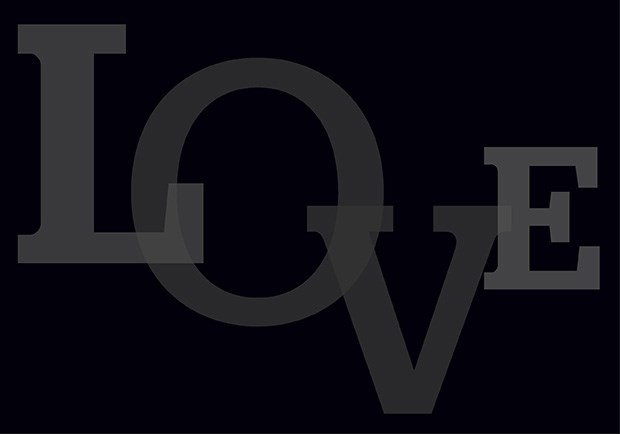 God is love.
Whenever any kind of apologetic or doctrinal debate turns toward love, don't many of us (the theologically "in" crowd) roll our eyes? For us older guard, what leaps to mind is the L word (liberal), or from the more recent decade the P word (postmodern), or the latest (and already fading) scapegoat, the E word (emergent). When love is appealed to, we often nod our heads impatiently and respond, "Yes, but . . ."
We are suspicious because love can be an excuse for mushy thinking and diluted theology—a ploy to minimize sin along with God's wrath and justice.
We are suspicious because love can be an excuse for mushy thinking and diluted theology—a ploy to minimize sin along with God's wrath and justice.
I know whereof I speak, because in this regard I've been among the greatest of sinners. My atheist friends would protest, "You Christians say God is love, but we sinners are not feeling it from the likes of you." At least these days I avoid tossing out the exhausted cliché, "Yes, God loves sinners, but he hates sin."
But how else are we to respond, for instance, to a persistent mother of a prodigal daughter who once again corners the first church leader she can find after the worship service and, with pleading whispers, begs for a simple welcoming gesture: "Couldn't someone seek her out—just invite her to be a part of us? She won't listen to me."
We have all seen the awkward hesitancy in the eyes of everyone standing nearby. We're all thinking the same thing: "Yes, God loves her daughter, but she wouldn't be a good example for the children; she might lead some of our own into sin."
God loves her, but . . .
The qualification is just as evident in our theological discourse. For instance, many found it a hard and bitter irony that something titled Love Wins could create such a tightening of the church's collective gut rather than a rousing "Amen!" Given the supposed dichotomy between God's love and justice, which do we suppose most Christians would be inclined to qualify with a "but"? You just don't hear many folks saying, "God is just and righteous, but . . ."
But nothing—the dichotomy is false.
The Royal Law
As I've mulled over some familiar Scriptures, I have been drawn toward a rare certainty in their inescapably direct teaching: God himself is love by definition. Everything he has been about and is about is uncompromising love.
1. God preemptively loved the world. It's so familiar, we can easily miss the profound implications: "For God so loved the world that he gave his one and only Son" (John 3:16). From Adam and Eve to the present day, God has loved all of us wicked people. In the very context of an Adam-and-Eve-fallen world, God so loved us.
God has always loved the yet-sinners. "But God demonstrates his own love for us in this: While we were still sinners, Christ died for us. Since we have now been justified by his blood, how much more shall we be saved from God's wrath through him!" (Rom. 5:8–9). Interesting, isn't it, how God's justice and wrath must be described in the context of his love? This brings us to something rather difficult.
2. God's wrath is not an exception or counterpart to his love. Rather, it is a consequence of it. From their beginning, the Scriptures are clear that we must weigh the significance of the Fall itself on the scale of God's love. The essence of Adam and Eve's original sin act is the very same state we are all born into: God's love distrusted, rejected, and unrequited.
The real concern for God's wrath should be far more about our being born into it, over and above anything we could have done to earn it. Out of this inherited original divorce come all of the inevitable, unlovely, unloving consequences popularly known to be sins. Furthermore, it is this very state of our existence in God's wrath that occasions his sacrificial love. It's why he himself, God the Son, breaches the chasm that is sin, making our returning his love even possible.
In John's first epistle, he makes this inescapably clear: "In this is love, not that we loved God, but that he loved us and sent his Son to be the propitiation for our sins" (4:10, NASB). So in love, God preemptively provided propitiation. This atonement, this appeasement cannot merely be a Savior Son rescuing sinners from the hands of an angry God. Of all things in which God the Father, Son, and Spirit must be one, it is "that he loved us."
It's not so much a matter of appeasing an angry God as restoring within us the capacity to love. When we respond in faith, we return to him the love for which we were created. Tragically, those who choose to remain "in sin" are simply "without" in respect to God's love.
This is exactly why God's wrath cannot be about eliciting fear, as if salvation were about avoiding the frightening prospects of God's retribution or hate—as if Jesus actually came to save us from some monster God. John is clear on this: You don't legitimately love God or neighbors out of fear of wrath (1 John 4:18–20). We love because God first loved us, not because he threatened or scared us into something we call faith.
God's wrath cannot be about eliciting fear, as if salvation were about avoiding the frightening prospects of God's retribution or hate—as if Jesus actually came to save us from some monster God.
3. God the Son said that the foundational, preeminent law of the entirety of Scripture is love. James calls it the "royal law" (2:8). Unequivocally, the entirety of the Bible's good news message is love (Matt. 22:34–40; see also Mark 12:28–34). In fact, as Paul echoes in his letter to the Galatians, the whole of Scripture can be summed up in that single word: "[T]hrough love serve one another. For the whole Law is fulfilled in one word, in the statement, 'You shall love your neighbor as yourself'" (5:13–14, NASB).
It's no less than the essence of Jesus' good news. The gospel is all about God's love, our inability to love (sin), and God's sacrificial remedy (love incarnate). All we must do is believe in his means of redemptive love (Jesus Christ and his gospel story) and respond in kind.
Putting Away Childish Things
One cannot discuss the preeminence of love without citing 1 Corinthians 13. But it has struck me recently how rare it is that I hear verses 11 through 13 (especially "put away childish things," NKJV) cited in the context that Paul intended. Love's preeminence is actually what God inspired Paul to represent it as the measure and mark of Christian maturity. Childish religion is about performance of good works, sin management, protectionism, and fear. The Christian who would be in right relationship with God will put away immature and inadequate motives, because from beginning to end, faith and hope are all about love.
The more I realize God's love in thought and practice, the more I am transformed into his holiness, putting away childish rationalizations and hyperboles of justice, wrath, guilt, and fear. In our holy God's economy, there is no counterpoint or equal to love. Everything that is truth comes down to love and is measured by it—everything! There is not a single piece of Scripture or theology that should be understood without the context of God's love.
It should sadden us deeply that we Christians can be so prone to distrust love—to respond, "Well yes, love, but . . ."
If Christianity is not all about love, it is nothing but another impotent human religious construct: a loud and annoyingly cymbal. Because love is not rude, it cannot roll its eyes against the persistent pleas of a prodigal's mother. Neither is it self-seeking, prioritizing the protection of those within from those without. And love keeps no record of wrongs, even of daughters who are unrepentantly living in God's wrath.
For grown-up Christian thinking, there can be no alternative. There is no "but" to God's love.
Craig Bubeck is director of product development at Wesleyan Publishing House. Go to ChristianBibleStudies.com for "God Is Love: Not Buts about It," a Bible study based on this article.
Have something to add about this? See something we missed? Share your feedback here.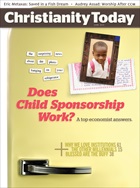 This article is from the June 2013 issue.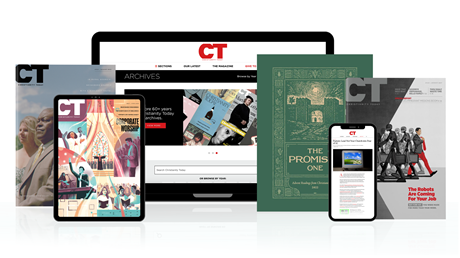 Annual & Monthly subscriptions available.
Print & Digital Issues of CT magazine
Complete access to every article on ChristianityToday.com
Unlimited access to 65+ years of CT's online archives
Member-only special issues
Subscribe
The Whole Gospel in One Word
The Whole Gospel in One Word