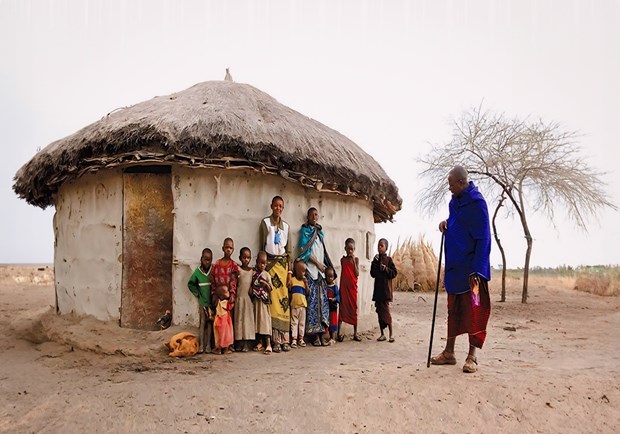 Image: World Vision
Moses Pulei knows the benefits of child sponsorship up close and personal.
The oldest of four sons, Pulei grew up in a mud hut 40 miles from Namanga, a town along the Tanzania-Kenya border. Life in his village was so laid-back, he can only guess his age—his passport lists it as 44.
His boyhood goals were simple: get circumcised, become a Maasai warrior, then spend his life raising cows, goats, and sheep, just like his father and uncles before him. His youngest brother did just that, refusing to enroll in school.
"I wouldn't be where I am today if I hadn't been sponsored," says Pulei. "It meant a complete change in how I lived."
Sponsors (alongside partner World Vision) provided him a school uniform and books, and their support ensured health exams and the certainty of year-round nourishment, even during East African famines. World Vision also planted trees in his community to address the problem of deforestation.
Kenya's government provides its citizens with a free primary education, albeit in partnership with churches, particularly in rural areas. However, neither party provided the books and other supplies that made it possible for Moses and two of his brothers to attend school.
And although only two Pulei children had sponsors, the whole family benefited from the resources and gifts that came with sponsorship. Staff taught his father how to raise healthier livestock and earn more money for those he took to market.
"My dad had a flock of sheep that he called his 'World Vision sheep,' because he got them as a result of a Christmas gift," Pulei says.
Sponsorship played a crucial role in Pulei's spiritual life as well. As a senior in high school, he accepted Christ at a Christian camp, a decision he made two years after his grandfather died. Pulei connected with the promise from Matthew 5:4, that those who mourn would find comfort.
Long-Term Faithfulness
Stories like Pulei's are, thankfully, heard time and again at church events and in marketing campaigns. But child sponsorship itself is a relatively new idea in the history of Christian compassion.
The origins are complex, but one definitive moment came in 1938, when J. Calvitt Clarke, a Presbyterian pastor, created the Christian Children's Fund (now ChildFund International), a sponsorship program to aid children impoverished after the second China-Japan war.
Soon, other organizations followed in ChildFund's footsteps: Save the Children began sponsoring individual children in 1940; World Vision, in 1950; Compassion International, in 1952; and Food for the Hungry, in 1978. Todaymore than 5 million children are sponsored by World Vision and Compassion alone, and more than 900 Christian and secular American charities now offer some form of child sponsorship.
Roland Hoksbergen, professor of economics and international development at Calvin College, said, "People in North America respond to this fundraising tool better than to any other. It connects donors with real people." Missiologists cite several reasons for why child sponsorship, which typically requires a monthly donation of $30–50, has resonated so strongly with donors.
First, sponsorship usually means a personal relationship, if only through photos and letters, says Susan Greener, professor of intercultural studies at Wheaton College in Illinois.
It's also received a significant bump from the contemporary Christian music industry since the 1970s. "As the recording and concert industries grew, organizations recruited musicians to promote child sponsorships in their products and in concert venues," Greener says. "They built a strong volunteer base of child sponsors to man tables at Christian events and in their churches." Artists would talk passionately about visiting their sponsored child and how the lives of children were improved due to intervention programs.
Multnomah University professor Greg Burch served 11 years as a missionary in Venezuela and Costa Rica and believes short-term mission trips fuel the sponsorship model. He says directly exposing relatively wealthy Americans to chronic poverty can change hearts and minds.
"Going to Bogota, Colombia, for the first time and witnessing the extreme poverty kids were living in motivated me to organize a sponsorship program and eventually move to Latin America to serve the very kids I had seen on the streets," Burch says. "Even today young people are getting excited [about sponsorship] because of short-term mission trips."
Bryant Myers, professor at Fuller Seminary's School of Intercultural Studies, says an invitation to help children is effective in recruiting sponsors and retaining many of them for 10 years or more. "Because sponsors are so faithful, programming can last much longer than is possible from any other funding source," Myers says. "This enables sponsorship-funded organizations to work on long-term development programming."
Giving Back
In many nations, the cutoff age for being sponsored is 18 (though a few countries have extended the age to 22). But what happens after that? Child-sponsorship groups are not prepared to track all sponsored children into adulthood. But leaders say their programs are designed to encourage young adults toward productive careers and a lifetime of helping others.
After graduating from high school in 1986, Pulei spent seven years working for the Kenyan government and Young Life. But mentor Fred Foy Strang, a Presbyterian Church (USA) missionary, encouraged Pulei to pursue higher education. Strang and his wife mentored Pulei and several other emerging leaders in the 1980s. That continued after the Strangs returned to America to pastor a church.
In 1993, the Strangs encouraged Pulei to study in the United States, and he enrolled at Whitworth University, a Presbyterian school in Washington State. Pulei went on to study at Fuller Theological Seminary, earning a divinity degree and a PhD in theology and culture. After marrying a woman he met in California, Pulei accepted an offer from Whitworth to teach theology.
But in 2010, World Vision offered Pulei a job in East Africa. Prayer, childhood memories, and a promise to give back to his people persuaded Pulei to accept the offer to become World Vision's regional university research partnership coordinator in Tanzania, near his childhood home in Kenya.
The relocation put Pulei in a strategic position to work with his mentor on a new theological education extension center at the foot of Mount Kilimanjaro.
Strang left the mission field in 1990, but he still visits Africa every year. He is thrilled to work more closely with his protégé, saying, "I'm proud that Moses chose to go back."
As partnership coordinator, Pulei now works with a wide range of universities that conduct the same kind of research as economist Bruce Wydick (see "Want to Change the World? Sponsor a Child"). Besides validating the efficacy of sponsorship, they hope to learn ways of better implementing their mission—which includes helping nearly 765,000 needy children in East Africa alone.
"It didn't hit me until I came back that I'm on the other end," Pulei says. "I feel fulfilled. We have pictures of children we sponsor [in India and Mexico] on the refrigerator. We want them to get the same opportunities that I experienced."
Learning after Scandal
Despite such testimonials, critics for years have faulted child sponsorship for being too expensive, subject to fraud, designed around the needs of sponsors, and creating harmful dependence and jealousy.
In 1998, the Chicago Tribune published a hard-hitting two-year investigation of child sponsorships, reporting that two dozen deceased children were on the sponsorship rolls at Save the Children.
The report prompted the firing of an employee in Mali and new accountability measures across many ministries. The ongoing communications between sponsorship groups, sponsors, and children helps ensure that the process of distributing funds is more transparent, Fuller professor Myers says.
"There are anomalies here and there, but all the larger sponsorship agencies have internal auditors that work pretty hard to find breakdowns," says Myers.
One issue critics raise is the ethics of helping one child in a poor family and leaving others unattended. Myers thinks agencies can address that by assuring sponsors that their funds are invested in education, health care, and clean water, which help all local children.
Calvin's Hoksbergen observed another shortcoming a few years ago. Several Christians working in Ghana with an international agency told him of the time-consuming nature of acting as liaisons between sponsors and children. On occasion, visiting sponsors would shower their sponsored children with expensive gifts, causing jealousy in the community.
To circumvent such situations, some organizations connect more than one sponsor with a child who "represents" the community. But this raises the issue of deception. Though some organizations still do this to minimize problems, Hoksbergen says, "They run the risk of alienating donors if they don't have their own child."
Multnomah's Burch is also concerned about automatic payment plans, which he said can turn well-heeled Americans into "slacktivists" who are disengaged from the emotional and relational cost of sponsorship.
More Than One Model
Child sponsorship is not based on a single model of raising support or providing services, experts say. Compassion International and others allow sponsorship aid to go directly to a single sponsored individual child.
Other programs use the community model. For example, World Vision pools resources to help groups of sponsored children through selective programs.
In addition, many child sponsorship organizations participate in or operate other child-focused programs, including vaccination, public health, clean water, parent education, nutrition, and housing. Food for the Hungry (FFH) supports more than 120,000 children in 16 countries, but it only has 58,000 sponsors. The organization emphasizes community solutions to poverty issues, says Tom Davis, FFH chief program officer.
"We want to see the whole thing changed. We feel that's what God had in mind with change—not just change for one child."
One key to FFH's approach is peer-to-peer education, in which volunteer health educators are trained to promote better health practices among mothers in their neighborhoods. The model, which was designed by World Relief in 1995 and furthered in recent years through FFH, has been shown to be effective in two recent independent studies.
The most recent study—whose results were published in the March issue of Global Health—covered a five-year period that concluded in 2010. Using sponsor funds and a grant from USAID, FFH developed a nutrition program in Mozambique for children under 2 that saved an estimated 6,800 lives and decreased malnutrition by 38 percent. A second effort that involves children up to age 18 seeks also to improve agriculture and education and lower the risk of disease.
Wheaton's Greener says a well-run sponsorship program educates supporters about global poverty and promotes resilience. "Children are growing, and their developmental needs are immediate. It is better to act imperfectly than to wait for the perfect model."
Ken Walker is a writer and journalist in West Virginia.
Have something to add about this? See something we missed? Share your feedback here.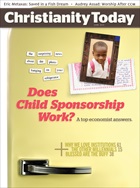 This article is from the June 2013 issue.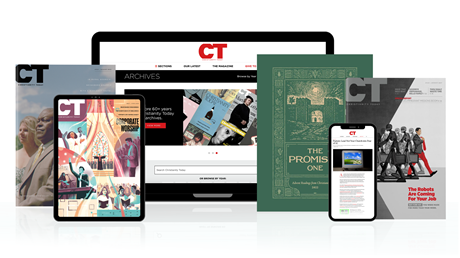 Annual & Monthly subscriptions available.
Print & Digital Issues of CT magazine
Complete access to every article on ChristianityToday.com
Unlimited access to 65+ years of CT's online archives
Member-only special issues
Subscribe
Sponsoring a Movement
Sponsoring a Movement