Light in Dark Places
The April issue of CT was timely, encouraging, and sobering. Friends of ours are frail in the faith, facing the imminent death of their son from brain cancer. I shared with them Philip Yancey's article "National Tragedy and the Empty Tomb," then sent it to all the unbelievers who are in our circle of a growing faith community, including one of our sons. Thank you, Philip Yancey, for continuing your work of grace, bringing harsh truths to light in a way that gives hope to the hopeless and meaning for those who struggle.
Mary Veilleux
Berryville, Virginia
Already 'Reached'?
I read with interest CT's recent interview with Rick Warren ["Rick Warren's Final Frontier," April]. Having recently visited Saddleback from New Zealand, where I serve as a missionary, I was surprised to see on Saddleback's map of the world numerous "unreached people groups" located in New Zealand. I have tried to clarify with them who these groups actually are. While I am committed to reaching unreached people groups, I feel we need to be clear on who and where they are, and not make statistical claims that have no basis in fact. At the Lausanne Congress in 2010 in Cape Town, I had a similar experience when we were asked to commit to reaching these unreached people groups—of which we knew many were already "reached."
Ben Carswell
Wellington, New Zealand
Imperfect Beings
In "The Mystery of Original Sin" [April], Marguerite Shuster writes, "The reason we do evil remains as mysterious as the turning away of Adam and Eve." But according to the Bible, God made the first man with a lifeless spirit: "Thus also it is written, The first man Adam became a living soul; the last Adam a quickening spirit. But that which is spiritual [was] not first, but that which is natural, then that which is spiritual" (1. Cor. 15:45-46, Darby).
The first man was an unfinished, therefore imperfect being. God does not make mistakes. God creates man according to a progressive process. When Adam and Eve disobeyed, "the eyes of both of them were opened, and they realized they were naked" (Gen. 3:7). The first man's disobedience was an eye-opener: he saw his nakedness, that is, his incompleteness. According to God's will, man is brought to final perfection by Christ and in Christ. In God's plan, we become spiritually alive only through union with God in Christ through the birth of the Spirit.
Patrick Schaer
Geneva, Switzerland
Enriching Our Insight
I appreciate "Knowing What the Bible Really Means" [April]. Languages are interpreted from our own human experience. New ideas on the interpretations of biblical words can enlighten us beyond our current understanding, mainly because they flow from ideas and experiences that we could never have on our own. Incorporating the insights from other languages enriches our own insights.
All of this, however, rides on our dependence on the Holy Spirit leading us into "all truth." He is the only final and accurate teacher. When we combine a workman-like approach to the biblical languages and a sincere desire for the truth, he will provide the view needed for God's purposes.
Kermit P. Soileau
E-mail
As a teacher of Greek, I agree that multiple Bible translations can enrich our reading of Scripture. Even a scholar can learn from various translations. But in my experience, knowing only a little Greek is more harmful than knowing only English. When a pastor says, "The Greek word really means . . . ," he usually has no idea what he is talking about. It's better to read the text in context than to look at an individual Greek word—unless you have a lot of experience reading Greek literature in general (beyond the biblical), have a decent introduction to linguistics, and are very careful in your statements. If one does take care, though, there is no substitute for the original.
Edward Kotynski
E-mail
A Better Grasp
Thanks for the insightful article "Conversion Confusion" [April]. Too often I hear sound-bite caricatures of religious persecution or governmental favoritism around the world. Jayson Casper's article helped me understand the social and political complexities that go along with religious membership and conversion in Egyptian society. I need more of this type of nuanced discussion in order to have a better grasp on the critical issues as the gospel takes root around the globe.
Drew Thompson
Brunswick, Georgia
Cussing Clarity
I always enjoy Carolyn Arends's columns, and her musings in "What the . . . ?" [April, "Wrestling with Angels"] are superb. Growing up in the church, the teaching I'd received on harsh language was long on "Don't!" and inordinately short on the "Why not?" I found Arends's point refreshing—that language is essentially a social contract, and that as such when we "linguistically reduce something or someone to the level of biological functions (and their resultant products)" we are showing contempt.
The master stroke, however, was connecting this topic with John Stackhouse's observation that the primary vocation of the follower of Jesus is to cultivate shalom. How can we do that if our default responses flow from the cesspool of contempt?
Bob Hay
Assistant Director of Recruitment, SIM USA
Fort Mill, South Carolina
Born in the USA
"Orphans in Limbo" [March] broke my heart for both the children in Russia and the American families waiting to adopt them. But I couldn't help wondering if the idea of adopting from the United States popped into any readers' minds. My husband and I are thankful for our two biological sons, but we are also adopting a daughter from the U.S. foster system.
There are so many children and teenagers in the United States who will grow out of the foster system with few or no connections. In our city alone, 7 out of 10 members of our homeless population were once foster kids. If we are truly pro-life, let's follow through with providing homes for our orphans—not just in word but in deed.
Andrea Mann
Houston, Texas
What got the most comments in April's CT
14%Investigator or Prosecutor? Bobby Ross Jr.
9%What the . . . ? Carolyn Arends
9%The Mystery of Original Sin Marguerite Shuster
The most praised piece in April's CT
National Tragedy and the Empty Tomb Philip Yancey
Worth Repeating
Things overheard at CT online.
"While we cling to God I feel that he is stripping away all my rosy ideals and saying, 'I alone am enough for you.'"
Kaili Eveans, sympathizing with Rick and Kay Warren in the loss of her own son to suicide.
CT Liveblog: "Rick Warren's Son Dies from Suicide," by Timothy C. Morgan
"His approach is not all that new—he just has a different emphasis."
Anamaria Saperlanda Biddick, comparing the newly elected Pope Francis to his predecessors, Benedict XVI and John Paul II, and admiring his humble approach in reaching the poor.
Speaking Out: "Pope Francis' Emerging Revolution," by Kenneth Tanner
"Asking if I've thought about suicide today is like asking if I put on clothing."
Michael Wright, discussing how bipolar disorder has affected his walk as a Christian.
Speaking Out: "When Suicide Strikes in the Body of Christ," by Al Hsu
"I think he is guilty of having money, not worshiping money."
Rick, saying he's hesitant to name "false" teachers, such as Joel Osteen, in public, as Christian rapper Shai Linne does on his new album.
CT Liveblog: "Reformed Rapper Calls Out 12 Popular Pastors as 'False Teachers,'" by Melissa Steffan
"Just think of his wonderful voice joining the never-ending chorus of praise in heaven!"
Judy, remembering George Beverly Shea.
CT Liveblog: "Died: George Beverly Shea, Longtime Singer at Billy Graham Crusades," by Jeremy Weber
Have something to add about this? See something we missed? Share your feedback here.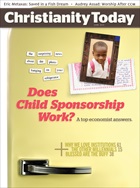 This article is from the June 2013 issue.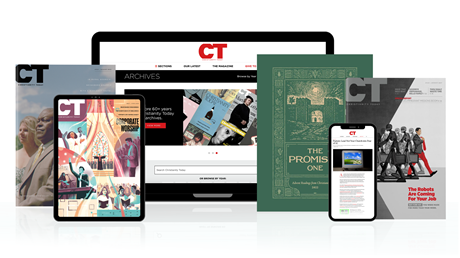 Annual & Monthly subscriptions available.
Print & Digital Issues of CT magazine
Complete access to every article on ChristianityToday.com
Unlimited access to 65+ years of CT's online archives
Member-only special issues
Subscribe
Letters to the Editor
Letters to the Editor