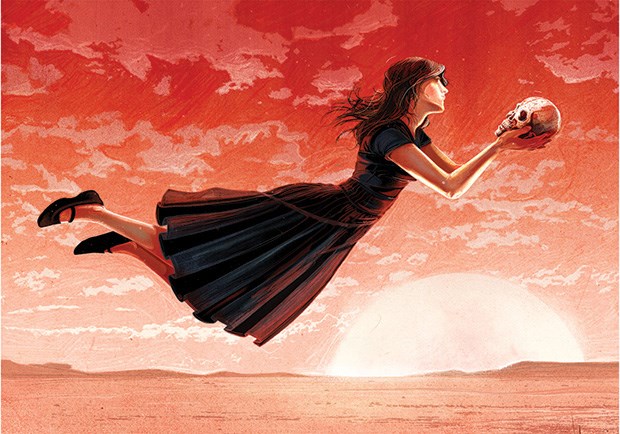 Image: Illustration by Jonathan Bartlett
YOLO ("you only live once") is the acronym du jour. You may have come across it on Twitter (#yolo), in a Drake song, or tattooed on actor Zac Efron's hand. Lampooned as often as it is championed, the trendy motto conjures up a familiar, hedonistic sensibility of living for the moment, consequences be damned.
N. D. Wilson's Death by Living: Life Is Meant to Be Spent (Thomas Nelson) isn't exactly an apologetic for YOLO, but it is cut from similar cloth. Technology, globalism, and social media give our contemporary world an especially palpable sense of ephemerality. YOLO, aided by a mortality-denying consumer culture, translates this into narcissistic YouTube tomfoolery, "sexting," and SnapChat (the new no-paper-trail social media fad). But Wilson wants us to lead lives that lean into time and run toward death, after the model of Christ. Death is not a shadow to be feared or an abstraction to put out of our minds. Rather, it is a part of God's creational good, a beautiful reminder of the brevity of breath and the urgency of life.
Like Wilson's well-received Notes from the Tilt-A-Whirl (2009), Death by Living is a hybrid of memoir, apologetics, theology, philosophy, and lyrical prose, at once irreverent and worshipful, comical and elegiac. But where Tilt-A-Whirl focused on a way of seeing, Death by Living focuses on "a way of living, a way of receiving life."
"I am a man attempting to paint another picture of the same wonderful world, but I have turned my easel around," writes Wilson. "I've taken my best shot at the sunrise. Now for the sunset."
Little Christs
The thesis of Death by Living is that Christians should live fully in every moment, with the horizon of mortality always in view. Live hard. Enjoy every moment. Get blisters. And on your deathbed, receive death as the grace it was intended to be—as the merciful experience of completion, the knowledge that a good race has been run and a good fight fought. For Wilson, "living is the same thing as dying," and "living well is the same thing as dying for others."
Death by Living, while very much a "how shall we then live?" guidebook, isn't a collection of feel-good tips for "your best life now!" Wilson begins with the assumption that suffering, struggle, and death are not hiccups in the human story, but central to who we are. Each person is born "for the fight, to be forged and molded—under torch and hammer and chisel—into a sharper, finer, stronger image of God."
At times Wilson's prose sounds reminiscent of John Eldredge's Wild at Heart, with its emphasis on living hard and embracing adventure. But ultimately, the book is less a brief for recovering rugged religion than a reflection on human finitude in a world where time seems always to be tugging us to and fro, and where the best moments are frustratingly fleeting.
We shouldn't "resent [these] moments simply because they cannot be frozen," but instead learn to praise God simply for continuing to give them so excessively. "Sunset after sunset makes it hard to remember and hold just one. Smell after smell. Laugh after laugh." So what can you do? "Enjoy life now. And now. And now. Before the nows are gone. See the gifts. Savor the food, knowing that you will have to swallow."
Given that "our heartbeats cannot be hoarded," Wilson—in a most un-YOLO fashion—exhorts us to spend our moments mostly on others. He resolves to be "giving my fingers, my back, my mind, my words, my breaths, to my wife and my children and my neighbors," rather than grasping after "the vapor and the vanity for myself."
In other words, we should be little Christs, exhibiting the gospel in our own "death-by-living" stories. Wilson sets forth a beautiful vision for why our teensy little lives matter in the grand scheme of God's economy. We are each a unique testimony to his resurrection work.
From the compost of our efforts, God brings glory. . . . By His grace, we are the water made wine. We are the dust made flesh made dust made flesh again. We are the whores made brides and the thieves made saints and the killers made apostles. We are the dead made living. We are His cross.
Not only is this true, it's also all so dang lyrical. Wilson can string words together like few writers of his generation. Death by Living, like Tilt-a-Whirl, skillfully employs an abundance of rich, concrete language to convey the mystery and majesty of God. Whether he's describing a childhood experience of discovering motes of dust hanging in the air, the adventures of his family road-tripping across Europe, or his grandfather's war stories, Wilson's knack for finding a universe of meaning in the smaller particles of life is on glorious display.
Fragmentary, nonlinear, and vignette-driven, Death by Living is a messy montage of sensuous sights, sounds, smells, prayers, eulogies, inner monologues, jokes, and even script-style dialogue. Some may call it repetitive, grandiloquent, or unoriginal. But its unpolished, loosely woven texture reflects the way the world is: beautiful because of its blemishes and wild untidiness. Wilson's style reinforces his point that the infinite dramas unfolding across the universe at any given moment all point in one direction and share one big theme—that death gives way to life, and dying is the only way to live.
The Greatest Storyteller of All
Much is made these days of the importance of "story." As Wilson and many others have noted, our lives are stories. But occasionally, we become overly enamored with communicating our "stories" in meticulously edited fashion (especially in our "broadcast yourself!" age of blogging, vlogging, tweeting, and Instagramming). So it is refreshing when a writer, without fetishizing individual stories, can showcase their beauty and illuminate their place within an infinitely bigger tale.
"Yes, your life is a story," writes Wilson, "but you are carpet-dwelling, dust-mite teensy on the scale of this stage, and numbered in the multitude of His cast." And yet the upshot isn't to diminish humanity's magnificence, but to amplify God's:
Your world is tiny, yes. But God gets tinier. Not one dust-mite falls through the carpet fibers and into the pad apart from your Father. He's big enough that small doesn't matter. Dust-mite drama doesn't use up His attention, taking it away from something deemed by mentally incontinent college professors to be more worthy of His attention. When one is infinite, one can enjoy two black holes arm-wrestling over a galactic snack, and an uncoordinated junior high quarterback struggling to escape an overweight junior high defensive end. Infinite goes all the way up and all the way down.
From the tiniest of trivialities to the most expansive of philosophical questions, Wilson infuses every page of Death by Living with an eloquent and organic mood of worship. It's a book that entertains, informs, provokes, and moves, but all toward the end of bringing glory to the Greatest Storyteller of all. It confronts us with our own wrinkly and decaying destiny even as it vigorously shakes our shoulders, slams on our helmet, and hustles us back onto the field while there's time left on the clock. There is work still to do and ground yet to cover. Sunrises and sunsets to behold. Families to make. Kindness, love, and forgiveness to be given.
We may only die once, but we can choose to die daily to ourselves and, in that, to truly live. For as the old prayer goes, it is in giving that we receive, in pardoning that we are pardoned, and in dying that we are born to eternal life.
Brett McCracken is the author of Hipster Christianity: When Church and Cool Collide and the forthcoming Gray Matters: Navigating the Space Between Legalism & Liberty (Baker Books).
Have something to add about this? See something we missed? Share your feedback here.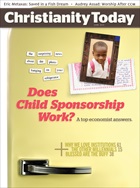 This article is from the June 2013 issue.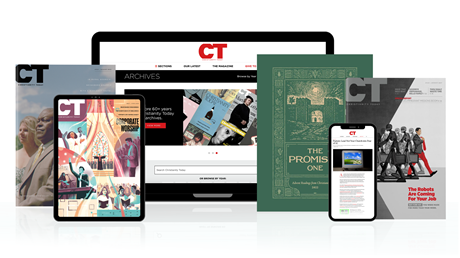 Annual & Monthly subscriptions available.
Print & Digital Issues of CT magazine
Complete access to every article on ChristianityToday.com
Unlimited access to 65+ years of CT's online archives
Member-only special issues
Subscribe
You Only Die Once
You Only Die Once