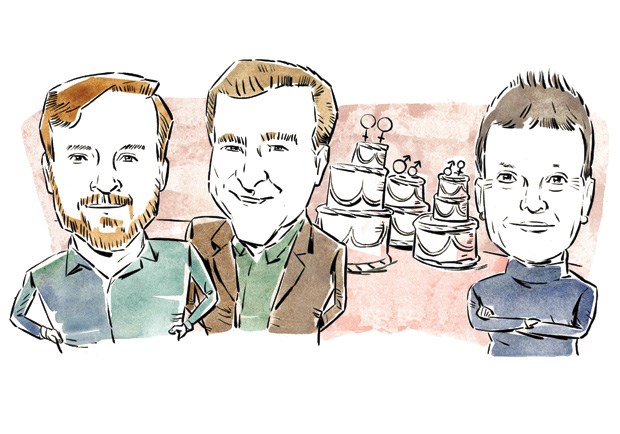 Image: Illustration by Amanda Duffy
Welcome and Include
Timothy Dalrymple is managing editor of the evangelical portal at Patheos.com.
Two conversations come to mind when I consider how pastors and churches should respond to the prospect that same-sex marriage may become legal nationwide this year.
A young man once told me that he never would have become a follower of Jesus Christ, and certainly would never have reached sobriety, if the church had required him to overcome his alcoholism before it welcomed him into the embrace of Christian community. In being loved by the church, he learned of the love of God and responded to the gospel. Then (and only then) was he empowered to overcome the desires that controlled him.
He used the analogy of white oak trees, which hold on to their leaves through the winter and shed the vestige of their former life only when spring arrives and new life flows through the branches. We know that Christ died for us while we were yet sinners, yet we are too often unwilling to open up our lives to those who are caught in patterns of habitual sin.
Sometime later, a young woman whom I had not seen for several years came to visit. She entered nervously, and eventually told me she had "come out" as a lesbian. Our conversation continued in a friendly vein, and I asked how her spiritual life was faring. She began to weep. It was the first time, she said, that one of her Christian friends had treated her as though she, a practicing lesbian, could continue to have a relationship with God.
Her church in Tennessee had told her she was cut off from the church and cut off from God until she repented and "converted" to heterosexuality. It reminded me of the recovering alcoholic. In that case, the church confessed the gospel, the Spirit convicted of sin, and the redemption of Christ transformed him. Yet in this case, the church was cutting a young woman off from engaging with God precisely when she needed to engage with him the most.
When pastors are pressed for their opinions about same-sex marriage, they should affirm both the theological position that marriage is designed for the union of male and female, and the moral position that sexual relations outside of marital union transgress the generous will of God. Church leaders should realize same-sex couples reside everywhere. The 2010 federal census estimates there are 131,000 married same-sex couples and 514,000 unmarried same-sex couples.
Whether pastors also wish to take the legal position that America's marriage laws should codify the Christian theology of marriage is another question. I have my own misgivings on that point. But I have no misgivings saying that the primary role of the church is to witness to the love of God in Jesus Christ.
When we exclude and ostracize, we only make it more difficult for these men and women to hear the call of the God who made them in his image and for his glory. Let the church confess, let the Spirit convict, and let Christ redeem.
Strengthen Marriage
Jim Daly, author of ReFocus: Living a Life that Reflects God's Heart, is president of Focus on the Family.
Should the Supreme Court discard the age-old understanding of marriage, the church will face challenges unlike any it has encountered. And yet the calling of pastors and their churches on this issue will remain largely the same as it is now.
The biblical ideal of self-sacrificing, lifelong, heterosexual marriage is already countercultural. We must still uphold and celebrate God's wise and magnificent design in this unique, complementary, and irreplaceable relationship between a man and a woman. We must teach coming generations of its benefits and beauty. And, above all, we must model it well.
It is vital that we frame marriage as an example of God's common grace, given for the benefit of all humanity, transcending even fundamental faith differences. We must speak about the damage to our culture of departing from this blueprint—not because "we want our way," but because people inevitably suffer when God's basic guidelines for human flourishing are jettisoned.
The church will be called upon once again to help its people embrace challenging times through the prism of God's Word, and to hold out the beacon of hope that Christianity offers to the lost. If we want others to understand marriage from God's perspective, we should strive to converse in a spirit consistent with God's heart. We must speak truth boldly, yet with compassion, understanding, and love.
Pastors must recommit themselves to the task of teaching on the subject of marriage from a biblical perspective. We must train our children about this issue, first in the home, but also in Sunday school and teen groups.
We must also humbly confess the damage we have done to marriage by our own careless treatment of it. Though the divorce rate among committed Christians is lower than among the general populace, it remains far too high. The single greatest argument we can present to the world on this issue is to live out marriage in all its God-ordained fullness and radiant beauty.
We must approach this sacred institution with profound seriousness. We must offer—even mandate—robust premarital counseling for church members. We should raise an army of marriage mentors, experienced couples who have weathered the storms, to walk alongside and show the way to younger couples, and to serve as a lifeline to those struggling to stay afloat. Let us also lift up and celebrate those couples who have endured through decades, and make those examples known to a younger generation, many of whom have not seen marriage successfully modeled in their families of origin.
To be sure, I pray that the Supreme Court does not make this mistake. But if it does, the church will have a new opportunity to shine its light in increasing darkness. Let us pray it doesn't come to that, but prepare as though it will.
Humbly Be truthful
Elodie Ballantine Emig, instructor of Greek at Denver Seminary, serves on the advisory board of Where Grace Abounds, a ministry to people with relational struggles, and the adjunct staff of New Song Church.
If we have placed our trust in the God who does not change, we need not fear shifts in culture or law. In the beginning, God ordained marriage to be a lifelong, loving covenant between one man and one woman. We need to tell this truth with conviction, regardless of politics. If we are secure in God's love, people who reject what we believe pose no real threat to us. We are set free to love those who oppose us and to listen to their stories. It should be Christian business as usual.
Telling the truth is not a one-size-fits-all endeavor. Pastors must ask God for the wisdom to respond truthfully to gay marriage in general and compassionately to gay couples in particular. Some people need to hear right up front that homosexual behavior is sinful. Others need to hear that no sin is too big for God to forgive. Still others need the assurance that Father God wants only the best for his children before sin is ever mentioned. We must choose to love the ones God puts in our path and trust the Holy Spirit along the way.
My only formulae are that God must be allowed to dictate which of these approaches we employ and that he always has a new plan A. No plan A will skirt the issue that we are all sinners in need of a savior. We are on a level playing field with gays and lesbians who, in my experience, can detect condescension and hypocrisy a mile away.
Repentance needs to begin with the household of God. The evangelical church has a massive pornography problem and unacceptably high adultery and divorce rates. Church leaders should humbly acknowledge this reality. With God's help, pastors and leaders can create winsome communities that repent of corporate sin and so establish a climate in which it is safe to wrestle with individual sins. We can begin by telling the truth about our own stories and promoting small groups in which others may do the same.
The Supreme Court cannot dictate what marriages pastors perform, but it might offer us unprecedented opportunities to minister to a population in desperate need of hearing Christians speak the truth in love. I could not in good conscience perform gay marriages. But I would be honored to spend time in dialogue with gay couples. As a fallen race, we have exchanged the truth of God for the lie that we can worship whatever we like and express our sexuality however we like. Paul in Romans points us back to Genesis 1 to determine what we were made for.
Jesus told the truth, the hardcore, "you're a rotten sinner" truth, in love. So must we. To use C. S. Lewis's metaphor, we were created for a holiday at the sea, but we settle for mud puddles. People are unlikely to abandon their puddles unless they are given a clear and compelling idea of the alternative. Effective pastors point to the joy-giving sea.
Have something to add about this? See something we missed? Share your feedback here.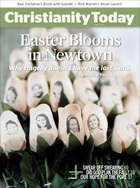 This article is from the April 2013 issue.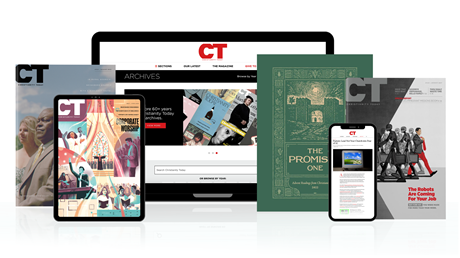 Subscribe to Christianity Today and get access to this article plus 65+ years of archives.
Home delivery of CT magazine
Complete access to articles on ChristianityToday.com
Over 120 years of magazine archives plus full access to all of CT's online archives
Subscribe Now
If the Supreme Court Legalizes Same-Sex Marriage, What Next?
If the Supreme Court Legalizes Same-Sex Marriage, What Next?