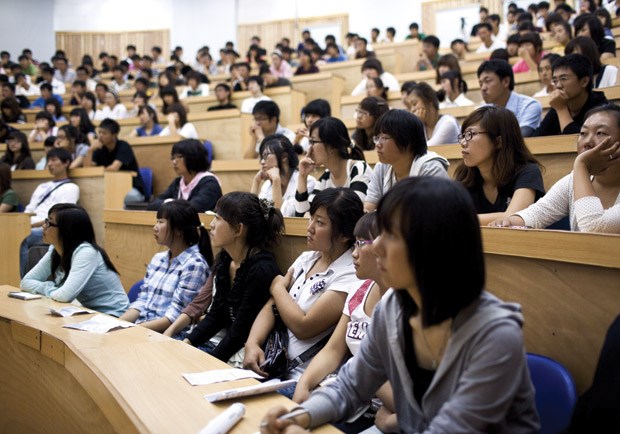 Image: Photo by Benjamin Lowy / Reportage / Getty
For decades, Christian college professors have quietly spread the Good News while teaching at secular universities in nations closed to traditional missions. But now, two unusual universities in closed areas of Asia—northeast China and North Korea—are breaking new ground. Christians openly founded state-licensed schools, which have predominantly Christian faculty and administration.
This is due in large measure to the faith-based persistence of James Kim, a Korean American businessman. Once accused by North Korea of being an American spy and threatened with execution in 1998, Kim today is among a handful of Western private citizens able to enter or leave North Korea freely.
In 1992, Kim founded the Yanbian University of Science and Technology (YUST) in China, a few miles from the North Korea border. While not a Christian university, the majority of YUST's faculty members are Christians. The enrollment at YUST has grown from only a few hundred to nearly 2,000. The school is located in Yanji, an area of China with a large concentration of ethnic Koreans.
Kim's ultimate hope was to establish a sister university in North Korea. Three years ago, that hope became a reality when Kim, along with an international team of overseas trustees and advisers, established the Pyongyang University of Science and Technology (PUST). North Koreans gave permission for the school after they visited the YUST campus.
Opening the only private university in the world's most closed country is unprecedented, and PUST is already growing rapidly. In 2010, the university had 160 students. Since then, the student body has almost doubled, with plans to increase enrollment to 2,000 undergraduate students and 600 graduate students on their $35 million, 240-acre campus.
In addition to PUST's current programs in electrical and computer engineering, international management, agriculture, and life sciences, the university has plans to open undergraduate and graduate programs in public health, law, and mechanical engineering.
Kim has put together a robust network of mostly faith-based supporters, such as Lord David Alton of Liverpool; Malcolm Gillis, former president of Rice University and current board co-chair at PUST; and Peter Agre, the 2003 Nobel Prize Laureate in chemistry and director of the Johns Hopkins Malaria Research Institute. The chancellor of PUST, Chan-Mo Park, is the former president of Pohang University of Science and Technology, a prestigious South Korean institution.
These sister institutions are taking advantage of an emerging trend in global higher education—the high demand for English-speaking college professors. Daryl McCarthy, president of the International Institute for Christian Studies (IICS), said, "I have sat with scores of public university officials around the world who have often begged for professors to come teach on their campuses."
McCarthy's organization has placed professors in public institutions in 23 countries. According to McCarthy, a global door of opportunity stands wide open for Christian academics to teach overseas.
No Bathtub Baptisms
Several years ago, Ray Lewis, a biology professor at Wheaton College, met Joshua Song, then serving as an adjunct professor of physics at Wheaton.
Song, also a professor at YUST, introduced Lewis to several YUST students, including one Wheaton graduate student who came to the Christian faith during her time at YUST.
The stories Song and those students shared from the YUST campus captured Lewis's imagination. By 2011, Lewis decided to spend his sabbatical at YUST along with his wife, Ia, even though the couple doesn't speak Korean or Mandarin.
A year ago, when Lewis left his second-floor office in the new Wheaton College Science Center, he stepped into a different world—from a campus where he was encouraged to open class with devotionals, to a campus that requires teachers to sign a contract not to evangelize students. In Yanji, China, his only choice for Christian worship was a service held in a reclaimed crematorium.
During the school day, Lewis taught genetics. But after hours, he and Ia set in motion their plan for an English and Korean language Bible discussion group at their home.
His genetics class of 26 was a mix of Chinese and Korean students with varying levels of English competency. "Some of them probably should not have been taking the class, because it was taught in English," said Lewis.
Despite the restrictions on witnessing, Lewis was able to invite students to his house for dinner and English lessons. He and the rest of the YUST faculty often develop friendships with students, eventually leading to opportunities to talk about their faith.
The Bible study in the Lewis home included two Korean students, two Chinese students, and another professor. It began as an English language study in which students would write two sentences for each meeting.
Lewis's wife, Ia, took over the daily English language tutoring. "Since my wife met with these students almost every day, she developed a very close relationship with them," said Lewis. Once they drew closer, these meetings became Bible studies. "We would read the passage out loud in English. I would explain some of it in English and the professor would explain it in Korean," said Lewis. Because of the depth of their relationship, Lewis was able to tailor the lessons toward their personal lives.
'We are first and foremost academics. For us, teaching is our ministry. We teach because that's our calling.'—Daryl McCarthy, IICS president
"Besides the meanings of the words, we tried to convey the meaning of the passage itself, and relate it to understanding Jesus Christ and what it means to follow Jesus," said Lewis.
He would pray with them at the end of each meeting and answer questions. They rarely asked anything, but were very interested to hear more. The Korean students were already believers, so they felt more comfortable expressing their faith in God.
Other Christian faculty members host students in their homes. As long as they are careful and not conducting a worship service, the Chinese government typically leaves them alone. "If they don't hold baptisms in the bathtubs in the dorm and refrain from overt meetings, which the authorities could hardly ignore, [they'll] be fine," said Daniel Bays, an expert in Asian studies based at Calvin College.
Greater Risk in North Korea
North Korea has been an intense focus of Christians worldwide for generations. Traditional outreach is all but impossible. Open Doors USA ranked North Korea first for persecution of Christians on its annual World Watch List.
Inside North Korea, the professors at PUST teach in a highly structured environment and have little contact with students outside the classroom.
Bays said that in China, a visiting professor who stepped over the line would get deported and the student would have a meeting with the department. But in North Korea, the penalty could be much more severe, including imprisonment, for practicing Christianity. "From what I read, if you're found worshiping in a small group of Christians, you will usually be sent to prison camps for years," says Bays.
It is difficult to get definitive information out of the country since the central government, newly led by Kim Jong Un, sharply limits communication with the outside world. There is little awareness of North Korea's higher education system. "Frankly, nobody in the U.S. has a solid academic grasp of what's going on there," said Bays.
The country officially reports a literacy rate of 99 percent. Despite the high literacy rate, the economy is extremely weak. The government siphons off many vital resources to supply its armed forces.
Recently, Christian missions have refocused on North Koreans outside the country, especially those living in China. Bays said there are "a number of North Koreans studying in China, and sometimes Christians in China make contact with these students."
YUST plays host to a small contingent. "I knew that there were some North Korean students," said Lewis. "I never got a good opportunity to speak with them. They tend to stay to themselves." The North Korean embassy in Beijing keeps close tabs on its citizens abroad to make sure they don't defect.
Wanted: English Teachers
The education model that James Kim implemented in China and North Korea shows promise for the future of outreach in countries closed to traditional missions. Even though these governments are opposed to religion, they are desperate for help, especially in higher education.
More North American professors are teaching overseas. But not nearly enough qualified, English-speaking professors are available to meet the demand. English is becoming the most common language of instruction across the world's 8,900 universities.
McCarthy of IICS said, "There are 283 ads in The Chronicle of Higher Education for overseas positions. So there's a huge opportunity for professors, Christian or not, to teach outside of North America.
"In Asia and the Middle East, this desire to speak English is driving the massive explosion in education. All of the top journals are in English, so these folks have to learn how to speak it."
In addition, European higher education has been reforming itself since the 1998 Bologna Accords. This international agreement among 47 nations requires that every participating university must offer 25 percent of their classes in English.
Despite the rise in demand, McCarthy said, "We are finding that many Christian academics prefer the safety of teaching in a Christian institution or at least in a secular institution in North America. I've even met some who would prefer to flip hamburgers than teach overseas."
McCarthy said that before George Gallup Jr. passed away in 2011, the famous pollster told him there were an estimated 63,000 Christian college professors in the United States. "Out of that number, there should be literally thousands who should be interested in teaching globally," said McCarthy.
McCarthy treats the 131 million university students outside of North America as an unreached people group. He said many academics are reluctant to uproot their lives and leave their scholarly passions in favor of a teaching ministry in a foreign land.
But McCarthy views his mission as educating the whole person, not just the spiritual side. "Saving souls without saving minds will be unfruitful in the long term," said McCarthy. "We are first and foremost academics. For us, teaching is our ministry. We teach because that's our calling. That's what makes us a guild of academics who think and live differently."
Wheaton's Lewis said he views his mission as integrating faith and learning. Specifically at YUST, "Education is the mission," he said. "The department I served in had all Ph.D. scientists. It is definitely connected to the outreach though."
Anytime outreach becomes a factor, a host of pressures ensue. McCarthy said, "It's a subtle pressure, the constant pressure of knowing you're under surveillance. The e-mail and phone calls are under surveillance.
"Sometimes you will literally have a minder on the other side of the wall listening to your conversation. There is always a balance of transparency, being who you are, and discretion."
Expanding Change
Few experiences are as stretching for a Christian academic than entering into a foreign world, far from friends and familiarity.
"A lot of people, who saw themselves as bringing the gospel, find that they're being changed in various ways too," said Calvin's Bays. "That's not a bad thing." Certainly, mutual change and transformation is what happened with Lewis and his wife. Their experiences along the border of North Korea gave them a broader perspective.
Lewis is looking for a way to build a bridge between YUST and Wheaton that would include students, not just professors. One month after returning to his job at Wheaton, Lewis held a public lecture with a YUST colleague to share their ideas for expanding the relationship to include undergraduates.
After the session, one student exclaimed, "I didn't even know something like this was possible." Another student wondered about the possibility of adapting the YUST/PUST model to other closed nations.
Meanwhile, Professor Song now heads up the YUST/PUST Foundation in the Chicago area, and the YUST student who influenced Ray Lewis to teach overseas has joined the YUST faculty.
Andrew Thompson, a senior communication major at Wheaton College, was a 2012 editorial intern at Christianity Today.
Have something to add about this? See something we missed? Share your feedback here.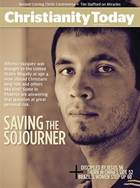 This article is from the September 2012 issue.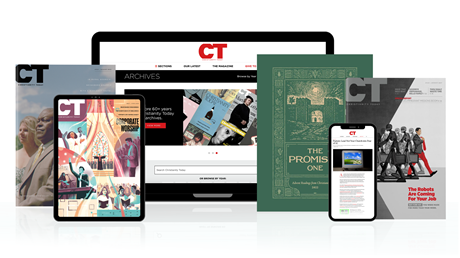 Annual & Monthly subscriptions available.
Print & Digital Issues of CT magazine
Complete access to every article on ChristianityToday.com
Unlimited access to 65+ years of CT's online archives
Member-only special issues
Subscribe
Teaching the Dragon
Teaching the Dragon