true
The term "indie artist" is a bit of an oxymoron, because very few of them are truly independent when it comes to money. Most would fit the "starving artist" stereotype, often literally scrounging for their next meal.
Nashville's Julie Lee is no exception. Neither her excellent music nor her fine work in the visual arts—she does collages comprised of "found objects"—brings in quite enough money, so she supplements her income with babysitting gigs, often. When word spread around, other talented musicians—including Kenny Vaughan (guitar player for Marty Stuart) and Mike Bub (bass player for the Del McCoury Band)—started hiring her. And many of them had an attractive counter-offer: To play with Julie if she ever needed supporting musicians.
"After a few years of babysitting for various musicians," she says, "I had accumulated quite a list of potential band members."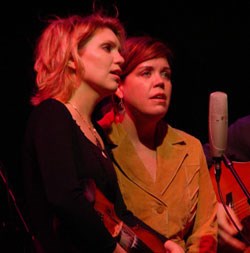 When it came time to make her new album, Lee took some of them up on it. And since they were all fathers of the wee ones she'd babysat for, the new project's title began to sort itself out, finally landing at Julie Lee and the Baby-Daddies. The impressive lineup includes Lee, who sings and plays guitar and banjo; Vaughan, guitar; Bub, upright bass; Ron Block (Alison Krauss), banjo, guitar; Jason Goforth (Over the Rhine), lapsteel, harp; and others. Guest vocalists include Alison Kraus, Sarah Masen, Sarah Siskind, and others.
Eight of the 10 songs on JL&TBD are originals; the two covers are Older Sister (Carly Simon) and I'll Never Be Free (Tennessee Ernie Ford). We talked to Lee about the new album, about how her faith affects her art, and her thoughts on the CCM industry.
Briefly, how would you describe this new album?
I see it as a collection of stories told in a variety of southern musical landscapes, illustrated by some of the top musicians and vocalists in Nashville.
The album ends with a creepy title, "Plague of Blood." What's that about?
It's meant to be a remorseful, historical piece. One of my great grandmothers, Eve Ernest (aka "Indian Eve"), her husband, and their six children were early settlers in Bedford County, Pa. They were victims of an Indian massacre and kidnapping. I thought about writing a song about her, but found myself stopped in my tracks by a passage in a book telling their story. It said that Bedford County was a great place for the Native Americans with its numerous springs and streams—before "the invasion of the white man" killed off many of them.
I kept thinking about the tragic story of my relatives and the Native Americans. Eventually I read on, but from both sides of the situation. I was trying to illustrate how violence begets violence. How we forget that as immigrants and /or early settlers in North America, we were the terrorists. When I wrote the song, we were preparing to bomb Iraq, and I couldn't help but see the irony of some of the politically charged patriotic songs coming out at that time. So it's really is more politically charged than just a gruesome tale.
Your music seems to fit multiple genres.
As a songwriter, I pull from a variety of what used to be called folk music, though much of my work would now fall into the Americana/roots music genre—pretty much a patchwork quilt of bluegrass, old-time, country, swing, blues, and gospel.
I hear that hymns and old spirituals are a big influence on you.
I love them, and musically and artistically, I am influenced big time! I made a commitment to Christ in my 20s, and started writing songs almost immediately. Back then, I put a lot of Scripture to music in order to memorize it and meditate on it. I still do, but not as often so when I go back to that approach it has to stand the test of time. For example, I wrote "Unto the Hills" and "Lowborn Men," the two Scripture songs on this new record, many years ago, but kept singing them. I knew they were gems waiting for the right setting.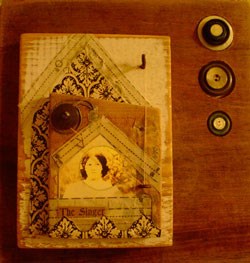 I recently did a whole series of found object collage art pieces based on old hymns and spirituals. I called the series "The Singer-Sewing Good Seed" and listened to my old vinyl records of Mahalia Jackson the whole time.
How did you come to faith?
I was baptized Catholic and raised Protestant. Christian, yes, but not evangelical. In high school, Young Life was the first time I clearly understood the gospel, but it wouldn't be until I was 20 (and a complete mess) when I cried out to Jesus and wanted a relationship with God for real.
How did your conversion affect the way you created art?
It changed everything. Initially, I went to college as a voice major at West Chester University, and I switched to an art major. I knew I could sing and paint, but had no idea what to do with my life or what God had in store for me. When I finally understood grace, I suddenly had something to sing about. On the way home from college, I stopped at a thrift store and bought a guitar for $20 and started writing. In the visual arts, it would take much longer to find my voice—that came more in my 30s, and it's still a journey. The older I get, the more I see how interwoven it all is—my faith, my music, and my art.
What are the differences between expressing yourself through visual art vs. songwriting?
The creative process for writing a song and making visual art is the same for me. The tools and the medium may be different, but the mental process is the same. When I'm writing a song, there is a visual image in my head, and very often when I am creating a piece of art, there's a song that is driving it to completion. But my artwork tends to be more abstract than my songwriting.
Are there days where you feel creative in one medium but not the other?
Of course. For years I didn't make art, I just focused on my faith and my music. Then after moving to Nashville, I discovered my love of mixed media and found object art, and I have been trying to juggle both ever since. It's easy for me to start feeling like I am mediocre at both by not completely focusing on one or the other, but they actually feed one another. Sometimes I can go for longer stretches now without songwriting and then I make a piece of art and it leads me to a song idea.
For example?
The first song on the record, "Uphill," started as a piece of artwork and then became a song. I made this collage out of old photos, postcards, scraps and bits on top of an old film box. A phrase I had cut out of some old book and pasted in the midst of the collage was, "Does The Road Wind Uphill All The Way?" I kept thinking, "That would make a great bluegrass song title."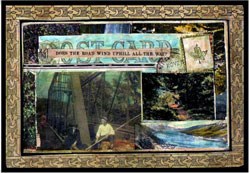 When I googled the phrase, I found that it was the first line to a poem called "Uphill" by Christina Rosetti. I got chills because I had just finished touring in Colorado by myself, driving at night through the mountains, pulling into hotels at 2 in the morning, and the first line of the poem was: "Is there for the night a resting place? / A roof for when the slow dark hours begin / May not the darkness hide it from my face? / Oh, you cannot miss that inn."
Coincidence? I don't think so! I printed the words out and put them on a blackboard in my kitchen, and a few weeks later while noodling around on the guitar, I stumbled upon the perfect melody and the rest is history! I love it when that happens. God's timing is perfect.
Why are you attracted to using "found materials" in your collages?
The redeeming aspect, I think—the idea lost and found, the redemption of all things. I like the history, the story, the connections—the way age weathers things and gives them character. And I like the recycling aspect. It's so much more interesting to me as a medium, with a never ending search for the next inspiration.
You had some early experience with the CCM industry, but are now an indie artist. Talk about that journey from the record label system to where you are now.
I guess I just saw "industry" for what it is. Christian or not, it's a business, and it can be confusing as an artist to navigate and know where you fit. When you are experiencing "the machine" for the first time, it can eat you up and spit you out, and I saw it happen to some of my closest friends. I guess I was just being led in a different creative direction. I was drawn to bluegrass and Americana because of the storytelling, and the fact that the gospel was and is a part of that story, constantly weaving in and out. And it felt less confining creatively for me.
What's more satisfying—writing a great song and recording it yourself, or writing a great song and having somebody like Alison Krauss record it?
They are both satisfying, but her recording my songs was a dream come true. It was "immeasurably more than I ever asked or imagined" for myself. It's a huge honor, and a strange and wonderful feeling. The songs end up being heard on such a worldwide level and, well, they take on a life of their own through that artist. It has opened a lot of doors for me and I am so grateful!
Anybody in particular that you wish would cover one of your songs?
Not really. I just want to keep growing as a writer and if something ends up resonating with someone else at that level, well then wonderful. I just want to keep following the Spirit …
[pause]
OK. Well maybe. Um. Dolly Parton … singing "He's My Man" … that would be ridiculous!
Have something to add about this? See something we missed? Share your feedback here.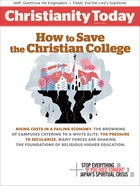 This article is from the March 2012 issue.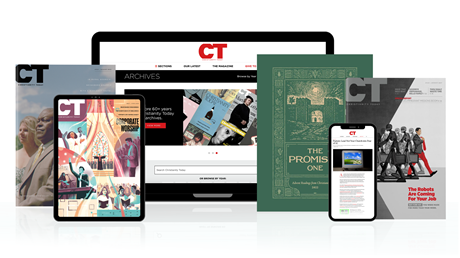 Annual & Monthly subscriptions available.
Print & Digital Issues of CT magazine
Complete access to every article on ChristianityToday.com
Unlimited access to 65+ years of CT's online archives
Member-only special issues
Subscribe
Interview: Julie Lee
Interview: Julie Lee