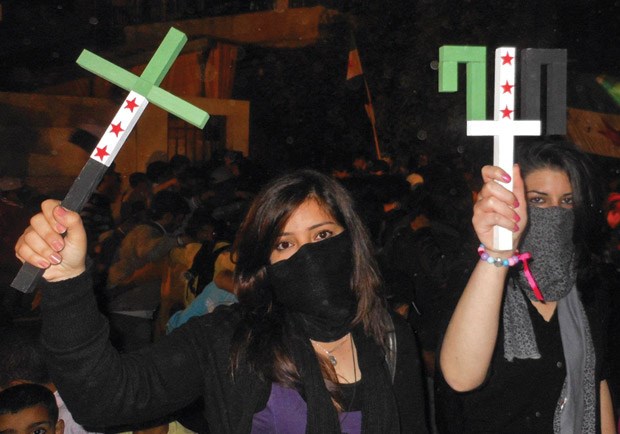 Image: Photo courtesy of Shaam News Network
In Syria, the pursuit of peace has become a driving passion of the nation's Christian leaders. As violence worsens, longstanding Christian support for the regime of President Bashar Assad is weakening. A growing number of Christians believe regime change is necessary even if they don't dare go public with their views.
Starting in March 2011, Syrians took part in Arab Spring protests against President Assad. Violence soon broke out as soldiers fired at unarmed demonstrators in Daraa. Analysts estimate that in the past 16 months, 14,000 people have died—and the number is growing. In late May, militias in Houla slaughtered 108 civilians, including 49 children and 35 women. One 11-year-old witnessed his family being murdered.
Christians and other religious leaders are working alongside activists to avert a slide into all-out civil war. Christian leaders say every effort must be made to stop a replay of the kind of sectarian violence that split Iraq along religious-ethnic fault lines. Syria has a Sunni Muslim majority, but the minority Alawite Muslim sect holds most of the power. Christians, mostly Orthodox and Catholic, make up about 9 percent of Syria's 22 million people. Evangelicals compose less than 1 percent of the population.
One large Christian ministry active in Syria is the Catholic Near East Welfare Association. "Christians over the past six months have found themselves a new vocation: to be the peacemakers of Syria," Carl Hétu, director of the agency's Canadian office, told a Canadian news outlet. Hétu thinks that the warring sects might listen to the Christians' call for a ceasefire and dialogue, "because they are well respected." In comments to Open Doors, the religious freedom ministry, one Damascus pastor said, "The church is praying non-stop. What will happen next? Only God knows the answer, but the church is definitely standing in the gap, praying."
Meanwhile, relief work undertaken by Christians is touching many lives:
In villages surrounding Homs, the besieged Syrian city of 1 million, Christians are taking into their own homes up to 50,000 fellow believers to provide emergency shelter. Homs is a key city for opposition forces and subject to repeated artillery attacks. Some reports indicate that extremists have forced Christians to flee their homes.
In Lebanon, there are about 24,000 Syrian refugees. About 75 percent are women and children. World Vision is working with local Lebanese to set up four safe zones for children to play. (About 500 children have died in the conflict so far.)
In Jordan, there are as many as 122,000 Syrian refugees, according to Foreign Minister Nasser Judeh. Local evangelical congregations as well as Catholics and Canadian Mennonites have started programs to provide housing, medicine, and school kits to thousands of families.
The Matthew 18 Model
Syrian Christians are also undertaking what they believe will be a more difficult but potentially more fruitful task: faith-based reconciliation.
In mid-May, 50 Syrians joined a discussion group in Cairo. Druze, Muslims, and Christians took part. Among the participants were a former candidate for Syria's parliament, a female art enthusiast, a hip 20-something media consultant, and an American globe-trotting professor-peacemaker. They share the twin goals of regime change and democracy for Syria.
Some 22 years ago, Brian Cox, an adjunct professor at Pepperdine University School of Law and senior vice president for Dispute Resolution Training for the International Center for Religion and Diplomacy, developed a model of reconciliation based on Matthew 18. He believes this approach will prove useful in Syria and spoke at the meeting in Cairo.
The relational method that Cox developed works well with both secular and faith-based groups. "It's a unique process that is not interfaith dialogue, not traditional conflict resolution," said Cox, also an Episcopal priest in California.
This approach, he said, is well suited to the Middle East with its populations of Muslims, Jews, and Christians. "It focuses on softening hearts as the first step toward constructive, joint problem-solving," he said.
Over the years, Cox has traveled to the world's hotspots to introduce more leaders to faith-based reconciliation. Cox and others worked for eight years before making significant progress in reconciling Pakistani Muslims and Indian Hindus in Kashmir. In the Mideast, he has already worked with Israelis, Palestinians, and Muslim Brotherhood members.
This intensive approach has little competition and gains little official support from government diplomats. In a 2010 report, Cox noted that a high-level official in the U.S. State Department paid his Asian program an unexpected compliment, saying, "Well, nothing else has worked in Kashmir. We might as well give faith a chance."
Cox's model of faith-based reconciliation centers on eight core values: pluralism, inclusion, peacemaking, social justice, forgiveness, healing historical wounds, sovereignty, and atonement. In the Syrian context, it potentially lays groundwork to assist activists in creating and implementing a strategic plan for national healing and reconciliation.
In Syria, Cox developed a list of critical questions, including:
What is the place of God, faith, and religion in Syrian politics and a future state?
How do we create an intentional pluralistic community in Syria that is inclusive of all ethnic, political, and religious groups?
How do we foster a spirit of personal and political forgiveness between those who served or benefited from the regime and those who suffered at the hands of the regime?
Cox is planning a follow-up event in the coming months.
Seeking Nonviolent Change
The situation in Syria took a dramatic turn when soldiers fired on unarmed demonstrators in Daraa, killing at least 20 persons. The demonstrators were marching to protest the arrest and torture of boys who had written, "The people want to topple the regime" on town walls in Daraa.
As violence spreads across the nation, some Syrian leaders have come to believe the government is intentionally pitting one group against another. This means the regime has set the Alawite community (an offshoot of Shiite Islam whose members constitute Syria's minority ruling elite) against the majority Sunni population.
"It tells the Alawites that the Sunnis will kill you and does the same with the Sunnis in a bid to divide and conquer," claims Wael, a media consultant who belongs to the Druze sect. (He asked that his real name not be used.) "It successfully spread such fears in the poor districts of Homs, the epicenter of the revolution, and in other places."
'The danger is that the Syrians are starting to hate each other now.' - Yara Nseir, Syrian Christian activist
Homs has repeatedly come under heavy shelling from government troops, who especially target Sunni Muslim neighborhoods of the northern city. Christians there have not been safe.
Wael and others believe that documenting violent attacks will be important down the road. Human-rights lawyers are also involved in chronicling torture, rape, and killing. Activists train volunteers to collect personal testimonies, videos, and photos.
"There is a small movement of young people all over the country, in all cities, working on this kind of documentation," said Wael. Once episodes of aggression are documented, volunteers post images and articles on internet social media sites, including Facebook, which has 18 million users in the Mideast. "Justice must take place eventually according to the law and in courts, not through revenge and retaliation," he said. Through this network's efforts, more Syrians are changing their traditional approach to settling scores through reprisals. The goal is to achieve justice through rule of law, Wael said.
Mennonite sources report that Orthodox bishops visit many who have lost homes, livelihoods, and family members to provide them a measure of comfort. They, too, underscored the need for reconciliation to mend Syria. "The most important work for the future is forgiveness and reconciliation among the communities," wrote Syrian Orthodox bishop Eustathius Matta Roham in a public statement.
While a number of Christians still support Assad, others have feared openly stating their opposition to the regime. They are concerned that their ancient community will fall prey to the same kind of violence that Christians suffered in Iraq.
Other Christians have overcome their fears, taking to the streets for peaceful protests and calls for nonviolent change. One young Christian activist is Yara Nseir, an art enthusiast and networker. The flamboyant 30-year-old works across ethnic and religious lines as well as inside and outside Syria. She and others participated in peaceful protests that were often met with government tank and artillery fire. Nseir, who fled Syria last September, is concerned about more than preventing civil war. "The danger is that the Syrians are starting to hate each other now," she said, her voice full of apprehension.
She and her friends have set up awareness campaigns, using nonviolent techniques to encourage people to stick to peaceful resistance. "We totally refuse the militarization of the revolution." Nseir and her friends acknowledge abuses by both sides and call for "accountability from the regime and rebel fighters alike."
Her friend Khalil, a young leader of the revolution, said faith-based reconciliation shows much promise. At the Cairo meeting, Khalil, who also asked for anonymity, said publicly to Cox, Nseir, and others, "You have crystallized a vision in our hearts that before was vague and unfocused about the direction of the revolution toward national healing and reconciliation."
Finding Answers
The examples of Sheikh Salah Keftaro, a prominent Syrian Islamic leader, and Bassam Ishak, an influential Syrian Christian politician, provide clear evidence that reconciliation is possible.
Years ago, Cox visited Ishak in Syria during the genesis of faith-based reconciliation. During that trip, Keftaro invited Cox to share his message of reconciliation from the pulpit of his mosque in Damascus. Afterwards, Keftaro told the American, "This is not the work of a Washington ngo, but the mission of the prophets." Keftaro has played a leading role in Muslim-Christian interaction in Syria.
Ishak, a committed Christian, has worked within the Syrian National Council (SNC), the leading opposition group, to foster unity. The 53-year-old ran for parliament twice (in 2003 and 2007), winning by a wide margin, but his victory was not recognized by the Assad regime.
Shortly afterwards, the Assad government put him on a travel ban list. Last September, Ishak had to flee Syria in the dead of night. Appointed to the SNC general secretariat and one of seven elected to its foreign-relations committee, Ishak has been pressing to secure rights for all of Syria's minorities and for a revision of Article 3 of the Syrian Constitution, which states that the president of Syria must be a Muslim. Ishak argues that citizenship should not be based on religious identity.
Ishak speaks from experience. His father served as president of Syria for a day—literally—in the 1950s before the family traveled to America. "He was a believer in democracy. He opposed the Baath military takeover and its one-party rule and suffered for it," Ishak said of the regime's political marginalization of his father.
As a young boy, Ishak used to accompany his father on visits to their ancestral hometown of Qamishli to diwans, the political salons held in the Arab world that gather activists, intellectuals, and sometimes common folk to discuss matters of concern. Preferring instead to play soccer with his friends, he went at his father's insistence. Ishak said it was the best political education he could have received.
Now he believes faith-based reconciliation holds the key to saving Syria. "Reconciliation can play a defining role in the future of Syria because the Syrian people are looking for answers," he said in a crowded Cairo coffee shop. "It helps to address how we can get out of sectarianism and work together to build a country where people have personal freedom, equality, and a life of dignity."
Ishak said Syrians want a way out of the violence. Faith-based reconciliation provides a way that "we can come together and resolve our issues with each other, heal our country, and move on."
Dale Gavlak is a journalist based in Amman, Jordan.
Have something to add about this? See something we missed? Share your feedback here.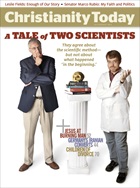 This article is from the Jul/Aug 2012 issue.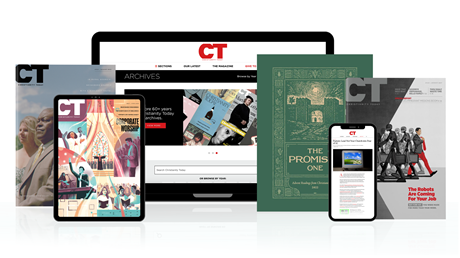 Annual & Monthly subscriptions available.
Print & Digital Issues of CT magazine
Complete access to every article on ChristianityToday.com
Unlimited access to 65+ years of CT's online archives
Member-only special issues
Subscribe
Syria's Last Chance
Syria's Last Chance