More to Discuss
As an Australian observer of the North American evangelical scene, I have often been saddened by the unnecessary conflicts in the academic world. It saddens me that scholars whose writings have aided me in my teaching and personal journey are treating an issue of interpretation as one of evangelical orthodoxy. While I do not agree with Michael Licona's interpretation of Matthew 27 ["A Grave Debate," November], I don't believe it justifies the charges of evangelical heresy. This is not the first time such charges have been directed at individuals. Unfortunately, it won't be the last.
Philip Wilson
E-mail
Close to Him
I appreciate the caution of being casual with a holy God ["Disappointed with Intimacy," November]. I also know that great waves of spiritual intimacy may never happen as they did to Pascal, Moody, and Spurgeon. But what is this quiet stream of inextinguishable joy if not the presence of my Lord? When I am still and sense his wisdom, or when a verse quickens me, is this not dialogue? And when a believer puts her arm around me and comforts me over the loss of my husband, is this not the touch of Christ? What is this if not intimacy?
This is not the disappointment of a baking-soda rocket—this is what sustains me. I know this is only a "chink" of the glory to come, but it certainly is a taste of his goodness.
Dee Brestin
Kansas City, Missouri
Even though the marriage feast is yet to come, the betrothal we experience now may be a time of genuine closeness. The article does affirm that true intimacy with Christ now is possible, but I am concerned that readers may miss the great truth that this intimacy is fully sustainable and incredibly rich. Few find this intimacy, but let us encourage its diligent pursuit rather than dampen its attractiveness.
I would like to suggest that the church has not overhyped intimacy with God or made false promises concerning its ecstasies. Rather, we have failed to tell how such intimacy can be obtained and at what price such a great treasure is gained.
The deep comfort and satisfaction of intimacy with Christ cannot be overstated—and it definitely will not disappoint.
Tami Myer
Palm Bay, Florida
Honestly Good Sex
I appreciated Sarah Pulliam Bailey's interview with Christine Gardner ["The Rhetoric of Chastity," November]. Self-fulfillment language and glow-in-the-dark promises of automatic honeymoon ecstasy as the reward for frustrated chastity that masquerades as passion-denied purity are as dishonest as they are unhelpful.
Good sex is learned; it is also protected and nurtured within the marriage covenant. Honesty about sexual desire and fulfillment is vital in a culture that, even in the church, wants to airbrush the beauty of reality and wonder with a promise of perfection that is meant to sell you something that will ultimately disappoint.
Robbie Fox Castleman
Siloam Springs, Arkansas
Evangelizing Today
I loved Hwa Yung's insightful analysis of U.S. missions ["A Fresh Call for U.S. Missionaries," November]. But traditional, incarnational missions have changed. Today, Ida Scudder probably couldn't get appointed as a missionary in one of the large U.S. denominations.
In the 1980s and '90s, I was an education missionary for the largest evangelical missionary-sending agency in the world. Under a "Christian professional" model, our approach was to work among nationals and let our lights shine. Our mission included builders, business managers, dentists, doctors, teachers, musicians, and other professionals "tent-making" in another land. Then our mission board shifted to a "professional Christian" model. Granted, we were all professional missionaries, but the new model called for all missionaries to become full-time, professional church-starters.
Twenty years later, the mission is virtually nonexistent.
I deeply appreciate professional ministers, but lay professionals have remarkable credibility in a lost, workaday world. Furthermore, lay professionals have broader access to closed cultures. I trust that mission boards will learn from others' mistakes.
Dara Wakefield
Rome, Georgia
Beyond Food
The editorial ["Fighting Famine Isn't Enough," November] starts down the right path—just giving food aid isn't enough—but stops in the middle of the journey. It's easy to say that something different needs to be done, but without offering concrete solutions or steps toward a solution, it's just "a sounding gong or a clanging cymbal." What actions do the authors propose to change the situation in Somalia and in the other collapsed states around the world?
Michael Chance
E-mail
Freedom for All
Thank you for the interview with Rep. Frank Wolf from Virginia ["Liberty for the Captives," November]. I am glad to hear there are some congressional representatives who as Christians are concerned about the persecution of Christians abroad.
The makeup of our country has changed so that one could argue that it may no longer be the will of the majority of Americans to support Christians throughout the world. But reviewing modern history, who has been responsible for other nations and peoples obtaining some freedoms if it has not been Christians?
If the majority of Americans are no longer interested in the plight of persecuted Christians, certainly Wolf's plea for churches to get involved is one that should demand our attention and action.
Henry Harvey
Brunswick, Georgia
What got the most comments in November's CT
29% A Grave Debate Bobby Ross Jr.
19% Disappointed with Intimacy John Koessler
9% A Fresh Call for Missionaries Hwa Yung
Readers' Pick
The most praised piece in November's CT
Portland's Quiet Abolitionists
Katelyn Beaty
Worth Repeating
Compiled by Elissa Cooper
"It's portrayed as lighthearted, but the hidden reality is far more harsh and brutal."
Tim Childs, urging further discussions of pornography, particularly its link to sex trafficking.
Her.meneutics: "The Thin Line between Trafficking and Pornography," interview by Katelyn Beaty and Nathan Clarke
"Many Christians quote the Bible perfectly, but have no idea how to apply what they've memorized. Who commits the bigger sin?"
Saved by grace, dismissing a White House spokesman's mistake in attributing a phrase to the Bible.
CT Politics Blog: "Obama Spokesman on Jobs: Bible Phrase Is 'The Lord Helps Those Who Helps Themselves,'" by Sarah Pulliam Bailey
"Age is irrelevant. Let us hear more of the Word as long as you are still with us."
Sahali, wishing Billy Graham a happy 93rd birthday and giving thanks for his life's work.
CT Liveblog: "A Visit from Dr. Billy Graham," by David Neff
"I like to keep my soldiers and my missionaries separate."
Rick, discussing why Machine Gun Preacher failed to capture audiences' interest. The film depicts the real-life story of Sam Childers's work in Sudan, and faced claims of inaccuracy.
CT Entertainment Blog: "'Preacher' Gunned Down at U.S. Box Office," by Mark Moring
"If we knew what marriage was really like before we got married, we'd all be single."
Jane Hinrichs, on what it takes to make a marriage last.
Her.meneutics: "The Truth about Marriage and Happiness," by Natasha Robinson
Related Elsewhere:
The November issue is available on our website.
Letters to the editor must include the writer's name and address if intended for publication. They may be edited for space or clarity.
E-mail: cteditor@christianitytoday.com
Fax: 630.260.8428
Have something to add about this? See something we missed? Share your feedback here.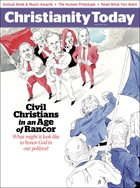 This article is from the January 2012 issue.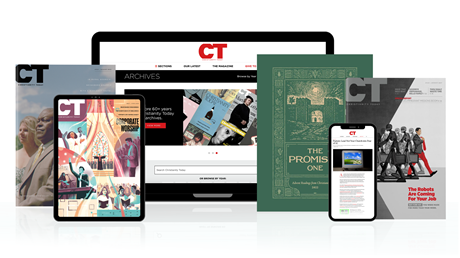 Annual & Monthly subscriptions available.
Print & Digital Issues of CT magazine
Complete access to every article on ChristianityToday.com
Unlimited access to 65+ years of CT's online archives
Member-only special issues
Subscribe
Readers Write
Readers Write