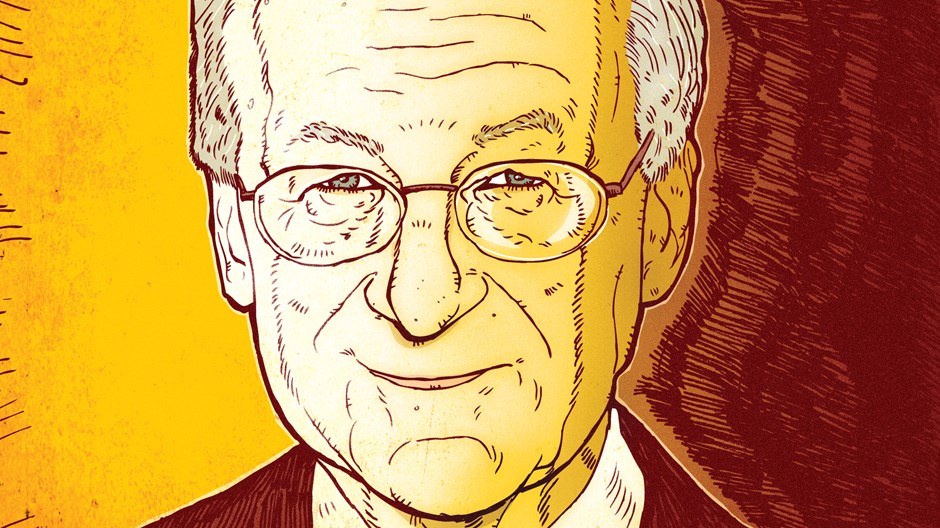 Image: Illustration by Brian Taylor
Eulogies sometimes tell us more about their authors than about their subjects. The nearly universal acclaim for John Stott following his July 2011 death revealed evangelical longing for a unifying leader of grace and conviction. The disputes and disappointments of Stott's career gave way to the memory of a gentle intellectual giant.
Lauded as the closest thing to an evangelical pope, Stott was the leader we wish our theological opponents would emulate. Frustrated that women are still restricted from serving in pastoral ministry? Then you wish more evangelicals would take after Stott, an open-minded biblical exegete who changed with the times. Disappointed that substitutionary atonement has come under attack by some pastors and professors? Then you wish more Bible teachers would write books like The Cross of Christ, which locates Jesus' self-substitution at the center of redemption.
Indeed, Stott transcended divisions like few others in post-war, trans-Atlantic evangelicalism. He belonged to the British aristocracy but disbursed much of his considerable royalties to finance seminary education for majority world pastors. He labored to reform the Church of England while building a massive following in the North American parachurch movement, particularly through the Urbana conference of InterVarsity Christian Fellowship. He owed much of his prestige to Billy Graham, who convened the Lausanne Congress in 1974, but he pressured the famous evangelist by threatening to resign due to disagreement over social action.
We learn more about the history of and contemporary challenges facing evangelicalism when we remember Stott as he really was—hugely influential, widely admired, and frequently controversial—than when we cast him in our image.
We learn more about the history of and contemporary challenges facing evangelicalism when we remember Stott as he really was—hugely influential, widely admired, and frequently controversial—than when we cast him in our image. Alister Chapman's Godly Ambition: John Stott and the Evangelical Movement (Oxford University Press), the first biography of Stott published by an academic press, helps us assess his legacy with critical distance. Chapman, associate professor of history at Westmont College in Santa Barbara, California, never persuaded Stott to grant an interview. He benefited, however, from access to Stott's personal papers, which may not be released for several decades. The biographer's familiarity with decades of correspondence helps us understand "Uncle John" as a man of and ahead of his times.
Ultimately Dissatisfied
Chapman writes with an appreciative but critical posture as he seeks to explain how this man with impeccable upper-class British credentials achieved global evangelical stardom. Relatively short, this academic monograph includes all the basic details of Stott's life, from his conversion in boarding school through the growth of his legacy ministry, Langham Partnership International. Readers looking for a fuller account of Stott's remarkable ministry should still turn first to the two-volume biography written by his friend, Bishop Timothy Dudley-Smith. Chapman pursues a narrower goal of portraying Stott as motivated by godly ambition to lead a global revival of basic Christianity.
Like Graham, Stott pursued this goal through extensive international travel at a time when flight still incurred considerable costs. Globetrotting conferred prestige in the early years of Stott's ministry. Today, even junior high evangelicals get their passports stamped in far-flung locales on short-term mission trips. They should thank Stott, who dedicated his last 20 years of ministry to bolstering the global church by making it possible for non-Western pastors and scholars to study in prestigious seminaries. He was uniquely suited for this leadership role from ages 65 to 85: never married, retired from preaching at All Souls Langham Place in London, and unencumbered by a bishop's responsibilities in the Church of England.
Not that Stott always expected the global church to be his chief legacy. He initially longed for spiritual revival in Britain. The 1950s offered hope that such revival might come. Graham's three-month crusade at Harringay Arena in 1954 impressed the skeptical British press and boosted evangelical confidence and cooperation
Yet Chapman characterizes Stott as ultimately dissatisfied with British Christianity. Writing about Britain to his All Souls congregation in 1960, Stott lamented perfunctory worship, superficial fellowship, and ineffective witness. Only a powerful manifestation of the Holy Spirit could revive the church. But national revival did not come to Britain in Stott's lifetime. He associated the nation's spiritual malaise with the collapse of the British Empire following the Second World War. "Any observer can see both our loss of prestige overseas and our religious and moral decline at home," Stott wrote in 1968. "Are these two trends not connected? The Roman Empire fell to internal moral corruption before it fell to the armies of marauding barbarians."
Politics and Controversy
Writing an academic biography, Chapman aims to connect events in Stott's life to broader cultural trends. Among the biographer's assertions: The welfare state severed the connection between the working classes and the church, which helps explain why Stott's well-to-do congregation couldn't relate with poorer neighbors; his shift on women's roles corresponded to Margaret Thatcher's political rise in the 1980s; Stott saw himself as the mind behind an evangelical movement substantially led by the United States at the same time British politicians began to see themselves as the learned Greece to America's imperial Rome. Plausible these associations may be, but nothing from Stott's own pen confirms them. Chapman says Stott disagreed with some of what he read in early drafts of this biography. Perhaps he had these passages in mind.
Chapman's observations about Stott's global turn make the most sense. His frequent overseas travels revealed God at work in powerful, exciting ways. All Souls thrived, but national revival did not appear to be imminent. Students no longer responded so enthusiastically to his evangelistic messages. The prophet found little honor in his native land. His hopes for comprehensive reform in the Church of England ran aground in the 1960s and 1970s, according to Chapman, who devotes considerable space to church politics and controversy. Chapman says Stott wasn't yet prepared in 1966 to follow the famed Welsh preacher Martyn Lloyd-Jones into the "cultural wilderness" and forsake his hopes for the Church of England.
But Stott couldn't keep the evangelical coalition together. Apparent uneasiness with Stott's leadership was among the reasons J. I. Packer left Britain in 1979 for Regent College in Vancouver. Stott's influence reached its climax as drafter of the landmark 1974 Lausanne Covenant, which affirmed sociopolitical involvement as a Christian duty. Graham deferred to Stott but never agreed, Chapman writes. Graham eventually shifted his focus toward supporting evangelists.
Power and Control
Chapman raises an important question about the difficulty of evangelical leadership: What could Stott have done differently? What incentives could he offer, what threats could he make to impose his views on divided evangelicals? Chapman writes, "Others might refer to him as the bishop, or archbishop, or cardinal, or patriarch or even the pope of the evangelicals, but he had none of the tangible means of power and control associated with any of those offices."
Graham could lead through the power of his preaching and the depth of his supporters' pockets. But Stott had a powerful tool, as well: his pen. Chapman could have devoted much more attention to his books, which continue to circulate widely today. Stott's classic book The Cross of Christ does not even merit mention from Chapman. Nor does Stott's seminal preaching text, Between Two Worlds: The Challenge of Preaching Today.
Even so, Chapman's biography helps us remember Stott as immensely gifted, dedicated, and ambitious for God's glory. We learn more from this critical evaluation of his unexpected triumphs and excruciating failures than from merely laudatory obituaries.
Collin Hansen is the editorial director for the Gospel Coalition and co-author of A God-Sized Vision: Revival Stories that Stretch and Stir (Zondervan).
Related Elsewhere:
Christianity Today has a special section with articles on John Stott's life and ministry, including:
John Stott on Singleness | "Uncle John" explains why he stayed single for 90 years. (August 17, 2011)
John Stott Has Died | An architect of 20th-century evangelicalism shaped the faith of a generation. (July 27, 2011)
John Stott: The Man Who Wouldn't Be Bishop | Discernment and discipline have enabled him to touch lives worldwide. (March 16, 2011)
CT also has more books, film, and music reviews.
Have something to add about this? See something we missed? Share your feedback here.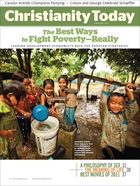 This article is from the February 2012 issue.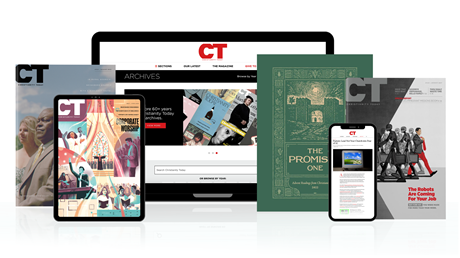 Annual & Monthly subscriptions available.
Print & Digital Issues of CT magazine
Complete access to every article on ChristianityToday.com
Unlimited access to 65+ years of CT's online archives
Member-only special issues
Subscribe
Read These Next
Trending

American Christians Should Stand with Israel under Attack

While we pray for peace, we need moral clarity about this war.

From the Magazine

God's Promises Are Clearest When We Turn Out the Lights

Christians have every reason to reduce light pollution.

Editor's Pick

Don't Miss These African Christmas Hits

Jam out this season to highlife, Afrobeats, jazz, a cappella, R & B, rap, dance, and hip-hop artists from Nigeria, South Africa, and more.
John Stott: A Uniter and a Divider
John Stott: A Uniter and a Divider