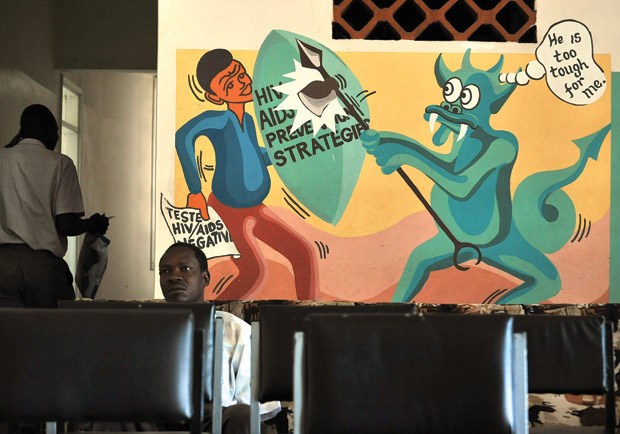 Image: Tony Karumba / AFP / Getty
For the past 15 years, George Karambuka, a Pentecostal pastor and health worker, has fought against HIV/AIDS. Like many Kenyan church leaders, Karambuka believed premarital abstinence and marital fidelity were the key to preventing new infections.
But Karambuka, fellow African pastors, and other religious leaders have recently joined a new, controversial effort to stem the deadly virus: circumcising adult African men, by the tens of millions. About 70 percent of men in Africa are already circumcised. So an estimated 20 million uncircumcised adult men, many of them living in sub-Saharan Africa, could potentially benefit from this surgery.
Though skeptics remain, recent research indicates that circumcision helps prevent the transmission of HIV from women to men. Edward C. Green, the renowned HIV/AIDS researcher and author of Broken Promises: How the AIDS Establishment Has Betrayed the Developing World, is one champion of voluntary medical male circumcision. In an interview, Green said, "From a purely public health standpoint circumcision is beneficial, especially in southern Africa where infection rates are the highest.
"We talk about a perfect storm of factors. There are more men and women having multiple and concurrent sex partners in southern Africa than any other place in the world. You have high rates of uncircumcised men, and a couple other factors that together make the perfect storm for high HIV rates."
Green has encouraged religious leaders to support adult male circumcision. "The evidence is so strong and the church is so powerful. It's essential. If more than half of the male population of a country becomes circumcised, and certainly if it went up to closer to 80 or 90 percent, we would see the infection rates go way down. Having the church behind it would be great."
Jesus Was Circumcised
Churches have significantly stepped up their efforts to fight HIV/AIDS. Karambuka had an early encounter with the AIDS epidemic that changed his life. In 1995, Karambuka and his wife were tested less than two years after they married. He was negative, but she tested positive for HIV.
"We were dumbfounded. How did she get the virus, yet I was the first man she slept with all her life, and I was still negative? We did not know how to break the news to friends and relatives.
"We were counseled on how to cope. We continued to live together and even have relations. We had our second child, a baby boy." Two years later, his wife died due to complications from AIDS. The cause of her infection was never determined.
Karambuka then immersed himself in HIV/AIDS ministry. When he first began speaking out about the HIV/AIDS epidemic in 1998, some in the church shunned him. Others believed he was HIV positive himself. But slowly families sought him out for help in caring for their infected parents and orphaned children. Kenya alone has 1.2 million AIDS orphans.
In time, Karambuka remarried, and his two sons from his first wife are virus-free today. All are active in HIV/AIDS outreach. "One of my greatest moments in life," he said, "is when I see people coming for HIV tests, and those who are found positive adhere to the prescribed treatment, embracing behavior change and living positively." His ministry has three goals:
• Help individuals see their need for HIV testing, treatment, and counseling;
• Integrate the gospel into all levels of care;
• Train Christian leaders to care holistically and through the church.
Karambuka is a leader at the Loco Health Center in Nairobi, where voluntary circumcisions take place nearly every weekday. On average, 20 procedures are performed each day. But that number frequently surges much higher for the 15-minute surgery.
The steady stream of patients is partly due to Christian organizations now referring their members to Loco and similar clinics for circumcision. Referrals are coming from Roman Catholics, Anglicans, Presbyterians, independent Pentecostals, and Zinduka Afrika, an organization linked with a megachurch in Nairobi. Some 500 young men from the Presbyterian Church of East Africa signed up for circumcisions late this fall.
One way to convince men to agree to the procedure, said Green, is to point out that Jesus as a Jew was circumcised. Also, health officers inform uncircumcised men that their spouses would now have a lower risk for cervical cancer.
Scaling Up
Several years ago, three randomized clinical trials in Africa revealed for the first time that male circumcision reduced female to male infections by about 60 percent. In one study in South Africa in 2006, the results were so startling that researchers halted the trial and immediately offered circumcision to the so-called control group.
In 2007, the World Health Organization and the UNAIDS agency issued official recommendations, saying, "The efficacy of male circumcision in reducing female to male HIV transmission has now been proved beyond reasonable doubt." According to UN projections, if 20 million men aged 15-49 are circumcised by 2015 in 14 target nations, there would be 3.4 million fewer HIV infections by 2025.
After these findings, dozens of health agencies added male circumcision to the arsenal of treatment and prevention, including condoms, antiretroviral drugs, voluntary testing, and support for faith-based prevention programs focused on sexual abstinence and marital fidelity.
In January 2008, Kenya officially published policy guidelines on male circumcision. A phased rollout of the national program began in November 2008. The goals were to increase the proportion of 15- to 49-year-old Kenyan males who are circumcised from 84 percent to 94 percent by 2013. Four U.S.-based organizations signed on: the U.S. President's Emergency Plan for AIDS Relief; the U.S. Agency for International Development; the independent Family Health International, a North Carolina nonprofit originally involved in contraceptive research; and the Gates Foundation.
According to UN projections, if 20 million men aged 15-49 are circumcised by 2015 in 14 target nations, there would be 3.4 million fewer HIV infections by 2025.
Male circumcision is offered as part of a package rather than just a surgical procedure. This minimum package includes HIV counseling and testing, treatment for other sexually transmitted diseases, provision of condoms, and counseling on risk reduction and safer sex.
From the faith sector, the Catholic Medical Mission Board has been one of the largest service providers in Kenya. In addition to providing sterile, safe, medical surgeries for adolescent males, the initiative incorporates HIV/AIDS and life skills education for parents and siblings, counseling and testing, and ongoing mentorship for young men.
Karambuka told CT that most Kenyan evangelicals are willing to work with Catholics, government agencies, and other groups from overseas to cope with the large number of families devastated by HIV/AIDS.
In Kenya, a nation of 43 million, 1.5 million people live with HIV. That's the fourth largest case load among all nations. By comparison, the United States, a nation of 311 million, has 1.2 million people with HIV.
Church leaders teach those who are already infected how to live with their situation. When pastors preach sexual abstinence, that message may work for some but not for others. Karambuka believes such individuals should be told how to protect themselves. He said that even as the church discourages promiscuity, it should be practical. "We should remember that before the kingdom of God finally comes, we are still living in this world," he said.
As a result of efforts in his own church, which include drugs and basic health care, some people with HIV have regained their health, married, and even given birth to virus-free children.
But he says that one of the most significant changes has been that the church has accepted those living with HIV, and their families. "They have cared and shown them love without judging them," he said.
More Harm than Good?
Amid the enthusiasm for circumcision, some Bible scholars and church leaders think these programs do more harm than good.
Matthew Okeyo of the African Inland Church and the chief executive of AIC Child Care Kenya said the campaign's intention is good, but the implementation is not helping. "Male circumcision as a means to fight HIV is, to me, practically a fallacy, and it is just a matter of time before we see the side effects of it," Okeyo said.
He added, "Sex is a powerful thing because it is not just a good feeling, but it involves the mind, soul, and body. So the fact that people are told that circumcision will reduce the infection and enhance performance has done disservice to the campaign." He said he knows men who changed their behavior before they were circumcised. "But now they are back to their careless lifestyle because they feel safe. They say that they have now sharpened themselves."
Okeyo said he feels the campaign's supporters did not take into consideration all of the social forces at work in the persistent spread of HIV. He said the church should focus on what the Bible teaches and not offer alternatives.
"We need to teach the truth about sexuality and its beauty," he said. "The problem we have is that we tend to believe that people cannot change, so we go for the easy option."
Martin Wesonga, academic dean at the Bishop Hannington Institute of Theology and Development in Mombasa, Kenya, agrees with Okeyo. Drawing from the New Testament, he said that Paul argues that people need to "circumcise" their hearts.
"Christianity does not condemn the uncircumcised since it is about the heart, not works. Salvation is by faith. To my understanding, circumcision does not stop the spread of HIV. It is morality of the heart, which is brought out by Jesus Christ, that can help stop the spread of HIV/AIDS."
Time Is Short
Kenya is among a handful of nations with a generalized HIV epidemic. This means the virus, predominantly spread in Africa through heterosexual contact, is well established in all sectors of society.
New field research reveals that members of Kenya's Christian community may be responding to HIV/AIDS prevention programs better than the general population. According to a 2007 survey, religious men and women have lower rates of infection. Among Roman Catholics, the prevalence rate was 5.4 percent; among Protestants, 5.7 percent; and among other Christian groups, 5.5 percent.
The same survey revealed that the prevalence rate among adult Kenyans aged 15 to 64 was 7.1 percent. The report revealed that the prevalence was higher among uncircumcised men (13.2 percent) than among circumcised men (3.9 percent). Peak HIV prevalence among uncircumcised men was among those men aged 30-39 (29.7 percent).
Many regional variations exist. Nyanza Province in western Kenya has the lowest prevalence of male circumcision (47 percent) and the highest HIV rate (15.3 percent). Nyanza is the first province to implement the male circumcision program. Its goal is to increase the proportion of circumcised males in the target age bracket from 47 percent to 80 percent by 2013. This translates into 84,000 circumcisions a year.
In light of this intensive new program, George Karambuka and his family recently expanded their outreach beyond Nairobi. They are bringing with them one of their most meaningful new family traditions: Every January, they go together for an HIV test in memory of his late wife and his children's mother. Karambuka said this gesture makes visible the African saying about HIV: "All are not infected, but all are affected."
Moses Wasamu, based in Nairobi, Kenya, is associate editor of Christian Times, Juba, South Sudan. Additional reporting by CT news intern Bryn Sandberg.
Have something to add about this? See something we missed? Share your feedback here.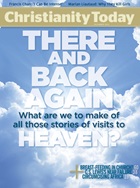 This article is from the December 2012 issue.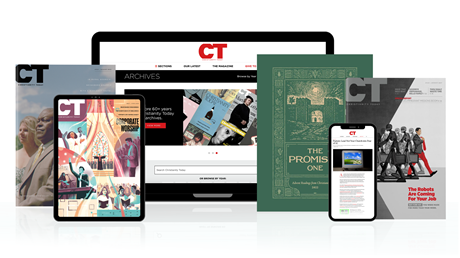 Annual & Monthly subscriptions available.
Print & Digital Issues of CT magazine
Complete access to every article on ChristianityToday.com
Unlimited access to 65+ years of CT's online archives
Member-only special issues
Subscribe
African Pastors Lead Crusade for Circumcision
African Pastors Lead Crusade for Circumcision