Employers can limit employees' speech
Your job may limit your freedom of speech. A federal court ruled in February that the University of Toledo was within its rights to fire human resources director Crystal Dixon in 2008 for a newspaper column questioning how homosexuals could be "civil rights victims." Her op-ed contradicted the university's stance. Because of Dixon's authority over university hiring and firing, wrote judge David Katz, her "interest in making a comment of public concern is clearly outweighed by the university's interest … in carrying out its own objectives."
TBN embroiled in family lawsuit
Perhaps Trinity Broadcasting Network (TBN) should start carrying Family Feud re-runs. Brittany Koper, granddaughter of TBN founders Paul and Jan Crouch, has accused directors of illegally distributing $50 million in "charitable assets" for personal use. She also claims she was fired as chief financial officer for refusing to cover up the scheme. Koper sued TBN attorneys over their role; her uncle, Joseph McVeigh, has filed a similar suit. The attorneys previously accused Koper of misappropriating funds but eventually dropped their suit.
LifeWay keeps new NIV on shelves
A disputed Bible translation will remain in Southern Baptist bookstores. The trustees of LifeWay Christian Resources unanimously voted to continue selling the 2011 New International Version, even though the Southern Baptist Convention had asked the publisher to remove the Bibles at its June convention. Committee chairman Adam Greenway emphasized that the decision was not an endorsement of the translation. "We do not believe the 2011 NIV rises to the level where it should be pulled or censored or not carried in our retail chain," he said.
Anglican clergy cannot sue God
GREAT BRITAIN Anglican clergy cannot sue their employer: God. An employment tribunal ruled in February that a former Worcester rector could not seek compensation from his bishop or diocese for resigning under duress. Church of England law states that clergy are office holders employed by God, not employees of the church. Judge Alan McCarry said the church is a central part of English society yet "has no legal personality. It cannot sue or be sued." Reverend Mark Sharpe alleges his bishop and diocese allowed parishioners to terrorize him for four years, including poisoning his dog and slashing his tires.
Court rejects concerns of religious parents
CANADA Parents cannot prevent Quebec schools from teaching their children about other religions. Canada's Supreme Court has ruled that a mandatory Ethics and Religious Culture program does not infringe on parents' rights. The program, which exposes children to a variety of cultures, creeds, and religious traditions, replaced similar Catholic and Protestant programs in 2008. Two parents argued the program could affect the religious beliefs children were taught at home. The court ruled that since the program was educational and was not forcing children to join any religion, it did not infringe on religious freedom.
'Fake aid' may hamper relief workers
A new eBook says not all aid workers in Pakistan are what they seem. The Command, by The Atlantic's Marc Ambinder and D. B. Grady, claims the United States government used the chaos from the 2005 Kashmir earthquake to send dozens of CIA agents into Pakistan posing as aid workers. The claims are likely to strain already tense relations between genuine aid agencies and Pakistan; reports last July said the CIA ran a fake vaccination program in an attempt to gain DNA evidence from members of Osama bin Laden's family months before his death.
University cancels biblical finance class
Business and the Bible won't mix at Iowa State University. School officials canceled a proposed independent study course that would have examined how biblical principles can be applied to business management. Opponents argued the class, which would have used Dave Anderson's How to Run Your Business by THE BOOK, would have promoted one religion in violation of the Constitution. But finance professor Roger Stover, who proposed the course, said it was necessary because of the growth of companies like Hobby Lobby and Chick-fil-A that "openly display their use of spiritual and often Christian principles in their organization."
Religious education required in schools
RUSSIA Religion has returned to Russian classrooms 90 years after the Soviet revolution banned it. In 2010, Russia began requiring students at 20 percent of public schools to take courses in religion and ethics; in February, Prime Minister Vladimir Putin expanded the requirement to all Russian schools. Elementary and middle-school students can choose to study the history of one of four "traditional" religions (Orthodox Christianity, Islam, Judaism, or Buddhism) or take a general course on the "fundamentals of public ethics" or the "foundations of religious culture." Critics do not want schoolchildren divided according to religion or exposed to proselytism.
Bar boots Catholic group
Barroom evangelism can be controversial for churches—and apparently for bars too. A Catholic outreach program hosted at a Denver bar had to find a new venue after a lecture on religious liberty stirred controversy among staff and patrons. Hosted by the Archdiocese of Denver, Theology on Tap is intended to provide a "nonthreatening" gathering place for those curious about Catholicism. But some at Stoney's Bar and Grill reportedly considered the January 26 lecture, "Atheocracy and the Battle for Religious Liberty in America," to be "too controversial." Some employees refused to work future events. The program moved to a nearby Irish-themed pub.
Tithes not exempt from garnishment
Debtors must render first to Caesar before God. A federal court has ruled a Mormon who owes $1.86 million in restitution cannot exclude 10 percent of her monthly pay from garnishment for tithing purposes. Patricia Thomas was convicted of embezzling funds from her employer and ordered to have her wages garnished toward her restitution. The court ruled that Thomas failed to make a legal argument that refusing a tithing exemption would violate her First Amendment rights.
Flower order creates controversy
Controversy continued to stem from a federal court's decision to remove a prayer mural from a Rhode Island public high school. When the Freedom from Religion Foundation tried to send congratulatory flowers to the plaintiff, four different local florists refused to fill the order. The foundation, which finally ordered flowers from a store in Connecticut, filed a formal complaint with the Rhode Island Commission on Human Rights, alleging discrimination because of the plaintiff's atheism.
Extremists deface Christian holy site
ISRAEL In a rare attack on a Christian holy site, a Jerusalem monastery was defaced with the words "Death to Christians" in Hebrew, allegedly by militant Jewish settlers. The Monastery of the Cross is built where tradition holds the tree used to make Christ's cross stood. Two cars parked outside the monastery were also vandalized in the February attack with the words "Price Tag," referring to militant settlers' plans for retribution if the Israeli government tries to curb settlement in the West Bank. A prominent Baptist church was defaced with similar threats—including "We will crucify you"—weeks later.
Calvin considering football program
Calvin College needs a football team. That's the recommendation of a task force after spending 18 months researching the idea. It found a slim majority of students, staff, and alumni favor starting a football program, while nearly two-thirds of faculty members oppose it. Launching the program will cost an estimated $10 million, including constructing a stadium. Calvin's athletic director said a final decision isn't expected until May.
Related Elsewhere:
See Christianity Today's news section and liveblog for more news updates.
Have something to add about this? See something we missed? Share your feedback here.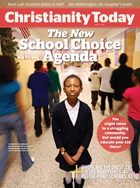 This article is from the April 2012 issue.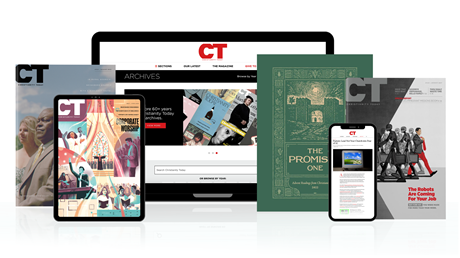 Annual & Monthly subscriptions available.
Print & Digital Issues of CT magazine
Complete access to every article on ChristianityToday.com
Unlimited access to 65+ years of CT's online archives
Member-only special issues
Subscribe
Employers Can Limit Employees' Speech, TBN's Lawsuit, Bar Boots Catholic Group, and More News
Employers Can Limit Employees' Speech, TBN's ...