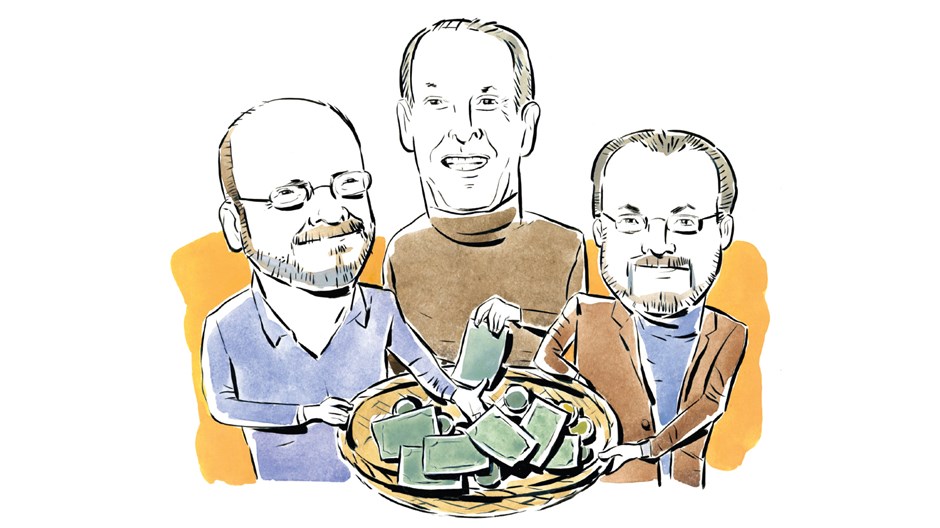 Image: Illustration by Amanda Duffy
Yes, if Joyfully
Douglas LeBlanc
John Densmore, longtime drummer for the Doors, took up tithing after John Lennon praised it in a Playboy interview. Years later, Densmore mentioned in an essay for The Nation that tithing helped him resist greed. He wrote, "During the Oliver Stone film on our band, the record royalties tripled, and as I wrote those 10 percent checks, my hand was shaking."
My left hand did not shake in 2008 when I tithed on an advance check for my book about tithing, but my soul quaked a bit. I was going through one of the most barren periods of my life as a journalist. I was filled with shame about not bringing more money into our household. I was unsure I could deliver the book.
Who was I to continue tithing? What, apart from a distaste for brazen hypocrisy in myself, moved me past this hesitation? Mostly this: I could not see in the voluntary discipline of tithing the same escape clauses that I would expect in a prenuptial agreement.
There are some reasons for jobless people—or anyone, for that matter—not to tithe. Do not tithe out of joyless obligation to law. Do not tithe if your soul requires nothing short of a New Testament demand to tithe (there is none). Do not tithe under the assumption that God will owe you anything. Do not tithe if you expect to default on a debt. Do not tithe if you will resent God for asking sacrifices of you—unless you intend the tithe, in the spirit of "I believe; help my unbelief," as your invitation for God to purge your resentment.
Do you see a pattern in those reasons not to tithe? If we live in ways that lead to double mortgages on our homes or leave us routinely treating mercurial desires as needs, something more than whether we tithe is at stake. Tithing is not a luxurious option achievable only by those whose financial security is assured. It is the ancient spiritual practice that God uses to begin setting our priorities right, to heal our hearts of greed and fear, and to draw us ever closer into his own boundless generosity.
My prayer for jobless brothers and sisters grows from my vocational desert experience of only a few years ago. May times of insecurity or fear draw you closer to God as your provider and shepherd. May unimportant objects in your life fall away and leave you feeling liberated. May you know, both through worship and through your giving to others, that God will see you through this wilderness. May you discover, in season and out of season, that God has a deeper purpose for all the blessings in your life than making ends meet. May you sense God's presence of comfort, encouragement, and redemption.
Yes, with Generosity
Jim Sheppard
Perhaps the greatest tragedy of the recent economic meltdown is long-term unemployment, a reality in which many thought they would never find themselves. For the first time, hardworking, well-intentioned individuals are paying their bills with the income they receive from government checks instead of their profession or trade.
During these tough times, it is easy for churchgoing, typically responsible Christians to fall off the radar as they deal with the shame of being unable to provide for themselves or their families. In these times, it is more important than ever that Christians seek out pastors, leaders, and friends who can provide loving community and accountability to be faithful stewards in times of hardship.
Scripture does not speak directly to the topic of tithing on an income that is not your own, so I am reluctant to say firmly, "Yes, give this much." But the Bible has much to say on the subject of generosity and gratitude. There are four questions church leaders and others can ask to help someone struggling with tithing on their unemployment benefits:
Do you see unemployment benefits as part of God's provision for your life?
Are you continuing to practice generosity in every area: time, talent, and treasure?
How does giving a portion of your unemployment benefits differ from giving a portion of your "employed" benefits?
Would giving a portion of your unemployment benefits demonstrate gratitude that God is providing for you in this season of your life?
Generosity is a condition of the heart. As resources come into the hands of a generous person, he or she can't help giving them away. It's second nature. A lifestyle of generosity should not stop when times are hard. If anything, tithing when income is low reinforces gratitude and trust, as it reminds the giver that God can use even the smallest gift to accomplish his will. It also reminds me that I am always dependent on God for my sustenance, whether I have savings in the bank and a regular paycheck or not. This is where Christian community should be most apparent, in encouraging and supporting each other to live out generosity in tough times.
I'm not going to argue that a specific percentage be given, just as I wouldn't in responding to an employed individual. That is between the individual and God. Living a generous lifestyle is not an obligation but rather an opportunity. It is something I get to do for God's kingdom, not something I have to do.
As Paul says in 2 Corinthians 9:7-8, "Each of you should give what you have decided in your heart to give, not reluctantly or under compulsion, for God loves a cheerful giver. And God is able to bless you abundantly, so that in all things at all times, having all that you need, you will abound in every good work."
Probably Not
Gary Moore
Since I began studying and writing about stewardship 30 years ago, the first person I look forward to chatting with in heaven, after Jesus and my father, is the widow who gave her last mites at the temple.
Yet I'm going to surprise and perhaps disappoint many church leaders (particularly televangelists) by suggesting that I do not believe the financially needy who receive unemployment benefits or welfare payments "should" tithe, even though that is undoubtedly a great act of faith.
The simple reason, to begin biblically and to paraphrase the Great Steward, is that the tithe was created for people; people were not created for the tithe. Moses taught that the tithe was a celebration for the affluent and a gift to the less fortunate, including priests (Deut. 14:22-29). The tithe was created in part to help those on the biblical equivalent of unemployment; requiring them to contribute to the offering when they should be receiving is an unhealthy inversion of the biblical mandate to give to the poor.
When Malachi gave his challenge to "bring the whole tithe," God was not telling people to fund the temple's institutional needs as much as to make plenty of food available for those in need. Taxes were levied for temple needs, but this tithe was for something more.
Yet studies from empty tomb, inc. and other Christian financial advisers have long indicated that little giving to churches goes beyond institutional support. We've grown comfortable with the modern church abdicating, largely to governments, the extrinsic work for which the tithe was intended in biblical times. Most churches should therefore not expect the full biblical tithe, particularly if it's to support a comfortable lifestyle for the church's leaders.
Church history suggests our leaders should be careful adding to the simple assurance of Christ. Martin Luther helped launch the Reformation after hearing a creative stewardship officer, Johann Tetzel, raise funds for the construction of St. Peter's Basilica. Tetzel confused that "need" with the needs of the blessed ones with whom God most closely identifies: the poor. Luther minced few words in his 95 Theses when attacking the church's selfishness.
The neighbors we call poor are, in fact, blessed, since Christ more closely identifies with them than with generous givers. By choosing to allocate resources to, rather than expect resources from, those blessed people, the church is relevant and enriching to both the poor and the affluent.
Requiring the poor and unemployed to tithe is an overly legalistic and harsh—and unbiblical—interpretation of Scripture. Still, there is nothing to suggest the poor should never be generous if they feel so led. Should those blessed ones choose to allocate resources (even if those resources come from a government check) to the work of the church, they have God's assurance that they are so special, the rest of us will seek them out in heaven after we squeeze through the needle's eye.
Related Elsewhere:
Douglas LeBlanc is editor at large for The Living Church magazine, is the author of Tithing: Test Me in This.
Jim Sheppard is the CEO of Generis, a consulting firm devoted to expanding the generosity of churches and ministries.
Gary Moore is founder of the Financial Seminary and author of Faithful Finances 101.
Previous Village Green sections have discussed future Christian films, illegal immigrants in the church, whether to give to street people, the best Christmas stories, laws that ban Islamic veils, the Tea Party, Afghanistan, Bible smuggling, creation care, intelligent design, preaching, immigration, Lent, premarital abstinence, aid to foreign nations, technology, and abortion.
Have something to add about this? See something we missed? Share your feedback here.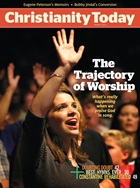 This article is from the March 2011 issue.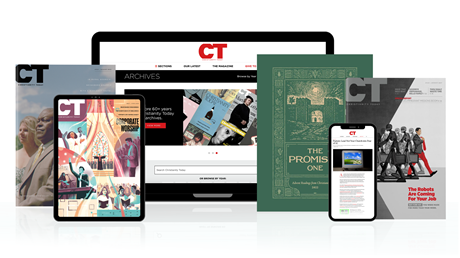 Annual & Monthly subscriptions available.
Print & Digital Issues of CT magazine
Complete access to every article on ChristianityToday.com
Unlimited access to 65+ years of CT's online archives
Member-only special issues
Subscribe
Should the Jobless Tithe Unemployment Benefits?
Should the Jobless Tithe Unemployment Benefits?