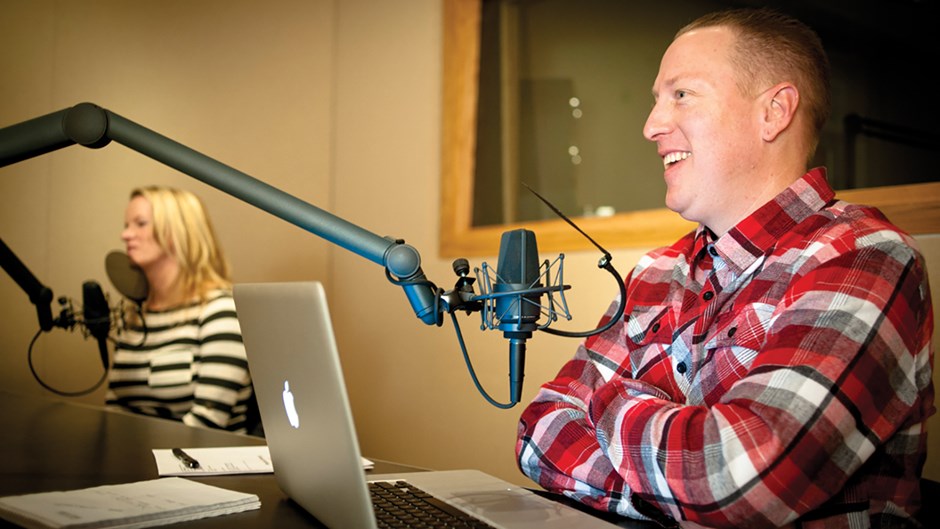 Image: Sean Sheridan
This piece is a sidebar to our cover story on "Refocusing on the Family."
About seven miles from Focus on the Family, Ryan Dobson uses his iPad to prepare for his next radio recording in a mostly bare studio at Family Talk's rented offices. His father's show carries a dynamic different from Focus on the Family, since he shares airtime with his son and LuAnne Crane, former senior producer at Focus.
Ryan says despite some rumors that he was unable to lead the organization because of a divorce in 2000, Focus never had plans to hand him the reins. Nor, he said, was Family Talk an attempt to punish Focus by competing head-to-head.
"The insinuation is that people are taking money away from Focus—if that was true, we'd have millions of dollars," Ryan says. "We don't have $30 million; we don't have $2 [million]."
Much of the ministry's startup revenue, Ryan says, came from his parents' Christmas card list of about 300 people. And $1 million of it came as a gift from Focus on the Family, a move that surprised many observers. In its remarks on the donation, Focus leaders noted that Dobson had never taken a salary from the ministry and had lived off the royalties from his books.
"Was it the easy thing?" Focus on the Family president Jim Daly says about donating during a recession. "No, but it was the right thing."
Does Daly see Family Talk as competition? "I don't think Christians like to talk in terms of competition," Daly answers. "He still wanted to speak on radio, and that's why he started Family Talk. I don't know all the reasons why he would continue at [75] to do that, but his public comments about that [were that] he felt invigorated."
Dobson's cousin and former pastor, H. B. London, spoke of the tension between family and work in the Focus legacy.
"With 310 million people in the U.S., it's obvious there need to be many ministries committed to helping families," says London, who retired from his position as vice president of Focus's ministry outreach/pastor ministries in June. "One more boat in the ocean is not going to matter to the other boats in the ocean. Friendly competition, if you want to call it that, is healthy for both sides. It makes you sharper."
London says he had not discussed Family Talk matters with his cousin while he was a Focus employee. "The only thing I've heard him say is that he feels like he's doing the best radio he's ever done," London says.
But it may not be the most successful. In an October 2010 newsletter, James Dobson acknowledged that Family Talk, which then employed 22 people, was dropped by 82 stations because it could not pay for airtime. That represents about 10 percent of its 800 stations.
During my chat with Ryan Dobson, his father walked into the radio studio and looked surprised to see me. He shook my hand warmly and said, "Give my regards to the folks at CT." I was escorted out of the room, but invited to take a peek into James Dobson's office, grounded by leather furniture and accented with a decorative telescope. Cathedral-style glass windows offered a stunning view of Pikes Peak, while the Winston Churchill portrait that used to hang in his office at Focus hangs just outside his Family Talk office.
In contrast, several pieces of colorful art hung in Ryan Dobson's office; a gaming system sat under a flat-screen television, and a deer he shot stared at us from the wall. We walked through the hallways of Family Talk, where his father's silk hoods from honorary doctorates hung on the walls.
Ryan was ordained in 2007 by a Southern Baptist pastor and attends downtown Colorado Springs's First Presbyterian Church, whose pastor is at the forefront of evangelical renewal within the Presbyterian Church (USA). Although Ryan says he agrees with his Nazarene father on political philosophy and ethical issues like homosexuality, their styles differ.
"I had my ears pierced for a bunch of years. I took them out because I got bored," says Ryan, who was adopted as an infant. "It had nothing to do with right or wrong, I thought that at 40 I don't want plugs."
Before my visit, I spoke with Ryan on the phone about his 2010 co-authored book, Humanitarian Jesus: Social Justice and the Cross.
"Most people don't think 'Dobson' and think humanitarianism and helping the homeless or clean water or food or shelter or Haiti or Katrina, any of those things," he says. "The Dobson name has a stigma attached to it, in all honesty, perpetuated by the media."
Ryan says he did not know in advance that his dad would want to start his own show after leaving Focus.
"If he'd have been one of those guys who had a five-year plan, I don't think it would have been to leave Focus, empty a retirement account, to put all of the eggs in our basket into this thing and hope it flies," he says about his father.
As we talked about Focus, he pointed out its budget decline.
"Every time you think about Focus on the Family, pray for Jim Daly," Ryan says. "With the economy the way that it is, losing your number-one brand and trying to take over a radio show after not having done that many radio programs—that guy's got the toughest job in the world."
Related Elsewhere:
See our cover story on "Refocusing on the Family" and "Inside CT: A Change of Focus" for more on Focus on the Family and James Dobson.
For more on Family Talk radio, visit their website.
Previous Christianity Today coverage of Focus on the Family, James Dobson, and Ryan Dobson includes:
Dobson and Dobson | "Doctor" returns to the radio as his wife's National Day of Prayer takes center stage. (May 7, 2010)
Dobson Says Goodbye (for Now) | Today is his last broadcast of Focus on the Family. But he'll be back on the air soon. (February 26, 2010)
Focus on the Family Action Taps Former Bush Aide who Resigned for Plagiarism | (January 28, 2009)
An Obama Administration in the Eyes of Focus on the Family Action | (October 24, 2008)
Focus on the Family Praises Democrats, Slams Republicans | Dobson says values voters stayed home after GOP abandoned them. (November 9, 2006)
Have something to add about this? See something we missed? Share your feedback here.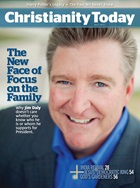 This article is from the July 2011 issue.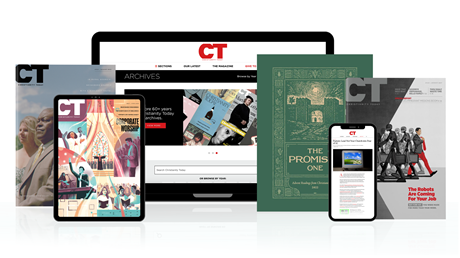 Annual & Monthly subscriptions available.
Print & Digital Issues of CT magazine
Complete access to every article on ChristianityToday.com
Unlimited access to 65+ years of CT's online archives
Member-only special issues
Subscribe
Family Talk, Family Business
Family Talk, Family Business