The fountain of youth is a legendary spring that promises to restore the youth of anyone who drinks its waters. Tales of such a fountain have been recounted since the days of the Greek historian Herodotus. Closer to home, Spanish explorer Juan Ponce de León is said to have been searching for the fountain when, instead, he bumped into Florida.
Today Florida is an icon of both youth and age, known as a playground for the young (Disney World! Epcot!) and where the elderly enjoy their final years in the sun. As such, it is an icon of another icon: our bodies.
While we aren't looking for a mythical fountain of water, we are constantly searching for a fountain—that is, a source—of youthfulness. The usual places to look have been exercise and diet regimens. But more and more, technology is trying to give us an age edge. Just as this issue was going to print, Harvard researchers announced they had successfully reversed the aging process in mice—and hoped to replicate the results in humans.
We are fascinated by this prospect because getting old is a drag on the mind and body. I know of where I speak. The older I get, the more I see the wisdom in granting status to elders(!), but I admit that when I look at the athleticism and energy of the young, I'm envious. And I'm hardly alone. To paraphrase Augustine, it appears we were created with a God-shaped yearning to be young—to enjoy life with all our faculties at full wattage, and to do so forever.
But we have also been created with God-shaped bodies designed to live a mere threescore and ten, fourscore at best (Ps. 90:10, KJV). As we get older, our bodies become divinely fashioned icons of our mortality—and thus point to something God has prepared for us beyond this life.
So it appears that the yearning to be young and the reality of growing old are both divine reminders of the reality that transcends this life. In the meantime, we live in this tension between the already and the not yet. This month's cover story, "Chasing Methuselah", helps us consider how those who believe in eternal life might regard our culture's passion for eternal youth.
Next month: Collin Hansen explores one of the most thorny issues facing Bible translators working with Muslims: what titles to give Jesus that won't shut down conversation; Katelyn Beaty interviews Mark Regnerus (famous in these pages for his 2009 "The Case for Early Marriage") on his most recent sex study; and the best books, movies, and music of 2010.
Related Elsewhere:
Read more from Christianity Today's January issue.
Previous Christianity Today articles on aging include:
Welcoming Limits | When the 'beginner years' have passed, what does spiritual maturity look like? (December 15, 2010)
Is Cosmetic Surgery Immoral?  | Even more importantly: Why do you want to know? (March 16, 2010)
Always Dying, Always Reborn | Exploring the new horizons—and limits—of our perpetual chase for immortality. (October 11, 2010)
The Joy of Aging | What faith looks like when it's dangerous to sing and walk at the same time. (January 4, 2006)
The Visit | An almost clichéd form of Christian service to the elderly remains one of the most vital. (September 1, 2004)
The Gift of Years | These Christian reflections look at biblical, historical, and modern perspectives on aging. (January 1, 2004)
Have something to add about this? See something we missed? Share your feedback here.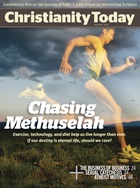 This article is from the January 2011 issue.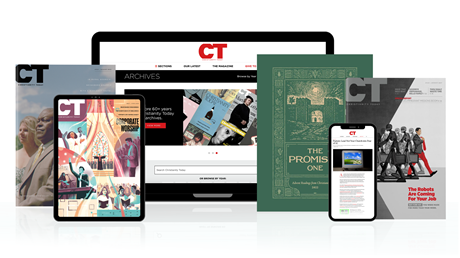 Subscribe to Christianity Today and get access to this article plus 65+ years of archives.
Home delivery of CT magazine
Complete access to articles on ChristianityToday.com
Over 120 years of magazine archives plus full access to all of CT's online archives
Subscribe Now
Stay Young! Live Longer!
Stay Young! Live Longer!