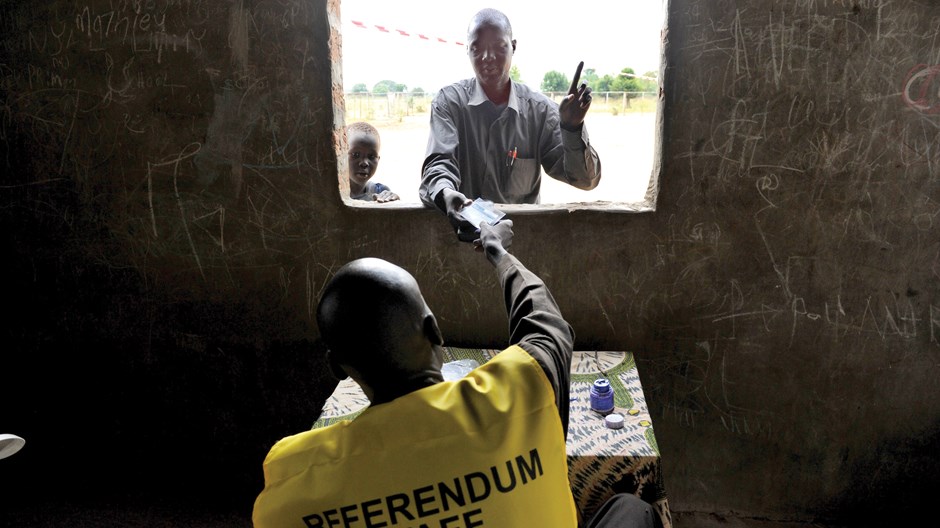 Image: Roberto Schmidt / AFP / Getty
On Sunday, the fate of 8.2 million southern Sudanese will be put to vote: whether or not to pursue independence. The referendum comes six years after the end of a civil war that cost two million lives. But the prospect of renewed violence is real, causing Christian leaders and others to redouble their efforts at reconciliation.
"It is our golden choice. It is time to choose now," said Joseph Garang Atem Zorial, the Anglican bishop of Renk, a town along Sudan's north-south border. He joins hundreds of religious and political leaders working to make the election fair and fraud-free. He also believes this is the best chance for self-determination in southern Sudan, whose citizens have been subject for decades to rule by an Islamic majority.
There is little doubt what outcome Bishop Joseph favors. "I am campaigning for separation," he told Christianity Today. According to a recent survey, a majority of southern Sudanese support political independence. Bishop Joseph's view is that 95 percent of southerners will vote for it.
Local referendums in oil-rich Abyei and in the border states of south Kordofan and Blue Nile allow advisory votes on political separation. But preparation for the critical vote in Abyei, where the border is in dispute, is behind schedule and it is unlikely to occur on January 9.
Many factors make separation necessary, according to southern Sudanese leaders, including the following:
Poverty: Sudan's national government exports about $35 million per day of crude oil, mostly from the South. Very little of the oil wealth gets shared with southerners, despite the 2005 peace agreement that required the North to do so. More than half of southern Sudan lives on less than $1 per day. Economic development has stalled for decades.
Religious discrimination: Sudan's national leaders support a version of Islamic law (Shari'ah) that creates a climate of chronic discrimination against Sudanese Christians and other minorities, especially in the areas of housing, employment, and education.
Political repression: President Omar al-Bashir is under criminal indictment by international courts for using the military to suppress minority groups throughout Sudan. He faces charges ranging from ordering genocide to committing war crimes in Sudan's Darfur region, where at least 200,000 have died since 2003.
"We don't want to go back to war," Bishop Joseph said. "[But] the unity we had been looking for has failed, so now it is time for separation."
The national referendum has a global character. During the war years (1955-2005), hundreds of thousands of southern Sudanese fled their nation. They are now spread across the globe from Sydney, Australia, to Omaha, Nebraska.
Many of them, including Sudanese American John Dut, expect to vote. During the war, Dut, then 10 years old, escaped death after his village was attacked. He lived in Kenya's Kakuma refugee camp for 10 years and was one of the 3,800 so-called Lost Boys of Sudan to resettle in the U.S. before September 11, 2001, after which the resettlement program was suspended until 2006.
In November, Sudan's government hired Dut to conduct voter registration in Omaha, where a large number of Lost Boys now live. Dut, who has returned to southern Sudan six times since 2002, told CT he is happy to work for the government. But his hope centers on the church.
"The church has peace in its hands," Dut said. "The peace we have now came because of the American churches. For me, the churches here in America have a value: when they speak out, the world will listen. Whatever life the Sudanese have now, it comes through the church."
Enforcing Neighborliness
In 2005, Sudan's civil war ended with the signing of the Comprehensive Peace Agreement, which required the upcoming referendum. Since then, Sudan's church leaders have poured time and energy into helping southerners reconcile with their former enemies.
Rwanda has become an unexpected inspiration for many Sudanese Christian leaders. They point to the failure of many churches during the 1994 genocide to stop the killing and promote reconciliation. Anglican Archbishop of Sudan Daniel Deng Bul Yak told CT during a recent U.S. visit, "We come to inform the world that we should not allow genocide to take place like what happened in Rwanda."
One new reconciliation effort trains Sudanese military chaplains to serve in the People's Liberation Army. It aims to preserve the peace throughout southern Sudan's 10 states, which are spread across 247,000 square miles (about the size of Texas). Based in Nairobi, Kenya, African Leadership and Reconciliation Ministries (ALARM) has established five centers in Sudan for training chaplains and other Christian leaders. Founder Celestin Musekura is a Rwandan pastor who returned to his country after the genocide to promote reconciliation among church leaders who took part in the killings.
"In Rwanda, we church leaders were surprised by the group pride and collective evil perpetrated even by the police and army," Musekura told CT. "Now, our Rwandan and Sudanese team wants to make sure that the southern Sudanese police chaplains are aware of the realities and how to deal with them."
Tribalism, nationalism, and racism among police and soldiers can affect the whole church. "In times like this, people become more political than Christian," said Musekura.
The team currently is teaching chaplains that peace comes from having a common mindset. "It isn't for the church to demonize or to be more patriotic or nationalistic. The church must not become so political that it misses the neutrality to be salt and light," said Musekura.
'The church has peace in its hands. The peace we have now came because of the American churches.' —John Dut, a Lost Boy of Sudan resettled in the U.S.
Since police in southern Sudan are often on the frontlines of neighborhood fights, the chaplain training also explores "how to speak prophetically to tribalism." One Sudanese trainer asks police chaplains to imagine that "you are police, enforcing neighborliness."
This principle has a larger application: "Remember," Musekura said, "even if we separate as a nation, the North is still our neighbor." The Sudanese reconciliation team recognizes that the North fears that an independent South will be a hostile, armed threat.
"We are reminding police about biblical resources for building a community of forgiveness."
Tribal Tensions
The largest African nation, Sudan has more than 600 tribal groups subdivided by skin color, language, religion, and geography. Sudan's population of 41 million people is 70 percent Sunni Muslim.
In major cities, Christians and Muslims have gathered to discuss pressing issues surrounding the referendum. For Christians, the overriding issue is Shari'ah law. They believe the Islamic legal code turns Christians and others into second-class citizens.
Christians in the North are severely restrained in terms of property ownership, church construction, mercy missions, and education. For example, the northern government requires Christian schools to hire a teacher to instruct students in Islam. Bible distribution is restricted.
"The Arab-Islamic government wants to impose Islamic identity," Daniel Adwok Marko Kur, the Catholic auxiliary bishop of Khartoum, told CT. The North has not shown any signs of "relenting its policy of Islamization and Arabization."
During a recent dialogue between Muslims and Christians in Renk, religious leaders agreed to hold public prayers prior to the January referendum as one way to ease tensions. Bishop Joseph said, "Muslims and Christians have a strong commitment to prayer. We say to the Muslims, 'You pray according to your way. When you go to your mosque, pray for a peaceful referendum.' We believe in the power of prayer. It is the only weapon we have."
In Sudan's vast undeveloped rural areas, tribal tensions run high over grazing land and drinking water, which are in short supply.
According to Ramadan Chan Liol, general secretary of the Sudan Council of Churches, a recent conflict between two communities in southern Sudan took at least 700 lives, including women and children.
Recently, Christian women from both tribes met and decided to do something. "The women went to the men and told them, 'We are no more going to have children if you are killing them,'?" said Chan. "The church women forced the men into an agreement." Men from both sides agreed to cease fighting.
In June, the Sudan Council of Churches issued a statement calling on the governments of the North and South to make protection of people in tribal areas a higher priority.
Witnesses for Peace
The possibility of another north-south war after the election is very real to Sudanese Christians; recent history underscores their concern.
In late December 2007, Kenya held a watershed presidential election. The results were contested, triggering massive violence. More than 1,200 people were killed, many thousands were injured, 300,000 were left homeless, and 42,000 homes and businesses were damaged. A United Nations fact-finding team determined that while problems at the polls were real, poverty and discrimination fueled the violence.
African leaders believe that a visible Christian presence in Sudan is critical to sustaining peace during the voting season and immediately afterward. Many Sudanese hope Westerners will learn from the Rwandan genocide.
Musekura spoke for many of his Sudanese colleagues. When violence began to erupt in Rwanda, he said, many mission agencies told their missionaries to leave the country. "It was a failure of the church and seen by the Rwandan church as abandonment by the body," he told CT.
He gave two reasons for the riskier path of staying in-country. First, "the presence of the international eye of shame may prevent troubles. Second, if the missionaries leave and then come back, they will have no real authority. Sudanese will say, 'You care for us only when [it's] safe for you though not safe for us.'?"
Musekura and his team have accepted an invitation to be on the ground on election day as Sudan Council of Churches observers. He said, "I am called to them in Sudan in life and death."
Geoff Tunnicliffe, secretary general of the World Evangelical Alliance, is also assembling a team of evangelicals to monitor polling locations during the vote. Renk's Bishop Joseph said, "We want the global church standing with us."
Anglican Archbishop Deng, meanwhile, is visiting churches in the North and South during December, preaching self-determination and reconciliation.
Tony Carnes, based in New York City, is a Christianity Today senior writer.
Related Elsewhere:
See David Neff's column about praying for Sudan and Moses Wasamu's article about constructing peace in Sudan.
Christianity Today has a special section on Sudan.
Previous CT articles on Sudan include:
Swoope-ing in to Sudan for Orphans' Sake | Profits from rapper's single will help build an orphanage in war-torn country. (December 11, 2010)
Pray for the Peace of Sudan | The World Evangelical Alliance's Geoff Tunnicliffe talks about efforts to ensure a fair and peaceful election in Sudan and calls for a world day of prayer for the safety of believers there. (November 22, 2010)
Suffering in Sudan | Church leaders ask for prayer and advocacy at Cape Town 2010. (October 23, 2010)
Election Jitters | Sudanese Christians hope nation will hold together until 2011 referendum. (April 6, 2010)
Have something to add about this? See something we missed? Share your feedback here.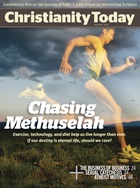 This article is from the January 2011 issue.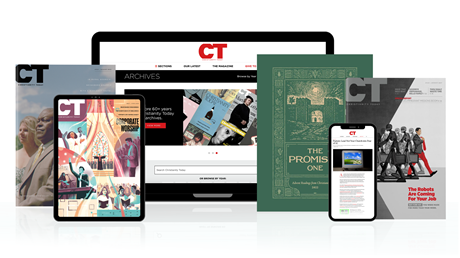 Annual & Monthly subscriptions available.
Print & Digital Issues of CT magazine
Complete access to every article on ChristianityToday.com
Unlimited access to 65+ years of CT's online archives
Member-only special issues
Subscribe
The Rush to Reconcile
The Rush to Reconcile