true
Robert Duvall has many memorable lines in the low-budget indie gem Get Low, but it's the quiet moments—the close-ups of that worn face and those sad eyes, the labored breathing, the creaking floor echoing the old man's aching joints—that speak the loudest.
The six-time Oscar Award nominee was doing what he does best: playing a broken, solitary soul in desperate need of redemption. He's been at it for almost 50 years, as the ghostly Arthur "Boo" Radley in 1962's To Kill a Mockingbird; as a washed-up, alcoholic country singer in 1983's Tender Mercies (for which he won the Oscar for Best Actor); and as a charismatic Pentecostal preacher with a wandering eye in 1997's The Apostle.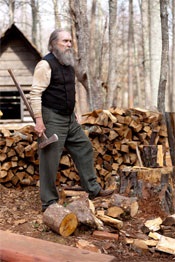 In 2010's Get Low, set in the Deep South of the 1930s, Duvall plays Felix Bush, a reclusive hermit who has chosen a life of solitude as penance for a sin he committed as a young man—one for which he believes he cannot be forgiven. He decides to set up a funeral party, inviting all the locals to come and tell stories about him, while he's still alive and kicking and wielding a shotgun. It's a Southern folk tale with a script that can only be described as Horton Foote meets Flannery O'Connor.
Duvall, 80, told Christianity Today that he is drawn to playing broken characters because they "make good drama. If people don't have conflicts, contradictions, and faults, there is no drama." There were broken characters—and drama aplenty—in the top films of 2010, with Duvall as the poster child. (He played another broken soul a little more than a year earlier, in a cameo in the post-apocalyptic saga The Road.)
Hollywood's depiction of flawed characters needing redemption is nothing new. But 2010 had more of such movies than usual. We saw that in kid-friendly animations: abused, abandoned playthings in Toy Story 3, and a scrawny, shunned Viking boy in How to Train Your Dragon. Other family fare shared an interest in redemption: a bratty boy in The Voyage of the Dawn Treader, and three friends facing the loss of everything, even their lives, in Harry Potter and the Deathly Hallows. And it's no surprise we saw the theme in gritty, adult-oriented films: a dirt-poor teenager trying to save her mom, siblings, and home against all odds in Winter's Bone, and a literally broken young man struggling to survive while trapped in a crevasse in 127 Hours.
Such themes kept coming to the Cineplex, week after week. All of the year's top ten films at the box office were to some degree about characters who needed deliverance. Ditto for many of the award favorites: 127 Hours, Black Swan, The Fighter, The King's Speech, and True Grit among them.
Here's a closer look at how three films of 2010—all with Oscar winners in lead roles, but all non-blockbusters in limited release—depicted this character arc.
Get Low
In an early scene, Felix leaves his cabin and thus his self-imposed exile and heads into town, where residents have gossiped about him for years. He wants to hear their stories at his own "living" funeral. He enters a local church, plops down a wad of money, and tells the pastor, "I need a funeral."
After some conversation, the pastor says, "What matters is that, when you come to the end of your life, that you're ready for the next one. Now, have you made peace with God, sir?"
Felix looks him in the eye and says, "I've paid."
"Mr. Bush, you can't buy forgiveness. It's free, but you do have to ask for it."
Felix grabs his money and stalks out without saying a word. This is clearly a man who wants to pay for his sins, and wants nothing of grace.
Later, another preacher—an old friend and the only one who knows the sin Felix has hidden all along—asks if he has sought forgiveness. Felix replies, "I built my own jail and put myself in it. And I stayed in it for 40 god d--- years. No wife, no kids, no friends, no nothing …. Forty years. Now, if that's not enough …." The preacher replies, "You know it's not."
Again, Felix stalks out. Later, alone, he mutters, "They keep talking about forgiveness. Ask Jesus for forgiveness. Well, I never did nothin' for him." The meaning is clear: "So why would Jesus do anything for me?"
Near the end of the film, his health failing, Felix begins to reconsider. When someone finds Felix collapsed in his barn, he asks the old man, "You sick?" Felix says, "No, just going through the motions." He then explains, "There's alive and there's dead, and there's a worse place in between 'em that I hope you never know nothin' about."
It's the picture of a broken man, but one on the verge of breaking free.
Like Dandelion Dust
Karen Kingsbury is known as "America's No. 1 inspirational author," which explains why I haven't read any of her books. Christian chick lit just isn't my thing.
But after watching Like Dandelion Dust, based on Kingsbury's 2006 novel of the same name, I was ready to punt my preconceived notions. Kingsbury knows how to write a gritty narrative with well-developed characters.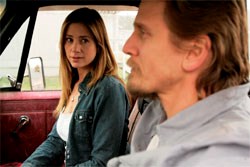 The film tells of two families connected by a little boy named Joey. Oscar winner Mira Sorvino (Mighty Aphrodite) plays his mother, Wendy, who put Joey up for adoption while her husband, Rip, the boy's father, was in jail for domestic abuse. She never told Rip about Joey, but when he gets out of jail, he finds out—and wants his son back. Meanwhile, Joey, now 6, is enjoying an idyllic life with his adoptive family. When Rip pursues legal action, the two families collide, leaving Joey's future in the balance.
What ensues is a story so emotionally riveting, and a character study so compelling, that it seeps into your soul. You'll find yourself asking, "What would I do in his shoes? In hers?" There are no easy answers, and the conclusion—while satisfying and a fine illustration of grace and redemption—does not wrap up with a nice and tidy bow.
Kingsbury, who says that Dust was one of her "emotional titles" and that she cried while writing it, wouldn't have it any other way. The adoptive mother of three children from Haiti, she is well acquainted with the struggles of her characters: "I can't imagine the birth parents coming to me after five years … to take my children from my home," she said in an interview with ChristianBook.com. "The fear, maybe the fear that every mother has about losing a child, is one I wanted to explore."
Sorvino carries much of that emotional weight. The film opens with Wendy crying and cringing in a stairwell, battered and bruised, victim of an alcohol-induced beating by her husband, who is later arrested and jailed.
Over the next seven years, Wendy forgives Rip and takes him back upon his release, but then rides a roller-coaster of emotions as Rip works to reclaim the son he didn't know he had. Wendy sees Joey's life with his adoptive family—loving care, a good home, a promising future—and is torn about taking him away. But she also longs for a happy family home of her own, with a reformed Rip at her side.
Sorvino, a Christian, told CT that the film is rife with biblical themes—confession, forgiveness, and unconditional love. She said the story especially recalls the Old Testament passage on Solomon's judgment about the fate of a baby claimed by two mothers: How would Joey be "divided" between two desperate families?
"It was a very difficult, painful role," she said. "I tried to feel what my character was feeling. In the first scene, you see my character in the stairwell. It's such a tiny blip on the radar screen of the movie, but I was sitting there maybe four hours while we shot that scene, at this dismal place of absolute despair."
Sorvino notes Wendy's evolution: "Although she doesn't have the strength to do some of the most ordinary things for herself, she still has the strength to be altruistic for someone else and do what's best for them—which makes the picture about a kind of forgiveness and redemption.
"In living in service to Jesus, we're always called upon to do not the easy thing or the selfish thing but the most loving thing. All the characters in this movie are trying to do that. Every one of them has to do soul-searching. Everyone discovers their own flaws. It's a beautiful story about being a human, baring your soul, and reorienting how you're going to live—all with a lot of prayer and faith."
Conviction
Two-time Oscar winner Hilary Swank has played some fascinating characters: a transgender man (Boys Don't Cry), a rags-to-riches boxer (Million Dollar Baby), an inner-city teacher (Freedom Writers), a homicide detective (Insomnia), and an aviation pioneer (Amelia). But her most recent role, as the real-life Betty Anne Waters, may have affected her most; today Swank calls Waters "my hero."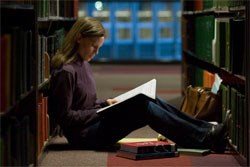 And no wonder: Conviction, the story of Waters and her brother, Kenny, is about broken characters seeking redemption as if their lives depended on it. For Kenny, it pretty much did. Framed by local police for a murder he didn't commit, Kenny was sentenced to life without parole. Convinced of his innocence, Betty Anne—an uneducated, poor single mother of two—devoted her life to exonerating her brother. She studied to earn her GED, put herself through law school while waiting tables, and spent almost two decades trying to prove Kenny's innocence.
Thanks to the discovery of evidence that had been hidden for years, Betty Anne finally reached her goal in 2001, when Kenny was cleared through DNA testing—literally redeemed by blood—and released after having spent 18 years in prison.
Swank is terrific in the role, looking downtrodden but determined when she tells Kenny in prison, "You have to promise me you'll never give up." She clearly has no intention of doing so.
The true story of broken characters shook Swank to the soul: "It's one of the greatest love stories I have ever read," she said. "It blows my mind. Will I ever know a love like that? Would someone love me enough to do that?"
Indeed, Someone already does, Someone who knows what it means to be broken, and to redeem.
Have something to add about this? See something we missed? Share your feedback here.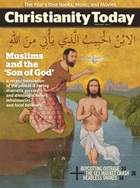 This article is from the February 2011 issue.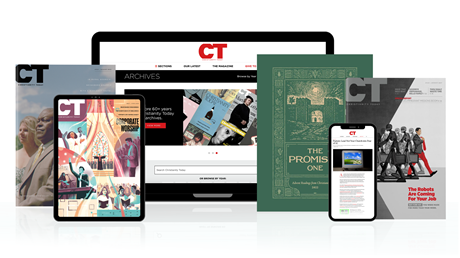 Annual & Monthly subscriptions available.
Print & Digital Issues of CT magazine
Complete access to every article on ChristianityToday.com
Unlimited access to 65+ years of CT's online archives
Member-only special issues
Subscribe
Broken But Hopeful
Broken But Hopeful