Earlier this year, Chosen People Ministries, a Messianic Jewish organization, purchased an 11,000-square-foot building in the heart of Orthodox Brooklyn.
"If you walk out the door and turn left, you are in an Orthodox Jewish community," says president Mitch Glaser. "And if you turn right, you will be able to buy the best borscht you have ever tasted."
Once rehabbed, the building will allow the organization to provide substance-abuse counseling and to teach English as a second language. It will house a library for Messianic research and a 150-seat sanctuary. It will also host an accredited pastoral training program in partnership with an evangelical seminary.
The institutional changes are in many ways symbolic of new opportunities—and lasting tensions—in the modern-day Messianic movement.
Jesus Movement Roots
In 1970, Glaser and Jhan Moskowitz shared a ramshackle houseboat in Sausalito, near San Francisco, selling drugs to help pay their bills. At the time, the two Jews from New York City were reveling in the hippie lifestyle, with no idea they would soon face the spiritual crisis of a lifetime.
One evening, a lucrative drug deal involving 22 pounds of high-grade marijuana unraveled. Gun-toting rip-off artists showed up. One of them placed a sawed-off shotgun at the back of Glaser's neck as others scooped up the cash and pot. Glaser recalled, "I was just 18 and thought, How stupid have I been to throw my life away! I was scared, hopeless, and had no one to pray to."
That night, Glaser and Moskowitz escaped with their lives, and Glaser swore off drug-dealing. Later, their lives took a different path.
At the invitation of a friend who had become a Christian, Glaser visited an evangelical commune in Oregon. Glaser, raised in an Orthodox family, was active in the Young Israel movement (also Orthodox) and hostile to Christianity. "When I passed a church, I walked to the other side of the street," he once told an interviewer. But he was moved by the intimate prayers of commune members.
Returning to California, Glaser began reading the New Testament and, after a few months of struggle, gave his life to Jesus. He was barely 19, thousands of miles from his Brooklyn home, and a new believer. One day, he walked to Sausalito's shoreline and prayed that God would introduce him to another Jewish believer. "Just then, a gospel tract floated onto the rocky shore, right next to where I was sitting and praying," he told Christianity Today. "Since I was such a new believer, I assumed this was normal and, though surprised, I picked up the waterlogged tract and hitchhiked over to the address on it. This was my first involvement with what would become Jews for Jesus."
Glaser, Moskowitz (who also became a believer), and other Jews followed the charismatic Moishe Rosen when he left Chosen People Ministries to found Jews for Jesus, now the largest Messianic Jewish organization in North America. In 2008, the San Francisco-based ministry had gifts and other income of $18.6 million. Rosen died this May at 78.
Over the years, the Messianic Jewish movement solidified its organizational ties to evangelicals while trying to preserve its Jewish identity and culture. The number of Messianic believers in Messianic congregations has grown slowly but steadily despite opposition from all major branches of Judaism.
Renewed Presence
After 25 years of national ministry with Jews for Jesus, Glaser realized it was time to resign. During his years with the group, he had helped to open a Los Angeles branch, toured with Messianic singing groups (including the Liberated Wailing Wall), and trained outreach volunteers in Manhattan.
Glaser strongly sensed a calling back to his hometown of Brooklyn, which has one of the world's largest concentrations of Jews outside of Israel. In 1997, he became president of Chosen People, a historic mission to American Jews that had fallen on hard times, with declining finances and ministry. It was founded by Rabbi Leopold Cohn, a Hungarian American, in 1894. In his day, Rabbi Cohn was a missions pioneer, expanding outreach to Jews throughout the U.S., Europe, and Israel. In 1930, Wheaton College awarded an honorary doctorate to Cohn for his ministry achievements.
"Most ministries and organizations need to reinvent themselves after some time, or their methods and strategies can become stultified," Glaser told CT. "This was true of Chosen People, which had accomplished great things over the course of over 100 years of ministry. Reaching Jewish people in a Jewish way is at the heart of our time-tested strategy."
For Glaser, a first strategic step was moving the organization's headquarters from Charlotte, North Carolina, back home to New York City. Another step was rethinking strategy based on significant changes among Jews and Messianic believers. Changes include the following:
• The emigration of two million Soviet Jews, who left Russia after the fall of the Soviet Union and are impacting Jewish populations in the U.S. and Israel. Some 20 percent of Israel's current Jewish population is from the former Soviet Union.
• The revival of Orthodox Judaism, which is bolstering the influence of Orthodox Jews. Precise numbers are hard to come by, but an estimated 525,000 American Jews are Orthodox, about 10 percent of the American Jewish population. In Israel, about one million Jews are Orthodox, about 17 percent of the country's Jewish population.
Orthodox families also have the highest birthrate of any Jewish subgroup, so the Orthodox are becoming a greater percentage of all Jews. This means that outreach must explain the gospel in ways that are comprehensible to the Orthodox.
• The number of Messianic Jewish congregations is larger than ever, and more of them are keeping traditional Jewish practices. David Sedaca, vice president of Chosen People, estimates that the U.S. has about 200 such congregations; Russia and former Soviet states, 150; Israel, 75; and at least another 94 around the world.
Some of these congregations, such as Beth Messiah in Cincinnati and Beth Yeshua in Philadelphia, keep traditional Sabbath observance and celebrate Jewish holidays. Glaser says that "because of the explosive growth of [American] Messianic congregations, our leaders came to the conclusion that a new type of training was necessary."
So Chosen People has partnered with Talbot School of Theology, the seminary of Biola University in La Mirada, California, to create the Charles Feinberg Center for Messianic Jewish Studies. The New York City-based extension offers a full master of divinity program and is designed to train a new generation of leaders in the Messianic movement. Feinberg, who came to faith through Chosen People, was Talbot's founding dean.
The seminary will eventually be based in Brooklyn, when the building rehab is finished. It will be the first accredited evangelical seminary in Brooklyn in recent years.
"It is clear to me that God is calling us to be a witness in one of the most religious Jewish neighborhoods in the world," Glaser says.
Critical Mass
With an estimated 275,000 Messianic believers worldwide, the movement is divided on theological and missional issues. Still, many leaders now believe there is a "critical mass" of Messianic believers, giving them greater potential to become a more influential movement, if they can resolve their differences.
Resolving differences is not a new initiative. In 1995, Messianic and Gentile leaders created the Toward Jerusalem Council II initiative to hold discussions about Messianic identity, hoping for greater unity and lasting reconciliation, and not just with fellow Messianic Jews. Glaser told CT that the Dallas-based council wants the historic church "to repent from forcing Jewish believers to renounce Jewish tradition."
In 2007, Messianic leaders started a related effort in New York. They gathered in Borough Park, a Brooklyn neighborhood with a large Orthodox population, for new dialogue. Darrell Bock, a New Testament professor at Dallas Theological Seminary, attended the gathering. "People wanted to talk, but they were compartmentalized," he says. "Some people had never been in the same room for 40 years."
The leaders tried again this past spring. Bock described it as a peace process, bringing together people with longstanding personal and theological differences. "We wanted to provide a safe space, not unity." The Messianic movement includes Jews who describe themselves as "Hebrew Christians" and belong to a church, as well as observant Messianic Jews who follow Old Testament laws and worship on Saturdays in a synagogue-like setting.
So what have been their points of dispute? The following questions get at some particulars:
• What is the best way to convince fellow Jews that following Yeshua does not erase Jewish identity? Internet technology is playing a greater role in this approach. The newly launched Isaiah53.com is geared toward distributing a free book that addresses the question in depth.
• How do Messianic believers understand the Nicene Creed, the Trinity, and other historic doctrinal statements? Christian orthodoxy is not the issue; all major Messianic Jewish organizations accept the Trinity, for example. But some leaders find the historic creeds and doctrines deeply troubling because they appear to be tied to Greek instead of Hebrew modes of thought. Some leaders believe anti-Semitic attitudes caused Jews to be excluded from developing the creeds.
Scholar Richard Harvey, author of Mapping Messianic Jewish Theology and a Messianic Jew, says that "dismissing the creeds as unbiblical is simplistic. The creeds were meant to interpret the Bible."
Church historian Everett Ferguson of Abilene Christian University told CT, "I am not aware of any deliberate exclusion of Jewish Christians from the council of Nicea. [But] by the early fourth century, they were on the fringe of the mainstream of the church. Greek philosophy furnished the terminology for theological debate and the wording of the creed."
• What attitude should Gentile Christian churches have toward Messianic believers? Mark Kinzer, author of Post-Missionary Messianic Judaism, believes Gentile churches should affirm Israel's covenant, the Torah, and Jewish tradition, and support recreation of the historic "Jewish ekklesia"—the church that was established at Pentecost.
• How best can Messianic leaders pass on the faith to the next generation? Moskowitz, now the North American director of Jews for Jesus, strikes a hopeful note, acknowledging that "our sons and daughters are not carrying on our wars." He sees outreach staying at the core of their identity. Young-adult volunteers (called halutzim, or "pioneers") still take part in the Jews for Jesus Summer Witnessing Campaign on New York City's streets every July.
Chosen People's purchase of a building in the heart of Orthodox Brooklyn naturally brings all of these questions to the surface. Their main question is: What is the best way to reach out in a very conservative Jewish context?
Matt Rosenberg, the son of prominent Messianic leader David Rosenberg, believes he and his fellow Messianic leaders face two critical tasks: convincing all young Jews that they should retain their Jewish identity, and leading individuals to commit themselves to belief in Yeshua as Messiah.
Changing Attitudes
The new emphasis on dialogue and leadership development within the Messianic community comes in an era of new challenges in Israel.
The Jerusalem Institute of Justice has documented efforts by radical groups, such as Yad L'Achim, to marginalize Messianic congregations. Earlier this year, a Messianic pastor from Be'er Sheva had to pay $40,000 in fines and court costs after a judge ruled that the ultra-Orthodox had not incited a damaging 2005 riot at the pastor's congregation, Nachalat Yeshua.
Israeli law also prohibits anyone from inducing another person to change religion. Religious Israeli Jews are suspicious of any missionary-like activity. Meanwhile, Chosen People has expanded its ministry operations in West Jerusalem and in one of the poorest sections of Tel Aviv. Glaser says, "We minister to the needy, to younger people, and to many Russian and Sudanese immigrants through a soup kitchen and a variety of social services." But it offers its services free of charge and without requiring clients to listen to evangelistic messages.
'Reaching Jewish people in a Jewish way is at the heart of our time-tested strategy.' ~ Mitch Glaser, Chosen People Ministries
Glaser believes attitudes are changing. Messianic Jews are more willing to overlook ill will coming from the Jewish community. In a few cases, Messianic believers are looking to take their place in Jewish community affairs. "As long as there is clear fidelity to the essentials of the faith [and] the preaching of the gospel, we will encourage Jewish believers in Jesus to remain part of the Jewish community.
"It is important to try to lessen the potential conflict between the Jewish community and our preaching of the gospel whenever possible," he says. "Our methods and strategies need to change with the day, yet we must at all costs communicate the facts of the gospel without compromise."
Tony Carnes, based in New York City, is a senior writer for Christianity Today.
Hard Talk: Some 200 Jews for Jesus volunteers witness in July 2006 in one of the organization's largest campaigns ever.
Related Elsewhere:
Previous Christianity Today articles on the Messianic movement include:
Messianic, Evangelical Educators Create New Forum | 45 institutional leaders hope to establish innovative resource in Middle East. (March 9, 2009)
Messianic Jews Win Citizenship Victory in Israel | Supreme Court rules Messianic believers must be granted citizenship rights in many cases. (April 21, 2008)
Reflections from a Messianic Jew in Israel | When questions are too hard to answer, we must still be about our Father's business. (August 31, 2006)
All in the Family | Unraveling the church's confusion about Messianic Jews. (March 1, 2006)
Who's a Jew?: Messianic ministry sued over use of menorah. | Canadian Jews sue Chosen People Ministries over use of ancient symbol (June 10, 2002)
Have something to add about this? See something we missed? Share your feedback here.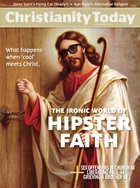 This article is from the September 2010 issue.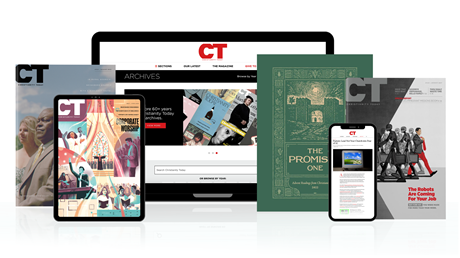 Annual & Monthly subscriptions available.
Print & Digital Issues of CT magazine
Complete access to every article on ChristianityToday.com
Unlimited access to 65+ years of CT's online archives
Member-only special issues
Subscribe
A Ministry Grows in Brooklyn
A Ministry Grows in Brooklyn