Will the Real Jesus Please Stand Up?
Scot McKnight's April cover essay, "The Jesus We'll Never Know," and his March review of Brian McLaren's most recent book reinforce each other: Portraits of the "real" Jesus tend to be self-portraits.
The superb twin offerings brought me back to graduate studies in Toronto, where, in a seminar on Hans Küng's On Being a Christian, a professor noted that Küng was recapitulating in his own person the entire history of Protestantism, from the justification debates around the Council of Trent to religious pluralism. The same can be said of McLaren, who is recapitulating the same history as he moves out of fundamentalism to a liberal social gospel.
About On Being a Christian, late Catholic writer Ralph McInerny quipped that it portrayed Jesus as "the man who would be Küng"; McLaren's Jesus looks like "the life of Brian."
John Bolt
Professor, Calvin Theological Seminary
Grand Rapids, Michigan
It's hard to see why McKnight depicts historical Jesus studies so negatively just when those studies are getting exciting again. Perhaps his expectations are too high; as he states near the end of the essay, "Faith cannot be completely based on what the historian can prove." The quest to base faith solely on historical research is of course doomed to fail. That might have been the aim of Rudolf Bultmann and others, but it is not that of modern Jesus scholars.
N. T. Wright, Craig Keener, and Darrell Bock are right: Jesus scholarship provides an appropriate context for faith, not a substitute for it.
Art Witulski
Nashville, Tennessee
McKnight rightly insists on the need for faith in approaching the "real Jesus," but reasons less surely when he suggests that historical Jesus studies are futile because scholars cannot agree. I've heard that reasoning before: "There are many truths; therefore, there can be no Truth." Yet some of the truths from historical Jesus studies helpfully reveal aspects of that multifaceted Truth upon whom our theology and salvation rest.
A big thank-you to those scholars who, without wavering in faith in our Lord or the inerrancy of God's Word, face the facts of history and share them with the rest of us, giving us a surer foundation for and richer experience of faith.
Dwight Gingrich
North Bay, Ontario
What Haiti's Kids Need
Regarding "210 Million Reasons to Adopt" [April], Christianity Today's editorial on adoption, it's time that Western churches try to look at Haiti's crisis through the eyes of Haitians.
Instead of taking children out of their heritage and country (and, often, away from relatives), why not regularly support in-country Christian programs that provide a nurturing environment and solid education? Haitian children would then grow up among their own people and become leaders in government, commerce, and education—leaders who can lead the nation out of its slump. They would also, by and large, be leaders with biblical convictions. Imagine what this could do for Haiti and for God's mission there.
Gaylan Mathiesen
Fergus Falls, Minnesota
As an adoptive parent, I appreciated CT's editorial point that a stable family home is more crucial for a child's development than remaining in his or her birth country, only to be institutionalized or live on the streets. The opposite view is preventing many needy children from finding families. My daughter's birth country put a moratorium on all international adoptions shortly after we brought her home two years ago. While the loss of culture, homeland, and all that is familiar must be dealt with compassionately, there is no substitute for a loving family.
Thanks to CT as well for suggesting practical ways that individuals and churches can carry out the adoption mandate, even where adoption is not the best solution.
Rachel Wilson
Wilmington, North Carolina
Tea Parties and Bad Tempers
I read Chuck Colson's column "Channeling the Populist Rage" [April] with disappointment. His statement that the U.S. government has functioned improperly, causing distrust, is certainly valid, but he ignores the overblown rhetoric and demagoguery of some in conservative media and the tea party movement.
There should be no discussion of that movement without condemnation of the hatred, dissension, and racism that some of its members spread. It is not just a case of Christians "channeling" that rage; it is a case of calling it what it is: sin.
William J. Katt
Brookfield, Wisconsin
The photo that accompanied Colson's column on the "populist rage" was unfair, as it depicted only the most extreme signage [of President Obama as the Joker]. What I saw at the April 15, 2009, event in Salem, Oregon, were thousands of people peacefully protesting the government's attempt to take over more and more of our lives. I saw other signs that specifically addressed abortion as a major moral travesty in our country.
I hope Colson supports Christian Americans who speak out for righteousness—no matter in what forum that may be.
Pete Jossi
Salem, Oregon
I appreciate Colson's conciliatory tone in describing the tea party movement, but he leaves out some details without which we are led astray. The populist rage did not begin with tea parties; it began in response to the Bush administration and resulted in the election of President Obama. The tea party protests are a reaction to that election by people discomfited by it, and are marshaled and shaped by interest groups like FreedomWorks.
We need to rely on James's words: that our anger never brings about God's righteousness (1:20), and that it's wise to be "quick to listen, slow to speak and slow to become angry" (1:19). We might be surprised at what we find.
Susan Gillespie
Chatham, New Jersey
What got the most comments in April's CT:
38%Channeling the Populist Rage Chuck Colson with Catherine Larson
21% The Jesus We'll Never Know Scot McKnight
13%A Resurrection That Matters J. R. Daniel Kirk
Worth Repeating
"In a world where everybody is trying to escape reality, either through drugs, music, or entertainment, the church should be the one place that tries to ground people in reality."
J.R. Houck, on making worship more about creating Christ followers than about creating worship experiences.
Soul Work: "The End of Christianity as We Know It," by Mark Galli
"It is the job of the church—not the White House or Congress—to call Christians together in prayer."
Mindy, on the decision of a federal judge that the National Day of Prayer is unconstitutional.
Politics Blog: "Judge Rules National Day of Prayer Unconstitutional," by Sarah Pulliam Bailey
"The pressure that [Jennifer] Knapp labels as condemnation from the church is in reality the hard truth of the gospel, which is that the gospel requires change."
Ryan C., on Knapp's statement that she has "struggled" with the church since embracing a gay identity.
"Jennifer Knapp Comes Out," interview by Mark Moring
"Paul perhaps writes about unity more often, but he writes about justification most deeply. The core of the gospel … must be guarded for unity to have any integrity."
Randy Carruthers, on N.T. Wright's statement at the Wheaton Theology Conference that "nothing justifies schism," in contrast to Together for the Gospel's conference on "The Unadjusted Gospel."
Speaking Out: "Wrightians and the Neo-Reformed: 'All One in Christ Jesus,'" by Brett McCracken
Related Elsewhere:
Have something to add about this? See something we missed? Share your feedback here.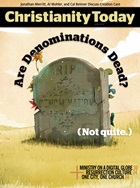 This article is from the June 2010 issue.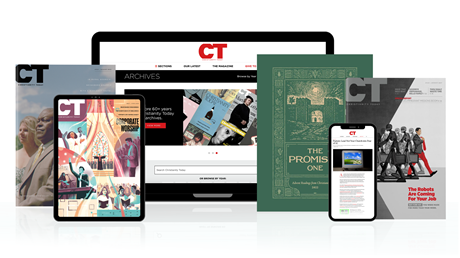 Annual & Monthly subscriptions available.
Print & Digital Issues of CT magazine
Complete access to every article on ChristianityToday.com
Unlimited access to 65+ years of CT's online archives
Member-only special issues
Subscribe
Readers Write
Readers Write