Dear Brett Favre,
Please stay retired. I say this, in the interest of full-disclosure, as a Chicago Bears fan and even though, as quarterback of the Packers, you routinely dominated my team for a period of time in the late 1990s through the mid-2000s. Nonetheless, I still respected your well-documented and oft-photographed heart, grit, stubble, rocket-arm, devil-may-care-attitude, et cetera. These are the same qualities that made you a natural fit as a pitchman for the Wrangler jeans company—a role in which you've excelled if the ads with the dog and the pickup truck are to be believed. And some of those qualities—especially the heart and grit—brought out the great competitor in you, which is why you un-retired and played a season with the New York Jets.
But here's the thing: You need to not sign with the Minnesota Vikings for one reason, and that one reason is named Sage Rosenfels. Do you know Rosenfels personally? Probably not. He held a clipboard for a long time with the expansion Houston Texans (who will, for a number of years, at least in my heart, still be referred to as "expansion") before something of a "breakout" campaign last year. (Breakout for Sage Rosenfels, though, not Brett-Favre-breakout.) That campaign landed him a shot at starting with the Minnesota Vikings, who were so desperate last year that they started Gus Frerotte and Tarvaris Jackson at quarterback, with mostly dreadful results. 
I happen to know for a fact that signing with the Vikings would really hurt the feelings of one Sage Rosenfels, whose name makes him sound like he should be reviewing art films in The New Yorker instead of throwing the post-corner to Percy Harvin. (Ex: The film was, according to Rosenfels, "an intellectual tour de force …") He can't help but be self-conscious about this when faced with a name like "Brett Favre"—a name that sounds like a sledgehammer to the midsection, and sends shudders up the spine of many a NFC North defensive coordinator. Isn't it about time for a kinder, gentler NFC North quarterback? A Sage, perhaps? 
You've had your day in the sun, Brett, and there are only so many chances to walk off into the sunset before even slow-to-anger Midwesterners have had enough. I fear that you've used up all of those chances. Nobody remembers Unitas with the Chargers, or Namath with the Rams. And you've now held no less than three teams hostage (Packers, Jets, and now the Vikings) with your waffling antics. You're the Hans Gruber of entitled, legendary NFL quarterbacks. 
Consider the following, from Ecclesiastes 3:5-6, in which the author explains that there is "a time to scatter stones and a time to gather them, a time to embrace and a time to refrain, a time to search and a time to give up." Nothing about "a time to retire," but I say, perhaps this is the time to give up the search. 
But if you really, really insist on coming back, I hear the AFC West is really nice. 
Best,
Ted Kluck
"An Open Letter To …" is a sports commentary at CT online. Ted Kluck's work has appeared in ESPN the Magazine, and he's a winner of a 2009 CT Book Award for Why We're Not Emergent (By Two Guys Who Should Be). Ted lives in Grand Ledge, Michigan, with his wife Kristin and son Tristan.
Related Elsewhere:
Ted Kluck also previously wrote "An Open Letter to Donte Stallworth."
Christianity Today has archives of "Play Ball," an occasional department covering sports.
Play Ball
From 2005 to 2007, "Play Ball" examined the relationship of sports and faith: sports is important precisely because it is a form of play, that is, a manifestation of the Sabbath. Contributors included Mark Galli, Collin Hansen, Mark Moring, and others.
Previous Play Ball Columns: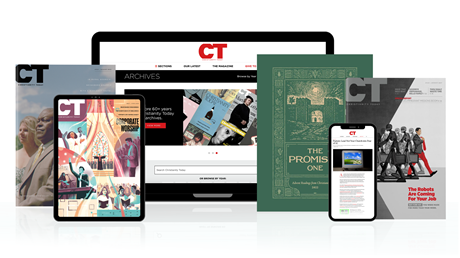 Annual & Monthly subscriptions available.
Print & Digital Issues of CT magazine
Complete access to every article on ChristianityToday.com
Unlimited access to 65+ years of CT's online archives
Member-only special issues
Subscribe
An Open Letter to Brett Favre
An Open Letter to Brett Favre