Nonprofits' Bright Future
John W. Kennedy's Christianity Today cover story, "The Not-for-Profit Surge" [May], was right on. While data on the recession's impact on churches and Christ-centered organizations are scant—the Evangelical Council for Financial Accountability's (ECFA) data are based on members' year-end reporting, and thus lag significantly—the anecdotal information supports Kennedy's excellent article.
Have some organizations seen declines in giving, and have a few organizations felt major impacts? Yes. But over and over, stories have poured in of how God prompted someone to make a significant gift that a ministry did not expect. And many ministries have been blessed with an increase in unrestricted gifts—the best kind. One of our members received a promise of a $350,000 unrestricted gift if it could be matched. The ministry watched in amazement as the goal was more than met in record time.
Once again, God has been faithful to his people, and God's people have faithfully supported his work.
Dan Busby
President, Evangelical Council for Financial Accountability
Winchester, Virginia
I'm grateful that CT's May cover story highlighted the reality that, even in a difficult economic environment, God's work continues, and God's people remain generous. However, in mentioning Wycliffe Bible Translators' relational style with its partners, John W. Kennedy described our mission as having "little to do with fighting poverty."
While it's true that Wycliffe's mission does not specifically speak about poverty, Bible translation—and the language development foundational to it—often is the starting point for solutions to some of the world's pressing humanitarian issues. Many are surprised to discover what begins when Bible translation takes place in a community: literacy, education, improved health care, government relations, and community empowerment. All of these work to combat poverty.
 Literacy and education help communities deal with social justice issues and combat the spread of diseases like hiv/aids and malaria. A United Nations study found that a 1 percent rise in women's literacy is three times more likely to reduce deaths of children than is a 1 percent rise in the number of doctors.
Wycliffe believes everyone has a right to know through Scripture the One who is the source of eternal life—and to have access to information that provides them ways to overcome painful conditions in this life.
Bob Creson
President, Wycliffe Bible Translators USA
Orlando, Florida
Exaggerated Decline?
As a longtime member of Coral Ridge Presbyterian Church (CRPC) and co-author with the late D. James Kennedy of several books, I was surprised by one assertion in Collin Hansen's fine profile of Tullian Tchividjian ["Out of Step and Fine with It, "May]. He wrote, "Once visited by as many as 7,000 on Sunday mornings, Coral Ridge shrunk to 1,400–1,500 regular attendees as Kennedy's attention turned to national politics."
This implies that a shift in Kennedy's preaching and ministry resulted in a major drop in attendance. Kennedy held a Kuyperian, Reformed worldview and discussed biblical stances on key issues—some of them controversial. But such hot-button sermons were relatively infrequent, he never endorsed candidates or political parties, and he did not adopt a new emphasis at some point in his ministry.
Furthermore, I think the statistics regarding the decline were somewhat exaggerated. The CRPC sanctuary seats 2,200. Since there were regularly two morning services in the sanctuary at the height of weekly attendance, the zenith of 7,000 weekly attendees cited in Hansen's story seems overstated.
Meanwhile, I recently had the privilege of serving on CRPC's pulpit nominating committee, and am excited about the arrival of Pastor Tchividjian. We look forward to seeing what God will do with the church and this gifted man.
Jerry Newcombe
Senior Producer, Coral Ridge Ministries
Fort Lauderdale, Florida
Kudos to Coral Ridge's leadership for taking a risk on a young, bold leader like Tchividjian. He will challenge the culture there in some healthy ways, and I am praying that the church once again becomes a place where those who feel far from God can focus on what's most important: understanding God's great love for them.
Tchividjian's launch into the limelight will present challenges for him and the church, I'm sure. But we owe it to Coral Ridge's legacy to give him time to prove himself as a leader and communicator.
Rich Barrett
Jacksonville, Florida
Augustine, Adam, and Eve
Augustine's deep concern that "biblical interpreters might get locked into reading the Bible according to the scientific assumptions of the age" is valid, and it is one readers of Alister McGrath's article "Augustine's Origin of Species" [May] should heed.
But why not instead question the assumption that the widely accepted Darwinian view of origins reflects reality? Christians would need to wrestle with the incompatibility of the Darwinian and Genesis accounts only if proof for the large-scale evolution that Darwin suggested had, in fact, been found in the 150 years since the publication of On the Origin of Species. It has not.
Why try to harmonize two opposing ideas when there is no compelling scientific reason to do so? In the "patient, generous, and gracious reflection" that McGrath urges, let's rely on what God has said about who we are and where we came from.
Beth Webster
Stockholm, Sweden
Although I have quibbles with Augustine, he is a forebear I am proud to claim. Alister McGrath's May article is an excellent introduction to Augustine's important way of approaching such volatile subject matter. Ancient wisdom can be and often is so helpful. With Anselm, "I believe in order that I may understand," and, as the Voice Bible translation of John 1:1 puts it, "before time was measured, the Voice was speaking. The Voice was and is God."
Darrell A. Harris
Franklin, Tennessee
Putting God to the Tests
A couple observations about Gregory and Christopher Fung's "What Do Prayer Studies Prove?" [May]: First, as the authors acknowledged, the Harvard study does not account for immeasurable variations, such as how the pray-ers' depth of belief affected the outcome, and how the prayed-for ones' depth of belief also affected the outcome.
Second, the authors assume that prayer can affect God's behavior, which puts the cart before the horse.
In the cause-effect relationship, it is believed that man may affect God's behavior—that we, through sheer sincerity of belief or concerted numbers, may change the course of history. True, "the prayer of a righteous man is powerful and effective" (James 5:16), and it's amazing what prayer does for the one bowing before the omnipotent and loving God of creation and redemption. But can the pray-er alter the course of history? No.
David Winchester
Cave Junction, Oregon
The article on prayer studies didn't mention the most important thing about intercession: keeping it secret. The nearest mention was citing the study in which one group's members did not know that they were being prayed for. But the point is that the praying person needs to be completely free of egocentricity when interceding. The only way for that to happen is to enter the closet and pray in secret. Neither "we will pray for you" nor "we prayed for you" should enter the picture at all.
Anyway, seeing the results of prayer is the greatest reward. Jesus said that the Father will reward you openly, so let him do all the publicity if he sees fit. This, of course, would make prayer studies totally irrelevant.
Larry Repass
Newnan, Georgia
A Church-State Expert on Religious Hiring
Mollie Ziegler Hemingway's piece on civil religion during the Obama era ["Civil Religion's Sharper Teeth," April] was interesting, but she gets a couple of things wrong.
First, Hemingway misstates my position on employment and government funding. (She does not refer to me by name, but references the church-state experts on the council.) I do not oppose "the right of religious groups who receive federal funds to use religion as a hiring criterion." My concern is about religion-based employment decision-making in jobs receiving direct government aid. Thus, for example, I certainly do not believe that a Baptist group should be unable to hire a Baptist chaplain that works outside the government-funded program simply because the Baptist group also runs another program supported by a government grant.
Second, Hemingway is wrong when she says that "both of the church-state experts on Obama's new religious advisory council oppose the right of religious groups who receive federal funds to use religion as a hiring criterion." True, the initial release of 15 names included my name and David Saperstein's name with the notation church-state expert. But now we have two more church-state experts on the council: Nathan Diament of the Orthodox Union of Jewish Congregations in America, and Anthony Picarello of the U.S. Conference of Catholic Bishops. They support, perhaps to varying degrees, religious organizations' ability to make religion-based employment decisions regarding government-funded jobs. And, for what it's worth, I have said many times that I'm pleased that many sides of the debate are represented on the council.
Melissa Rogers
Winston-Salem, North Carolina
Related Elsewhere:
Letters to the editor must include the writer's name and address if intended for publication. They may be edited for space or clarity.
E-mail: cteditor@christianitytoday.com
Fax: 630.260.8428
Have something to add about this? See something we missed? Share your feedback here.
Our digital archives are a work in progress. Let us know if corrections need to be made.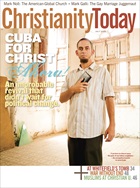 This article is from the July 2009 issue.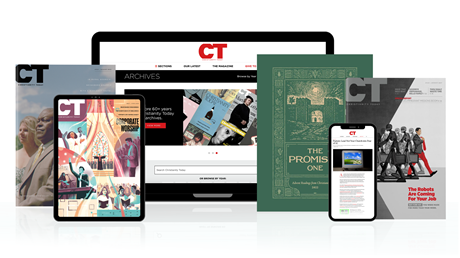 Annual & Monthly subscriptions available.
Print & Digital Issues of CT magazine
Complete access to every article on ChristianityToday.com
Unlimited access to 65+ years of CT's online archives
Member-only special issues
Subscribe
Readers Write
Readers Write