Nate Self's military record was impeccable. A West Point graduate, he led an elite Army Ranger outfit and established himself as a war hero in March 2002 for his leadership during a 15-hour ambush firefight in Afghanistan. The battle resulted in a Silver Star, a Purple Heart, and a position as President Bush's guest of honor for the 2003 State of the Union. But by late 2004, Self had walked away from the Army. In another surprise attack, post-traumatic stress disorder (PTSD) had taken his life captive.
"I just hated myself," says Self. "I felt like I was somebody different. And since I didn't feel like I could be who I was before, and hated who I was now, I just wanted to kill the new person. I felt like I had messed up everything in my life. The easiest way, the most cowardly way to escape, was to just depart."
When Andrea Westfall returned from her 10-month deployment in Kuwait with the Oregon Army National Guard in 2003, she too found herself fighting an invisible battle with PTSD. Unable to cope with the enemy, she isolated herself and drank every night to numb the pain and aid sleep.
Self and Westfall are among the untold number of soldiers who leave the battlefield only to fight another war in their mind and spirit. Studies show that nearly one in five returnees from Iraq and Afghanistan suffer from PTSD, an anxiety disorder introduced into the third edition of the Diagnostic and Statistical Manual of Mental Disorders in 1980. Reported wartime PTSD cases jumped roughly 50 percent in 2007; Army statistics showed there were nearly 14,000 newly diagnosed cases in 2007, compared with more than 9,500 new cases the previous year and 1,632 in 2003. About 40,000 troops have been diagnosed with PTSD since 2003. Officials believe the actual number may be much higher—possibly as high as 30 percent of all U.S. vets—and think many are in denial or keep their illness hidden for fear that it could harm or end their military careers and preclude future benefits.
Countless victims
Those who suffer from PTSD continue to react, sometimes more intensely than ever, to a traumatic or life-threatening event even after the danger is past. The main symptoms include troubling memories and nightmares, hyper-vigilance, depression and anxiety, emotional detachment, and avoidance of crowds or anything associated with the event. The symptoms often lead to substance abuse, chronic unemployment, and homelessness. Two out of three marriages in which one spouse has PTSD fail. The suicide rate among those with PTSD is almost twice the national average. Suicides were up in all the armed services in 2008, with 125 confirmed suicides in the Army alone—the most the Army has seen since it started keeping records.
Since PTSD wasn't officially recognized until 1980, many of today's veterans carry scars from not being properly cared for upon coming home from previous wars.
In 1970, after 14 months in Vietnam, James Knudsen returned as a decorated combat veteran. A Christian and regular churchgoer, he has suffered from PTSD ever since, resulting in long-term unemployment, severe depression, and a failed marriage.
John Blehm also returned from war in 1970, but wasn't diagnosed with PTSD until 27 years later. "Before then, people just thought I was a crazy alcoholic," he says. Today, Blehm and his wife, Karen, teach classes at Skyway Church in Goodyear, Arizona, for those with PTSD and their family members. The nondenominational church offers professional counseling at an affordable price on its campus, at the Window to Healing Center.
Skyway's approach represents a positive and growing trend among U.S. churches in addressing PTSD—a change that's been a long time coming.
"The church dropped the ball on our generation," says Vietnam vet and PTSD sufferer Frank Vozenilek. "We cannot afford to drop the ball on this one." Today, Vozenilek and Knudsen assist churches in the Cedar Rapids/Marion, Iowa, area in meeting the needs of veterans with PTSD.
Helping wounded warriors
The local church is a particularly critical resource for veterans who served in the National Guard and Reservists, who do not have access to Veterans Affairs (VA) hospitals and centers. Even those with VA access aren't necessarily taking advantage of it; only about 30 percent of those reporting they have PTSD go to VA hospitals or centers for help.
As more veterans return from Iraq and Afghanistan, churches are standing in the gap. Times Square Church in New York City is one of more than 100 churches across the country trained to minister to vets by Bridges to Healing, a branch of Campus Crusade for Christ's Military Ministry.
"Even if the despair, grief, guilt, anger, irritability, withdrawal, addiction, and impulsive behavior is not labeled as PTSD, it is severely impacting soldiers' transitions home," says Bill Butler, director of Times Square's military ministry. "One by one, we will encounter the returning, wounded warriors and reach out to them." One of the many services Times Square offers is regular gatherings for veterans in which they can develop friendships and share stories.
The Evangelical Lutheran Church in America (ELCA) passed a resolution in 2007 to support returning veterans and their families, and the ELCA Minneapolis Area Synod developed the Coming Home Collaborative for those concerned with the psychological and spiritual healing of veterans.
Even churches without programmatic ministries are meeting the needs of those with PTSD. The North Carolina church home of Monica and Scott Langdon (whose names have been changed for confidentiality) has no official ministry, but a church member reached out to Monica while she and Scott, an Iraq veteran, were separated due to PTSD-related marital stress.
"While I was suffering from depression and anxiety, one woman at our church brought me food, watched my daughter, and even spent the night when I was feeling completely overwhelmed," says Monica. "She had no idea what PTSD was until I told her. But I knew that I could call her anytime, night or day, and she would drop whatever she was doing and pray with me on the phone. She reminded me often how much she loved me and my husband no matter how bleak the situation seemed, and that God's sovereign plan would always unfold in my life." Monica adds that vets with PTSD "often feel as though no one who has not gone through combat can understand them.
"But it's a very real disorder," Monica says. "It's not something where you can just pull yourself up by your bootstraps and get over it."
Lightening the load
Retired U.S. Navy seal Mark Waddell says his church was "absolutely oblivious" to his family's desperation when he was dealing with PTSD, but that a fellow member, Sue McMillin, offered very practical help: She spent seven hours helping him clear his garage, which was full of boxes of military gear left untouched since Mark had returned from combat in Iraq.
"Mark could not bring himself to open the bags and boxes because of the weight of the memories," says his wife, Marshelé Carter Waddell."He was avoiding all the triggers that lurked inside—sand and dirt from the desert, mud and blood on his boots. So the garage continued to be a negative thing in his life. With Sue's help, we hauled away a truck bed full of paraphernalia and clothing, and reorganized and labeled all the plastic tubs."
"Mark went through the memories and the triggers with us by his side, with people who love him and want him to heal, who didn't allow him to stop and walk away. It was very difficult for all of us, but at the end of the day, Mark's load was lightened dramatically."
The Waddells now share their story through Bridges to Healing, and last fall Marshelé co-authored When War Comes Home: Christ-centered Healing for Wives of Combat Veterans (Military Ministry Press).
Westfall—the Oregon National Guard vet who drank herself to sleep each night—is also involved with Bridges to Healing. After some loving pastors cared for her, "the armor I had built around myself began to fall apart," she writes in a testimony on Campus Crusade's website. Westfall gave her life to Christ, and now works part-time with the PTSD task force of Crusade's Military Ministry.
To supplement the efforts of local churches, Jon Norsworthy, director of the faith-based nonprofit Agapao Center, founded the Sanctuary, based outside Washington, D.C., as a refuge for those suffering from combat trauma. Visitors come to retreat facilities to find time for reflection, a safe place to talk about their trauma, and spiritual guidance. "There are a lot of unanswered questions about how to justify what they've seen with the God we worship," says Norsworthy. "It's not a time for pat answers and clichés."
The church's role
"People with PTSD have other problems such as joblessness, homelessness, substance abuse, marital problems," Blehm says. "When church staff know the cause, symptoms, and behaviors related to PTSD, they will recognize the root cause of these problems and will be able to refer them to those who can help them."
The easiest way to serve veterans with PTSD, says Nate Self, author of Two Wars: One Hero's Fight on Two Fronts—Abroad and Within (Tyndale House), is first to have a military ministry in a church, which may have someone with PTSD in its midst. Practical ways a congregation can help military families include mowing yards, watching kids, doing housework, sharing a meal, and listening.
Lisa Jaycox, senior behavioral scientist at the RAND Corporation, says that the more stress a family is under, the harder it will be for a family member to recover from PTSD. First Baptist Church in Belton, Texas, conducts an annual survey of its military families to make sure they know about specific needs. The church also designates go-to people for each military family, and provides childcare so military couples can go out on dates. The church puts together care packages for deployed soldiers and "reverse" care packages for their families, which include items the deployed soldier wants the family to have. A network of men also volunteers to take kids fishing and do other activities while dads are deployed.
Though Self was involved in a PTSD small group at Veterans Affairs, it was his church's own small group that proved most beneficial. Though some of his PTSD symptoms remain, they are much less severe. He now works as a consultant on officer-training materials for the Army, and is active in First Baptist Church's military ministry, which serves more than 100 military families in its 3,500-member congregation.
"If people think the VA hospital will solve all the problems, they'll overlook the greatest source of healing in any situation: Jesus," says Self. "The majority component for recovery is a spiritual solution, more than any secular clinical answer."
Jocelyn Green is a freelance writer and author of Faith Deployed: Daily Encouragement for Military Wives (Moody Publishers).
Related Elsewhere:
Previous Christianity Today articles on veterans or military ministry include:
Not Just Chaplains | Parachurch organizations are filling in the gaps through ministry to troops and their families. (August 21, 2007)

Beyond Yellow Ribbons | Become a blessing to a military family. (July 1, 2006)
Veteran Ministry | How churches can help soldiers and their families readjust after combat. (June 30, 2006)
Have something to add about this? See something we missed? Share your feedback here.
Our digital archives are a work in progress. Let us know if corrections need to be made.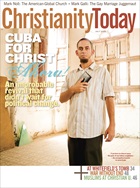 This article is from the July 2009 issue.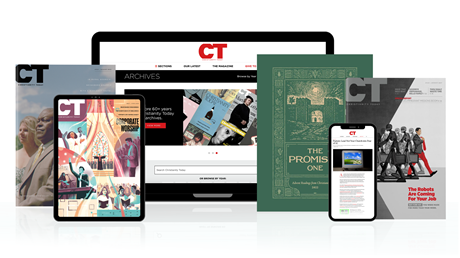 Annual & Monthly subscriptions available.
Print & Digital Issues of CT magazine
Complete access to every article on ChristianityToday.com
Unlimited access to 65+ years of CT's online archives
Member-only special issues
Subscribe
When the War Never Ends
When the War Never Ends