Graceful Beginnings
Thanks to Mark Galli and his October cover story ["In the Beginning, Grace"] for so exquisitely diagnosing the dysfunctional horizontal focus plaguing the North American church. His summons back to the word of the Cross—God's ever-new word of judgment and grace—was good medicine for evangelical activism run amok.
In my Lutheran tradition, preaching is defined precisely (some would say narrowly) by this two-edged sword of law and gospel; discussion about what to do in response is better had over coffee. Whether such a vertically disciplined understanding of the pulpit actually empowers us to behave more like Christians during the week, God knows. But hearing the message of grace afresh each week, and receiving it anew each morning, can make one more humble and good-humored. And that's a start.
Mark D. Williamson
Pastor, St. Paul Lutheran Church
Wheaton, Illinois
While finding many notable challenges in Mark Galli's article, I have two significant concerns.
Galli misrepresents my perspective by taking a quote from my book [The Next Evangelicalism: Freeing the Church from Western Cultural Captivity] and my interview out of context. While I believe that diversity is an important part of the growth of the church in the United States, my perspective is that God is bringing that diversity and that the church needs to live into the work of God. A more careful reading of the book would lead to that conclusion.
In addition, by not mentioning my name or my book, the article does not allow the reader to find this out for himself.
Soong-Chan Rah
Professor, North Park Theological Seminary
Chicago, Illinois
Following C.S. Lewis (see The Abolition of Man), not naming a title and author is a way to offer critique without suggesting it is personal. It apparently created offense anyway, and I'm sorry for that. Despite my concerns, Professor Rah's book is worth a close read for the bracing word it offers.
—Mark Galli
My problem with CT's analysis was that it left the impression that Christianity is reducible to the Good News. The Lutheran tradition has rightly observed that the gospel is meaningless apart from the law. In the life of the nominal believer, this misunderstanding is catastrophic. To speak of grace to a person who has not been convicted by the law is to affirm that person's pet sins and to turn an immature believer into an unrepentant libertine. When last I checked, antinomianism was still a heresy.
Carey Vinzant
St. Louis, Missouri
My thanks for reminding us that evangelicalism's roots must always be traced to Golgotha and to our need to stand under God's judgment and grace. Yesterday in my beginning homiletics class at Dallas Seminary, I found myself repeatedly asking my students, "What are you preaching that a good Jewish rabbi couldn't preach?" Your reminder of the centrality of Christ's grace powerfully encouraged me.
David B. Wyrtzen
Professor, Dallas Theological Seminary
Dallas, Texas
The Physical Evidence
Cary McMullen did a magnificent job reporting on the Assemblies of God in the October issue ["Holding Their Tongues"], especially with the bar graphs. The statistics on speaking in tongues show that even denominations that insist it is the initial physical evidence of Holy Spirit baptism have many members who haven't received it.
What is unclear to me is why many Pentecostals insist on this doctrine. Granted, tongues is one of the Holy Spirit's gifts; it was often exhibited when people in the New Testament received the Spirit, and it continues to happen today. But Scripture says it is one of the gifts, and even raises the question, "Do all speak in tongues?" (1 Cor. 12:30).
I might have become a Pentecostal long ago but for one word: the.
Richard Parvin
Clearwater, Florida
New Day, New Design
The editors of Christianity Today unveiled our redesign—replete with color coding, new sections, and more graphics and statistics than ever—in the October 2009 issue. Readers quickly responded with what they loved and what they wanted changed. Here's a smattering of opinions on the new look. To share your own, write the editors at cteditor@christianitytoday.com.
I absolutely love the new layout of the magazine. It's fun, aesthetically pleasing, and even easier to navigate. I particularly like the Gleanings section and how many small information notes you are able to fit in, as well as your use of maps to identify where stories are taking place. I hope you receive a good response and stick with the new layout for a long time to come.
David A. Steinbrenner
Durham, North Carolina
I'm enjoying the October issue of CT, but would like to register a complaint: Why all the tiny print? As a guy in his late 40s, I'm struggling through bifocals to read Go Figure, What's Ahead, and other margin features. Any way to give us maturing readers some help?
A presbyopic Baptist,
Steve Manock
Newport, Tennessee
While CT's content is still full of grace and truth, the new layout is cold and informational-looking. I would recommend starting over with something that offers news and inspiration in the old manner, which felt like sitting down for a chat with an old friend.
Brent Budd
Christiana, Pennsylvania
I just finished reading the latest issue of CT and thought the new layout looked really very fine. It's power-packed with lots of data and information, which I love, and looks terrific. Congratulations on a job well done.
D. Michael Lindsay
Professor, Rice University
Houston, Texas
Worth Repeating
"Far from being an 'ugly' neologism, it has been a term of choice by the language's greatest poets, including Alexander Pope, T. S. Eliot, and John Dryden."
Timothy Larsen, on the use of humankind in Bible translations, which ESV translator Bill Mounce called "ugly."
Liveblog: "New Testament Chair of ESV Committee Will Join NIV Team"
"There is a positive message here about the need to be tamed if we are to live in community. Only a big love can save us from our own wildness."
Terry, on the film version of Where the Wild Things Are.
CT Movies: "Where the Wild Things Are"
"Reasoned debate is swiftly losing ground to 'scientists' who seem more intent on making bestseller lists than on advancing science or sound argument."
Steve Skeete, on Bloggingheads.tv's controversial decision to take down, and then repost, an intelligent-design debate.
"Boycotting Bloggingheads"
"I agree that God does not need our protection. I very much disagree with the assumption behind Banned Books Week that our children do not need it."
Rebbecat, on whether or not Christians should support book bans.
Women's Blog: "Banned Books and Blasphemy"
"It would be a great way to raise the visibility of fasting as a spiritual discipline. Yes, I am aware of the irony."
John Sanders,@ctmagazine's tweet, "Should Christians fast during Ramadan with Muslims?"
Top 3
What got the most responses in September's CT?
44% In the Beginning, Grace by Mark Galli

34% CT's Redesign

5% Whole Gospel, Whole Church, Whole World by Christopher J. H. Wright

17% (other)
Related Elsewhere:
Letters to the editor must include the writer's name and address if intended for publication. They may be edited for space or clarity.
E-mail: cteditor@christianitytoday.com
Fax: 630.260.8428
Have something to add about this? See something we missed? Share your feedback here.
Our digital archives are a work in progress. Let us know if corrections need to be made.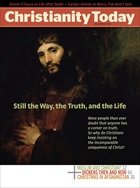 This article is from the December 2009 issue.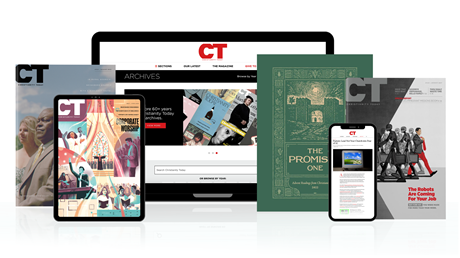 Annual & Monthly subscriptions available.
Print & Digital Issues of CT magazine
Complete access to every article on ChristianityToday.com
Unlimited access to 65+ years of CT's online archives
Member-only special issues
Subscribe
Readers Write
Readers Write