This time of year, good works are as plentiful as Christmas lights. The joyful sounds of Salvation Army bell-ringers are matched with the cheerful clink of change. The same person who cut you off in traffic last month may be ladling out soup at the local homeless shelter. Our favorite Christmas movies and stories are rife with examples of generosity: Ebenezer Scrooge buying the Cratchits a Christmas turkey twice the size of Tiny Tim, and George Bailey giving away his honeymoon money for the folks of Bedford Falls.
Every year I get a front-row seat to witness the amazing generosity of Christians participating in Prison Fellowship's Angel Tree program—purchasing gifts for hundreds of thousands of prisoners' children and delivering them along with the Good News. While I'm always moved by the kindness of believers, quite frankly, I'm not surprised by it. Jesus called us to a life of good works. And at Christmas we are especially reminded of the generosity of God in providing his own Son to take on flesh for us. It stirs in us the desire to put flesh to our good works as well.
But it's the generosity of unbelievers that does at times take me aback. A recent book, Who Really Cares, by scholar Arthur C.Brooks, reveals that religious conservatives donate far more money to charitable causes than do secular liberals. Still, the fact that secularists can sometimes give quite generously, even self-sacrificially, is an undeniable fact—and one that is difficult to reconcile with the basic tenets of their worldview.
I was struck by this when attending a special-needs basketball game for my autistic grandson, Max. He played alongside about 30 children who suffered from autism, Down syndrome, cerebral palsy, and other conditions. The gym was filled not just with parents, but also with volunteers and coaches who donate their time for these kids on a regular basis. But why are they doing this?
How could anyone look at a gymnasium like that and accept Darwin's theory of natural selection? According to his theory, so-called weaker ones like these children would have been eliminated. Survival of the species is the highest good. What Darwinism has never been able to account for is human kindness or altruism.
While Darwin himself never acknowledged the difficulty posed by altruism, his acolytes have. Their responses have led to the creation of the discipline known variously as "evolutionary psychology" or "sociobiology."
But the evolutionary explanation for altruism is really just selfishness in disguise. According to this reasoning, when a volunteer offers to give his time to help a child like Max, it's not goodness—it's a kind of enlightened self-interest. We do what we perceive as good for others so that they, in turn, might do the same for us, thus increasing both of our chances of survival.
Because we are created in the image of God, we not only don't have to struggle against our neighbors, we also can love them and even die for them.
But that, of course, isn't altruism at all. Perhaps you could call it "cooperation." But in the Darwinian model, true altruism has no place.
In contrast, Christians understand that while all of us are born with the capacity for selfishness and cruelty, we are also capable of caring for others. Because we are created in the image of God, we not only don't have to struggle against our neighbors for survival, we also can love them and even willingly die for them.
Recent advances in neurobiology show that the impulse toward altruism may even be hardwired. For instance, practically from birth a baby who hears the cry of another baby will cry also. However, when scientists play a recording of the sound of that child's own cry, rarely will the baby respond. By about 14 months, not only will that infant cry when he hears another infant crying, he will also try to soothe the other child in some way.
The existence of mirror neurons, discovered in the 1990s, also allows our brains to respond with empathy to the hurt of another human being. This means that the same brain circuitry is activated when we imagine the pain of another as when we recall a particularly painful event from our own lives. This shared emotional state then signals the motor area of the brain, causing us to respond in spontaneous ways to alleviate another's pain. Of course, we've learned many ways to shut down this response, but it appears that our brains have been hardwired for compassionate action—the opposite of the kind of wiring natural selection would have produced.
Our opponents are always quick to point to the problem of evil in the world. But as we can see, an equally important problem exists for the secularist: the problem of goodness. Let's not only raise this question with skeptics—because we do have an answer—but let's also continue to become a part of the problem for them, especially this Christmas.
Related Elsewhere:
Previous columns by Charles Colson include:
When Atheists Believe | The confounding attraction of the Christian worldview. (October 22, 2009)
We Need Health-Care Reform | And the real question is who gets to decide who gets attention. (July 22, 2009)
Protecting Our Little Platoons | There's reason to be concerned for the future of voluntary organizations. (June 10, 2009)
Have something to add about this? See something we missed? Share your feedback here.
Contra Mundum
Charles Colson was the founder of Prison Fellowship Ministries, an outreach to convicts, victims of crime, and justice officers. Colson, who converted to Christianity before he was indicted on Watergate-related charges, became one of evangelicalism's most influential voices. His books included Born Again and How Now Shall We Live? A Christianity Today columnist since 1985, Colson died in 2012.
Timothy George is the dean of Beeson Divinity School at Samford University and a member of Christianity Today's Editorial Council. His books include Reading Scripture with the Reformers and Is the Father of Jesus the God of Muhammad? Like Colson, George has been heavily involved in the Evangelicals and Catholics Together discussions. George began cowriting "Contra Mundum" with Colson in 2011.
Previous Contra Mundum Columns:
Our digital archives are a work in progress. Let us know if corrections need to be made.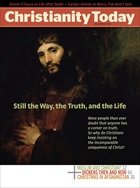 This article is from the December 2009 issue.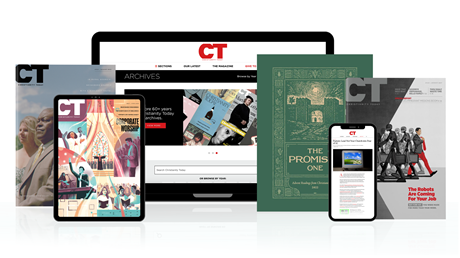 Annual & Monthly subscriptions available.
Print & Digital Issues of CT magazine
Complete access to every article on ChristianityToday.com
Unlimited access to 65+ years of CT's online archives
Member-only special issues
Subscribe
The Problem of Goodness
The Problem of Goodness