Ten months ago, Hobby Lobby heir Mart Green aroused both suspicion and relief among Oral Roberts University's faithful. The retail whiz announced that his affluent family was planning to pump $70 million into the heavily indebted, scandal-scarred liberal arts school in Tulsa, Oklahoma.
In May, Green generated even more excitement on campus when he announced that student dorm rooms would be rewired. The increased amperage will allow a curling iron and a computer to be plugged in simultaneously without blowing a fuse. But Green isn't just redoing the campus electrical grid; he's rewiring ORU's body, mind, and checkbook. Currently serving as ORU board chair, Green recently said, "ORU must restore its broken trust, its battered reputation, and its beaten spirit."
In October 2007, the tragic unwinding of ORU's trust, reputation, and spirit began as three whistle-blowing professors filed a wrongful termination suit. They charged that Richard Roberts, president and son of founder Oral Roberts, and his board-member wife, Lindsay, misspent school funds, including $39,000 for a shopping spree for Lindsay, a $29,411 trip to the Bahamas aboard a university jet for one of the couple's daughters, and a stable of horses for their three daughters, among many other accusations. (The Robertses have denied any wrongdoing.)
Initially, the Greens debated whether to help. The family typically donates to successful ministry ventures with well-established accountability measures. They had never staged a ministry intervention before. When the family gives a chunk to charity, it's given collectively. The privately held Hobby Lobby chain of more than 380 arts and crafts stores has estimated annual sales of $2 billion and $200 million or more in profits. Forbes magazine estimates founder-father David Green's fortune at $1.2 billion.
The gift to ORU comes with a 100-mile-long string attached, the distance between Tulsa and Oklahoma City, where the Greens live. At least once a week, Green, also chief executive of Mardel, a chain of 27 Christian education and supply stores, drives 100 miles up Interstate 44 to the sprawling ORU campus, famous for its 1960s-era futuristic architecture.
Mart Green was very familiar with ORU graduates who had taken jobs at his stores and worshiped with him at an Assemblies of God church. Their work ethic and character impressed him. It would be a shame, Green told Christianity Today, if an educational institution that had turned out thousands of spiritually alive, intellectually gifted, and professionally competent graduates ceased to exist. The school has credible academic and athletic track records. Its eclectic collection of high-profile alumni includes entertainer Kathie Lee Gifford; preachers Ted Haggard and Kenneth Copeland; and ministry leaders such as David Barton of WallBuilders.
Out with Hinn, In with Argue
When the Greens offered $8 million to relieve the immediate cash crunch and keep the university afloat (and another $62 million for improvements), the money set into motion changes from the top down.
"The Higher Learning Commission [an accrediting agency] had already articulated that changes were needed in finances, governance, and leadership," Green says. "We weren't going to give money for more of the same." In reality, this was a subtle but major shift for the school toward mainstream evangelicalism and away from its distinct (and often controversial) charismatic brand of evangelicalism.
In January, the existing board of regents accepted the Greens' deal, which included a proviso that members would vote themselves out of office. Family members and televangelists had heavily inhabited the 23-member board, including John Hagee, Marilyn Hickey, Benny Hinn, Creflo Dollar, and Copeland. Many evangelicals have associated these leaders with prosperity-gospel teaching and lavish lifestyles.
ORU moved to implement a shared-governance board of trustees. Green chose people who are friendly to the Pentecostal heritage and known for their educational and business prowess. The lineup includes Russell Spittler, provost emeritus of Fuller Theological Seminary, and top Pentecostal author and historian Stanley M. Burgess. In addition, Robert E. Cooley, the first chancellor of Gordon-Conwell Theological Seminary and past president of the Association of Theological Schools, is serving as a "governance mentor" to Green. Green is the only member of his family on the board. ORU has also applied for membership with the Evangelical Council for Financial Accountability.
Don Argue, another new trustee and former president of an Assemblies of God university, told CT, "This is the first time the [ORU] board has been organized along more traditional university lines. I'm impressed with the quality of business leadership on the new board."
Despite the new outlook, ORU still faces lawsuits from the days of the old regime: from a husband and wife faculty team, the former chief accountant, and two students who argue that their degrees will have diminished value because of the financial scandal. All have hired Gary L. Richardson, a Tulsa attorney who filed multiple lawsuits against televangelist Robert Tilton in the 1990s.
Tim Brooker, who headed the ORU government program for six years, is seeking $2.5 million to settle a wrongful termination suit filed alongside his wife, Paulita, another dismissed professor. Brooker says he brought the leadership's moral failings and financial improprieties to the attention of the previous administration, but received no response for more than a year. Finally, he says, in June 2007, he pointed out a pattern of lavish spending among the school's administrative leaders. A month later, Brooker says, he was forced out.
"I would love to be able to settle with the university," says Brooker, who lives in Siloam Springs, Arkansas. "I have no desire to drag this out and do further damage to the university." John Swails, Brooker's boss and the tenured department chair, settled his dismissal suit in January and has been reinstated.
The Post-Roberts Future
Reducing debt, hiring a new president, stopping a student exodus, increasing alumni giving, and rebuilding trust are Mart Green's top five priorities.
The school, which has an $82 million annual operating budget, has launched a $25 million "Renewing the Vision" matching campaign to eliminate the rest of its $20 million debt, as well as to finance deferred building projects. As of mid-summer, more than 4,800 contributors had donated $4.2 million.
All initiatives seem to be paying off. In April, projected fall enrollment looked to be down by 300, but by June, the shortfall had dipped to only 88. Fall enrollment is projected to be more than 3,000 students. Only one-third of ORU students are from the Sooner State.
"If alumni encourage their children to come as students, that's more important than money," says Green, who himself has been working the phones to connect with prospective recruits and long-dormant donors.
Part of the problem in the past has been an alleged intermingling of funds and contributors from ORU and the Oral Roberts Evangelistic Association (OREA), the legacy organization that has carried on the ministry of Oral and Richard Roberts. The school essentially has had to build a new donor base since gaining autonomy from OREA.
In May, the association vacated its offices in the ORU-owned CityPlex Towers. Richard Roberts, who turns 60 in November, still lives in Tulsa and continues his scaled-down broadcast ministry. This final separation of the Oral Roberts ministry from the university he founded more than four decades ago is another difficult chapter in this saga. Oral incorporated his ministry 60 years ago, after he endured abject poverty growing up and experienced a miraculous healing from tuberculosis at 17.
After becoming a "healing evangelist," Oral Roberts conducted televised tent crusades, which provided mainstream America with its first exposure to Pentecostal practices. By the 1970s, Roberts had moved to a studio surrounded by clean-cut singers from ORU, and had the nation's most-watched syndicated TV program. Catchphrases such as "Expect a Miracle," "Sow a Seed of Faith," and "Something Good Is Going to Happen to You" entered the lexicon.
Nevertheless, Roberts endured his share of tragedy. His eldest daughter, Rebecca, died in a plane crash in 1977 at 37, and his eldest son, Ronald, committed suicide at 38 in 1982. With the $250 million City of Faith Medical Center teetering on the edge of financial disaster in 1986, Roberts claimed to have witnessed a 900-foot-tall vision of Jesus, who warned, "I am going to call you home," unless $8 million was raised within three months. The funds came in, but City of Faith closed in 1991.
While many of the university's faithful back Mart Green's financial plan, a trickier transition for ORU is likely to be cultural in nature. As the school moves away from its televangelist roots, can it remain true to its Pentecostal identity? Can it overcome what former provost Mark Lewandoski publicly called a "culture of fear," a reference to faculty and staff anxieties about bringing up problems to the administration?
The presidential search process provides some tentative answers to these questions.
For the first time in the school's history, looking for a leader is a group process. A nine-member presidential search committee that includes faculty, staff, alumni, and board members has the responsibility of selecting a finalist to be elected by the board next summer. The school has hired Bruce Dingman, a top headhunter, to assist the search committee.
"We want a visionary president," says Green. "It will be his or her responsibility to decide where to take the school, not mine."
Green and others believe the school can recapture the glory days. With 63 majors, 14 master's programs, and two doctoral degrees, ORU is far more than a backwater institution. Green, sounding a lot like Oral Roberts a generation ago, believes the school can still be the flagship university for charismatic students. "We want to be world-class in everything we do," Green says. "ORU can provide quality education to the whole person—spirit, mind, and body."
WallBuilders' David Barton is also upbeat about the future of the school, from which he graduated in 1976. "ORU is still biblically committed to passionate ministry, but now there is a much wiser business approach," says Barton, 53. "The alumni I've talked with believe the changes in practice are healthy."
Many students who are enrolled are encouraged, beyond the fact that microwaves and refrigerators have been added to every dorm room. "I've seen things happen faster in the last three months than in my first three years here," says Kerrick Butler, a senior from Troy, Michigan. "To make wholesale changes without chaos is unheard of."
Paul R. Corts, president of the Council for Christian Colleges and Universities, doesn't believe the scandal will permanently damage ORU's legacy. "The Lord has a way to make even difficult times work for good," Corts told CT. "The resulting positive changes the school is making will bear much good fruit in restoring the trust of students, alumni, and other constituencies, and the changes will greatly strengthen the university for future service. I firmly believe ORU is on the right path."
After a nightmarish year, something good is going to happen to ORU.
John W. Kennedy is a consulting editor for CT and news editor for Today's Pentecostal Evangel.
Related Elsewhere:
Mart Green has a webpage with more about his biography and business.
Christianity Today Movies interviewed Green about his investment in movies about missionary martyrs in Ecuador.
2007 and 2008 news on Oral Roberts University includes:
Tulsa Dustup | Lawsuit charges ORU president and his wife with fiscal, moral improprieties. (November 14, 2007)
From Liveblog:
More housecleaning at Oral Roberts U. | Creflo Dollar out, Benny Hinn disempowered on board of regents. (December 18, 2007)
Ex-President Roberts Separates Completely (Almost) from ORU | With a promised $70 million gift being dangled in front of them, ORU Regents plan to disentangle themselves from the Oral Roberts Evangelistic Association. (November 28, 2007)
Will Richard Roberts Let Go of ORU? | The former president may still be able to access school funds, say reports. (November 26, 2007)
ORU President Resigns | In October, Richard Roberts denied charges of misusing university funds and took a leave of absence. In November, the faculty gave him a no-confidence vote. Now, he's calling it quits. (November 23, 2007)
Oral Roberts University President Takes a Leave of Absence | Richard Roberts temporarily steps down after three university professors filed a lawsuit earlier this month. (October 18, 2007)
Have something to add about this? See something we missed? Share your feedback here.
Our digital archives are a work in progress. Let us know if corrections need to be made.
This article is from the September 2008 issue.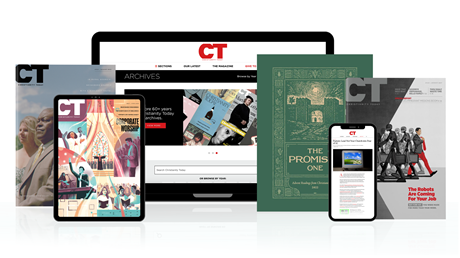 Annual & Monthly subscriptions available.
Print & Digital Issues of CT magazine
Complete access to every article on ChristianityToday.com
Unlimited access to 65+ years of CT's online archives
Member-only special issues
Subscribe
Healing ORU
Healing ORU